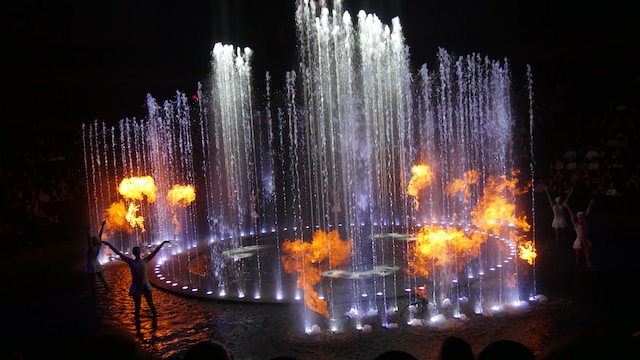 Las Vegas is a different experience for people in their 30s versus their 20s. It is the time of their lives when high-quality entertainment and activities are essential for having a fabulous Las Vegas experience. Things like gambling and nightclubs are no longer appealing.
Do you want to learn about these shows and activities for 30- to 39-year-olds? Below are the top six things to do in Las Vegas in your 30s.
1) High Roller Observation Wheel
The High Roller is the tallest observation wheel in the United States, standing at a whopping 550 feet tall. You cannot miss the High Roller Observation Wheel because it is in the heart of the Las Vegas Strip at the LINQ Hotel.
The observation wheel has approximately 28 roomy cabins with 360-degree views of the beautiful Las Vegas scenery. You can look around you and see the beautiful lights and buildings of the city landscape. Nighttime offers the best experience at this attraction because the illuminating lights on the Las Vegas Strip will be visible in all directions.
The observation wheel only takes about 30 minutes to make one complete cycle to the top and bottom. Therefore, you don't have to devote too much time to this activity.
2) Visit the Comedy Clubs
A thirty-something tourist can watch many hilarious standup comedians perform at comedy clubs throughout Las Vegas. Some of the most notable comedy clubs include Brad Garrett's Comedy Club, Aces Comedy Club, Comedy Cellar Club, Delirious Comedy Club, Jimmy Kimmel's Comedy Club, Jokester Comedy Club, Laugh Factory Comedy Club, L.A. Comedy Club, and the Las Vegas Live Comedy Club.
Las Vegas comedy clubs feature a wide range of comic talent, from newcomers to seasoned comedians. They may joke about topics like politics, world events, relationships, and everyday issues. Attending these comedy clubs with an open mind and a great sense of humor is best. That way, you don't have to take the jokes about controversial topics seriously.
Would you like to know more about these comedy clubs and how to purchase discounted Vegas shows tickets to attend them? Vegas Lens is a website devoted to informing people about the current active shows in Las Vegas and existing promo codes and discounts available to see them.
3) Massages and Spas
You may feel more muscle tension in your 30s than in your 20s. Stretching may help ease your muscle tension during your travels, but how about getting a professional massage to relieve muscle tension?
Las Vegas is home to some of the best spa facilities in the country. Professional massage services exist at notable spas like Qua Baths & Spa at Caesars Palace, Sahra Spa at The Cosmopolitan, Bellagio Spa & Salon, The Spa at Aria, and The Spa at Encore.
They offer high-tech treatments involving therapy pools, full-body massages, Japanese stone beds, barbershops, zen shiatsu, Icy-Hot essential oils, saunas, salt scrubs, CBD coffee, and more. If you are traveling with a spouse, partner, family member, or friend in their 30s, they can experience this once-in-a-lifetime spa experience.
4) Silverton Casino Saltwater Aquarium
Tourists in their 30s may be on tighter budgets than older crowds. So if you need a budget-friendly experience for you or your family in Las Vegas, take them to the Silverton Casino Saltwater Aquarium. It is a free aquarium exhibiting over 4,000 species of sharks, stingrays, and other tropical fish inside nearly 120,000 gallons of water.
The biggest highlight is the mermaids swimming with the fish and coral reefs. These certified divers have gone to mermaid school to learn how to swim underwater and exist like a mermaid. But if you would rather learn to be a mermaid yourself, you can attend the Las Vegas Mermaid School. In addition, you can arrange to have a private wedding ceremony in front of the aquarium for up to 40 guests.
5) Red Rock Canyon
In your 30s, you are young enough to enjoy an outdoor adventure at the Red Rock Canyon National Conservation Area on the outskirts of Las Vegas. You can go hiking, cycling, jogging, horseback riding, or ATV riding at the canyon by yourself or on a guided tour. The latter is the better option because your tour guide will educate you on the various red rock formations and historical information regarding the Red Rock Canyon.
Of course, you don't need a tour guide if you want to travel the longer trails or explore the canyon at your own pace. The important thing is to be in the mood for an adventure of a lifetime.
6) Potted Potter
People in their 30s grew up watching the Harry Potter movies and reading the Harry Potter books. If you fall into this category, you may want to see a hilarious live-action retelling of all seven Harry Potter books. But if you have never seen or read Harry Potter, this show could be an educational way to catch up on this particular piece of pop culture.
Potted Potter is a 70-minute Harry Potter-themed comedy show at the Magic Attic of the Bally's Hotel in Las Vegas. The two lead performers, Daniel Clarkson and Jefferson Turner, quickly tell the stories of all seven Harry Potter books by using funny props and costumes to illustrate them. They go the extra mile to ensure their audience is informed and entertained simultaneously.
Would you like to find exclusive promo codes and ticket discounts on the Potted Potter show? Many discount opportunities and special deals are available from Vegaslens.
Conclusion
The 30s are a great time in your life because you're a fully grown adult who still has the youthfulness to enjoy an adventurous and thrilling trip to Las Vegas. The city offers adventure, comedy, museums, massages, rides, and all the activities you could ever want to experience in your 30s. Once you have these experiences, you'll feel much better about approaching your 40s because you can feel good about your experiences in your 30s.