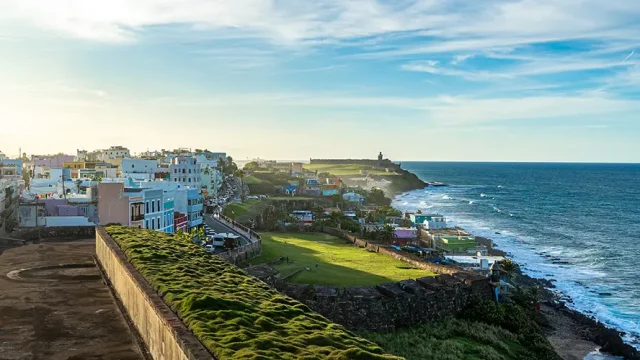 Getting ready to embark on an unforgettable adventure with your closest gal pals? Whether you're seeking sun-soaked beaches, vibrant city life, or breathtaking natural wonders, the United States offers an array of incredible destinations for a girls' holiday. From coast to coast, this vast and diverse country provides endless opportunities for relaxation, exploration, and creating lifelong memories. Let's take a look at some of the best destinations for your trip this summer!
San Juan, Puerto Rico
Explore the captivating streets of Old San Juan, where charming boutique shops await to entice you with unique treasures and stylish souvenirs. Satisfy your taste buds with authentic dining experiences, from savouring traditional Puerto Rican dishes to discovering innovative culinary delights that showcase the island's vibrant flavours. Immerse yourself in the local culture as you stroll through colourful streets adorned with historic landmarks and vibrant murals.
For a luxurious stay, the Condado zone beckons with its exquisite 5-star beachfront resorts. Indulge in the epitome of relaxation and sophistication as you soak up the sun on pristine sandy beaches and take a refreshing dip in sparkling turquoise waters. Indulge in upscale shopping at designer boutiques, try your luck at games at various casinos, and indulge in fantastic dining experiences at high-end restaurants offering gourmet cuisine.
Fort Lauderdale, Florida
Located along the picturesque Florida coast, Fort Lauderdale offers a captivating retreat that combines the charm of Miami with a more relaxed ambience. This vibrant city boasts a wealth of indulgent experiences, including luxurious spas, world-class shopping venues, and a diverse culinary scene to tantalise your taste buds. What sets Fort Lauderdale apart is its extensive canal system, stretching an impressive 165 miles.
Embrace the unique and lively atmosphere aboard the Fort Lauderdale Tiki, a floating Tiki bar where you and your girlfriends can have tropical drinks while basking in the warm sun. With its perfect blend of relaxation, shopping, and delightful experiences, Fort Lauderdale is a beautiful destination to visit.
Las Vegas, Nevada
If you're looking for an iconic palace to visit, you could also embark on a girls' trip to Las Vegas – the world's entertainment capital. On the world-famous Las Vegas Strip, there are plenty of well-known casinos popular with tourists and which have even featured in films like Ocean's Eleven and The Hangover.
Your girls group can visit Caesar's Palace for its Roman-themed architecture and explore its casinos, spa, and range of restaurants. On the Strip, your group can also visit the famous Bellagio fountains and attend the Cirque du Soleil show. In the run up to visiting some of the most iconic land-based casinos on the Strip for slot machines and table games, there are plenty of online arcade slot games to explore online.
Beyond the renowned casino strip, there's a plethora of activities for you and your girlfriends to enjoy. Indulge in upscale shopping at designer boutiques, pamper yourselves with spa retreats, and delight in fine dining at world-class restaurants.
Explore the city's vibrant nightlife by attending captivating shows or dancing the night away at renowned clubs. Or take in the breathtaking views from rooftop pools and soak up the sun in style. Las Vegas offers a non-stop experience filled with excitement and adventure, making it the perfect destination for an unforgettable girls' getaway.
Catalina Island, California
Experience the allure of Catalina Island, California's dream escape is just an hour off the coast. Unwind at the newly renovated Hotel Atwater, conveniently located near the beach and all amenities. Your group can indulge in relaxation at Descanso Beach Club, where private beach cabanas await, providing an ideal spot to enjoy island-inspired cuisine and refreshing drinks. Catalina Island also offers a harmonious blend of serene beaches and thrilling activities. You and your girlfriends can immerse yourselves in underwater wonders while snorkelling or try out exhilarating hikes along scenic trails.
You can also visit stunning sites like the Wrigley Memorial and Botanic Garden which offers scenic views and a glimpse into the island's history. Your group can also explore art and history at the Catalina Museum which showcases captivating exhibits. For a more exhilarating adventure, go on the thrilling zip line eco tour and soar through the island's stunning landscapes.
Denver, Colorado
Denver, Colorado is another great destination for a trip with the girls, offering a dynamic blend of attractions and experiences. Explore the city's unique street art scene which provides a colourful and vibrant backdrop for memorable photos and immersive walks. You could also delve into the world of art at the prestigious Denver Art Museum, where diverse collections inspire and captivate.
Satiate your curiosity at the Museum of History & Science, uncovering fascinating stories and engaging exhibits. Indulge in rejuvenating spa treatments at Brown Denver, ensuring a relaxing and pampering escape for you and your girlfriends. For breathtaking views and chic ambience, unwind at rooftop bars like 54Thirty, sipping on handcrafted drinks while enjoying panoramic cityscapes.