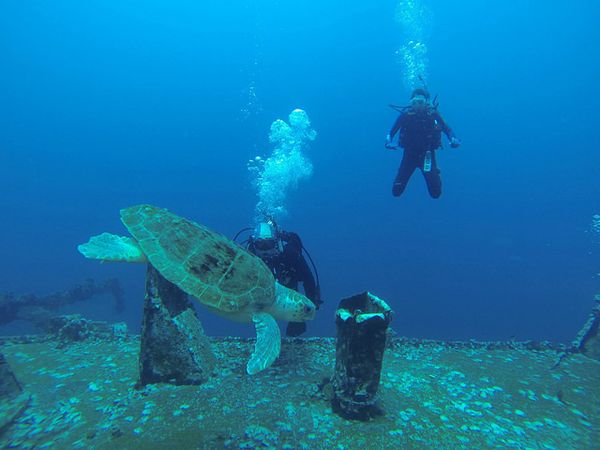 Florida offers animal lovers exclusive experiences to engage with wildlife. Taking many forms, these animal experiences are not limited to a single attraction, or age group, and range from mild to wild. Inviting all types to discover new thrills this summer, like visiting the Everglades' alligator haven in Greater Fort Lauderdale, or freely swimming with the manatees in Crystal River, Citrus County, Florida is like no other place on Earth.
Manatee Capital of the World
The only place in the United States where people are allowed to swim with manatees, Crystal River is touted as "the manatee capital of the world." Guided by trained professionals to make sure the beloved species are treated with the utmost care and respect, there are options for everyone to see manatees in their natural environment. The best ways to enjoy the "sea cows" range from swimming alongside them, to kayaking and stand-up paddleboarding near them, to visiting the incredible boardwalks at Three Sisters Springs in Crystal River and the Ellie Schiller Homosassa Springs Wildlife State Park in Homosassa. For more information, visit http://www.discovercrystalriverfl.com/play/meet-a-manatee/.  Also visit the is article on Homosassa Springs Wildlife State Park from the team at Expeerent.com.
Alligators, Sea Turtles, and more!
Greater Fort Lauderdale is home to some of the country's most diverse landscapes and ecosystems – making it the perfect place for visitors to embrace nature's beautiful wildlife experiences.
Sea Turtle Nesting Season (March – October) is currently underway on Fort Lauderdale's beaches and these ancient mariners need all the assistance they can get. Nearly 90% of the sea turtle nesting in the U.S. occurs in Florida, with several organizations, such as Broward County Sea Turtle Conservation Program, offering guided turtle walks in the summer to watch as hatchlings emerge. For families looking for adventure, Everglades Holiday Park offers unforgettable Everglades airboat experiences, which include a live alligator presentation featuring the Gator Boys Alligator Rescue, in the world-famous Gator Pit.
Marine Park Adventure
An abundance of wildlife encounters occur at Destin, Fort Walton Beach, and Okaloosa Island as explorers walk along the beaches, cast their lines out fishing, or stroll along the pier. At the Gulfarium Marine Adventure Park in Fort Walton Beach, visitors can snorkel with stingrays, feed penguins, and watch otters at play. Featuring dolphin and sea lion shows, the marine park is also home to seals, turtles, alligators, and more. Guests can even become a VIP trainer and work side-by-side with the staff to learn what it takes to safely train and care for marine mammals, or just opt to pucker up for a kiss from a harbor seal.
For families looking for an active wildlife experience,  Destin Snorkel & SNUBA Tour is a safe and easy way to explore the waters of Destin, Fort Walton Beach, Okaloosa Island all without being dive certified. After a 30-minute orientation, explorers can dive underwater up to 20 feet deep, see exotic fish like burrfish, flounder, toadfish, spadefish, and experience an underwater dive under the watchful care of a certified instructor.
Safari Wilderness
Rivaling the African savanna, the dramatic, 260-acre landscape of Safari Wilderness sets the scene for an unforgettable, family adventure. Located near Tampa in scenic Lakeland, Polk County, this family-owned, working game ranch offers an up-close encounter with herds of roaming exotic animals—without the crowds and lines typically found at theme parks and zoos. New this summer, Safari Wilderness is introducing a Young Explorers' Safari, a great way for both young children and the young at heart to learn about a variety of species and some of their special features. Large hooved animals such as zebra, water buffalo, llamas, watusi cattle, barasingha deer, as well as smaller species, including ring-tailed lemurs, red-ruffed lemurs, coatis, kune kune pigs and more can be spotted on the tour. For more information, visit http://safariwilderness.com/news/2018-04-18-young-explorers-safari/
Calling all Bird Watchers
Travelers can also migrate to Pensacola, to see some of the country's most exotic birds – and be sure to bring binoculars. Colorful songbirds, birds of prey, waterfowl and coastal birds follow some little-understood instinct to take to the sky in mass. Flocks depart the north at different times throughout the summer months and follow flyways that usher them to their southern wintering grounds. Travelers can print out a bird list on the Audubon's Frances M. Weston Pensacola Chapter's website.