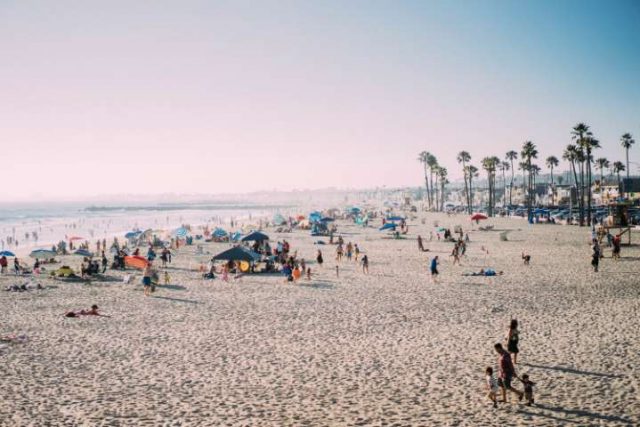 Spring is almost here… but not quite yet. This means, it's time to travel to somewhere warm!
With the largest recreational harbour on the West Coast, it's no wonder that Newport Beach, California offers plenty of exciting water sport activities! Along these 16 kilometres of California coast, travellers will find an abundance of swimming, fishing, surfing, and other aquatic activities.
In sunny Newport Beach, the upcoming season is perfect for outdoor activities. After catching some relaxing SoCal rays on the beach, guests can experience a more active beach vacation, with plenty of activities and events to explore year-round. From famed boat shows to regatta races, you can read more about some exciting upcoming events below:
Newport Boat Show – April 25-28, 2019
Celebrating its 46th year, the Newport Boat Show has become the premier yacht show in the West. Over 200 boats will be on display this year, featuring the latest and greatest vessels in the US. On the final day of the boat show, bring your furry friend for the brand new "Dogs on Deck" cruise. The first annual edition of this event includes gourmet lunch, doggie treats and a bar for pet parents. A portion of the proceeds will be donated to OC Animal Care.
Newport to Ensenada Race – April 26-28, 2019
The 72nd annual edition of this iconic race is proudly hosted by the Newport Ocean Sailing Association (NOSA). One of the West Coast's premier regattas, this 201-mile overnight race departs off the Balboa Pier and ends north of the city harbour of Ensenada in Baja, California. Spectators can watch the boats speed by while enjoying snacks, drinks and activities onshore.
Wooden Boat Festival – June 7-9, 2019
Within just five years, the Newport Beach Wooden Boat Festival has grown into a must-see event for residents and tourists alike. This yachting festival showcases the most diverse and valuable collection of wooden boats in California. The Wooden Boat Festival salutes the passion, time and effort the owners put into their vessels to preserve the heritage and timelessness of seafaring adventure.
Year-round nautical offerings include:
Newport Beach's gorgeous coastlines and pristine shores offer the ideal spring getaway for families, couples and friends. This unique seaside city is home to protected, clean state parks and beaches like Upper Newport Bay Beach, Crystal Cove State Park, and Corona del Mar State Beach. The Back Bay Loop Trail even offers nearly 17 kilometres of hiking and biking terrain!
Fishing enthusiasts love Newport Beach for its naturally stocked ocean fishing spots. Take out a boat from Davey's Locker and embark on a quest for Yellowtail, Sea Bass, or Rockfish. Prefer to keep both feet on land? Try golf instead. Home to many beautiful golf courses, Newport Beach is known for its dedication to this sport. Condé Nast Traveler even ranked The Resort at Pelican Hill as the "No. 1 Golf Resort in the World." Pelican Hill features 36 holes of championship golf with stunning oceanfront views.
The Wedge is one of the most iconic locations to spot surfers in their natural habitat, but local gems like 15th Street are beloved by locals for the awesome conditions and big waves. Guests can watch the pros from shore or try their hand at surfing for the first time – the welcoming vibe of this city is approachable for outdoor enthusiasts of every skill level.
Yachting isn't just a sport in Newport Beach – it's a lifestyle! There are several private yacht clubs in Newport Beach where members embrace racing, cruising and celebrating the nautical community. Visitors can also enjoy elegant experiences aboard yachts that specialize in dinner cruises and boat charters.