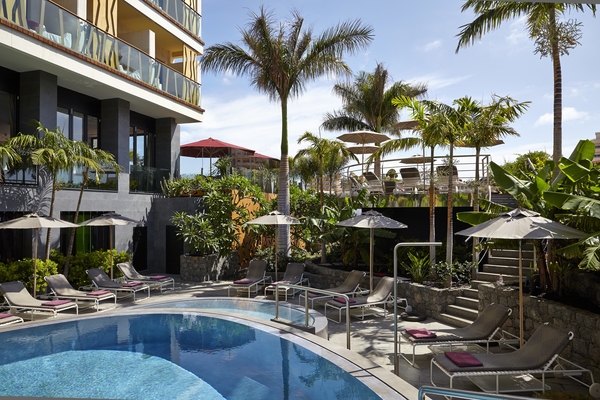 Five-star boutique hotel, Bohemia Suites & Spa, is not only a luxury oasis but a welcoming sanctuary for adventurers, enabling guests to explore the stunning island of Gran Canaria, whichever way they choose. The staff at Bohemia Suites & Spa are experienced at organising a variety of exploration trips, whether by foot, boat, car or Segway, as well as taking care of the essential rest and rejuvenation plans before and after!
By Foot…
For avid trekkers, the Camino de Santiago is a wonderful historical trail that is not to be missed. It spans the whole island from Santiago de los Caballeros, in the north, to Maspalomas, in the south.  This lesser-known and much quieter version of Spain's iconic pilgrimage is perfect for exploring scenery across the whole island of Gran Canaria, undisturbed and in your own time.
After walking 77km over three days, Bohemia Suites & Spa is the perfect place to recover, with two pools to cool off in and an award-winning spa for some much-deserved rest and relaxation. Why not indulge in a revitalising facial or a pampering foot massage at the hotel's Siam Spa to treat your weary feet. Bohemia Suites & Spa is situated in the ideal location, only a five-minute walk from the Maspalomas sand dunes, where the historical path ends, making it the perfect place to end your expedition.
By Private Yacht…
If walking is not for you, have no fear. Bohemia Suites & Spa can also arrange an experience that requires solely relaxation and enjoyment. The hotel gives guests the opportunity to board a private yacht, crew included, to see the island from the other side. Discover hidden parts of the coastline which can't be reached on foot and unwind onboard in this tranquil setting, miles away from any other visitors. The stunning coastlines, majestic sand dunes, shimmering seas and cool sea breeze in your hair are an idyllic backdrop to watch the sun go down. Imagine sunbathing or swimming in the crystal ocean while the crew prepare your pre-dinner drinks. Keep your eyes peeled for a chance to spot some dolphins!
By Audi…
For those who prefer to stick to dry land and see the island in ultimate luxury and comfort, why not rent one of Bohemia Suites & Spa's Audi A1s. This is a great way to go on a whizz tour of the island, getting your bearings and exploring in airconditioned style. For those who prefer not to get behind the wheel themselves, Bohemia Suites & Spa has drivers on hand and can organise fantastic private tours of the island and all it has to offer.
By Segway…
For more adventurous travellers, or those looking for an alternative mode of transport, ask the Bohemia Suites & Spa team to book a Segway tour. Cruise through the historical centre of Las Palmas, taking in the island's unique culture and learning about it's fascinating history, or zoom along the beachfront, stopping to capture special moments on your camera. While in Las Palmas, why not taste the delicious local tapas and fresh seafood dishes in one the many top-class restaurants the town has to offer or drop into Mercado del Puerto for a refreshing cocktail at Bohemia's new Do Mercado by Atelier.
Bohemia Suites & Spa is the ultimate place for those seeking adventure. The hotel can organise a vast range of trips to the guests' preference, whilst providing luxurious treatments and refreshments needed after any exciting day. Whichever mode of transport you decide to take, Bohemia Suites & Spa will be sure to look after you and cater to your every need!