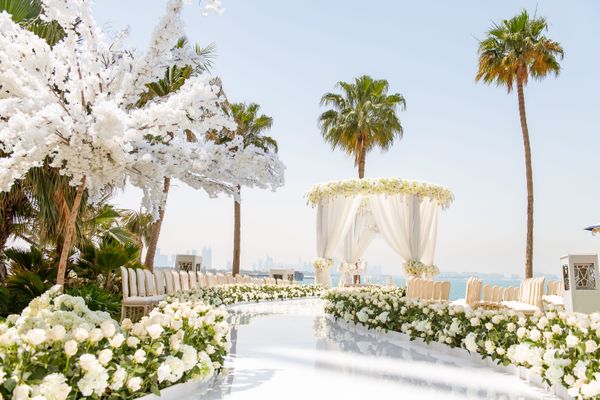 Burj Al Arab Jumeirah and weddings are the perfect marriage thanks to the hotel's truly breathtaking setting and 'anything is possible' ethos, providing couples and their guests with memories that last a lifetime.
Limited only by your imagination, a wedding at Burj Al Arab Jumeirah is a favourite choice of celebrities and high-flyers from around the globe. Its selection of beautiful indoor and outdoor venues, coupled with the multi award-winning team's passion for making even the seemingly impossible, possible, provides the perfect backdrop to create your idyllic wedding. The hotel takes ultra-premium service to another level with its 'new luxury sophistication' and inimitable mix of extravagance, value and warmth.
The possibilities are endless, with the team able to transform even the most fundamental wedding planning element into an unforgettable experience. From working with the in-house florist to source a rare flower for stunning table centrepieces, to arranging personal consultations with a leading international wedding dress designer or sourcing one-of-a-kind jewellery pieces; a wedding at Burj Al Arab Jumeirah is sure to impress.
Prior to the wedding, the Bridal party may book out Talise Spa for pampering and Afternoon Tea, spend a day luxuriating on The Terrace with a Royal Cabana or take to the warm Gulf waters on a yacht. The key word is 'bespoke' – turning dreams into reality.
The bride will see her dress displayed on a mannequin upon entering her luxury suite, while she can also dazzle her social media followers with the hotel's iconic sail exterior lit up in her preferred colour for the celebration. For a striking entrance, the groom can make his arrival on horseback to Palm Garden and for an ultra-special experience, the married couple can follow in the footsteps of celebrities and dignitaries and upgrade to a stay in the infamous Royal Suite.
It is not only in the spectacular where the hotel excels, but also in the small details. The dedicated in-house team can arrange for embossed luxury suite stationery, inscribed by a calligrapher, or embroider the couple's new initials onto the 600 thread count pillowcases. Not forgetting the kids' room, located next to Al Falak Ballroom, which can be transformed into a theme of your choosing, whether a cinema screening room or fun arts and crafts area to keep the little ones entertained throughout the event.
For memorable culinary experiences that are sure to impress your guests, the hotel's team of award-winning chefs can create a variety of menus to suit regional and international tastes, and host intimate private tastings. Allow our expert pastry team or head mixologist to design a series of bespoke desserts and innovative cocktails and mocktails exclusive for your celebration.
These are just a few of the special, bespoke touches guaranteed to make the couple's special day utterly perfect, but when it comes to Burj Al Arab weddings, the sky is the limit.
For more information on Weddings at Burj Al Arab visit: https://www.jumeirah.com/en/occasion/weddings/dubai/burj-al-arab-jumeirah