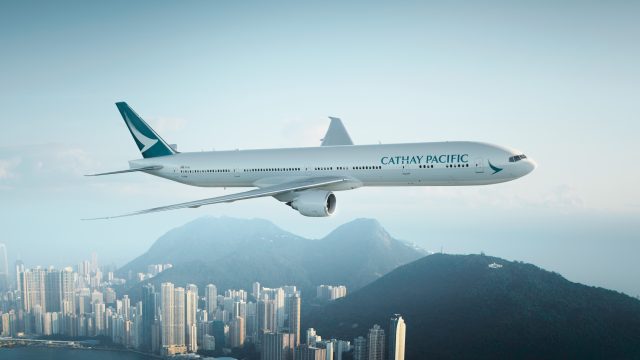 My travel budget doesn't usually allow for business class travel on long-haul flights. However, I use flying time as an opportunity to get a lot of work done so I am free to experience my final destination immediately upon arrival. So, I need elbow room and space for my MacBook and notepads. I also have quite long legs, which are a curse on any flight, but more so on a 13.5 hour flight from Western Canada to Hong Kong.
With business class out of my financial reach, and economy out of my comfort zone, I went in search of middle ground and found a new option – Premium Economy with Cathay Pacific Airways. This is a new level of service for Vancouver to Hong Kong flights. For the dates I was traveling (April/May 2016), premium economy was just $710 more than economy, but $3,530 less than business class.
From the moment I arrived at the airport, I knew the experience was going to be markedly different. There was a premium economy priority line at the Cathay Pacific counter (just like business and first class) and baggage allowance was 25kg/55lbs, compared to just 20kg/44lbs for economy passengers. Translation? More shopping for me in Asia!
At the gate, there was a designated line and priority boarding for premium economy passengers. Aboard the airplane, there was a separate cabin of the aircraft for premium economy, with in-flight crew. We were offered a hot towel, welcome beverage and a newspaper while we prepared for take-off.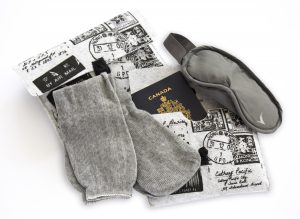 LONG HAUL COMFORT
There were less than thirty seats in the premium economy cabin, which was modern, clean and spacious. There was ample room between my seat and the passenger beside me. My seat featured eight inches of recline and a four-way headrest for body support and comfortable sleeping. I reserved a front row seat, which included a leg-rest and lots of stretching space for my long limbs.
The larger tray table was perfect for working or dining, and there was a secondary drinks table for extra tabletop space. Meal service (served twice on my flight) included elegant entrées – Asian or Western options. Wine, cocktails, bottled water and yummy snacks were always available.
I must mention how much I appreciated the noise cancelling headphones, and the stylish amenity kit with travel socks, eye shade, earplugs, toothbrush and toothpaste.
Its limited edition felted wool pouch, designed for Cathay Pacific by G.O.D – Goods of Desire, has become the chic new home for my passport!
TAKING FLIGHT
Cathay Pacific currently offers two flights daily from Vancouver International Airport to Hong Kong. You can choose to depart YVR in the afternoon (2:25pm PST) or in the early morning (2:05am PST). I chose the latter because it offered the most sleep time, allowing me to arrive 13.5 hours later in Hong Kong, at the beginning of a new day, feeling refreshed and ready to start exploring. Premium economy class is available to and from many different cities and countries. More info at CathayPacific.com