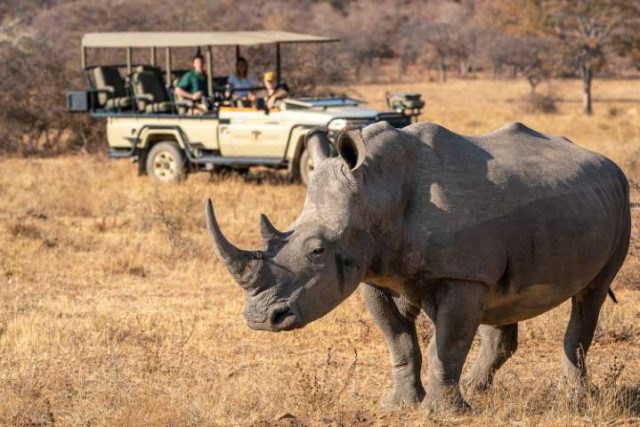 With World Environment Day taking place on 5th June, we wondered whether you might be interested in a roundup feature on hotels with genuine and strong sustainability credentials? Properties across the globe that offer innovative ways to protect their beautiful natural surroundings – and engage guests too.
InterContinental Maldives Maamunagau Resort Drives Sustainability Through Manta Ray Conservation
InterContinental Maldives Maamunagau Resort is leading conservation efforts with manta rays in the Maldives in partnership with The Manta Trust. Sitting on the idyllic Southernmost tip of Raa Atoll, on the edge of a UNESCO World Biosphere Reserve and within its own natural lagoon, InterContinental Maldives occupies an island with incredible proximity to a newly discovered juvenile manta feeding ground, the Maamunagau Lagoon. This lagoon provides a protective shelter to these incredible creatures and homes a large and healthy population – enabling the Manta Trust team the opportunity to learn/research more about these gentle giants including their natural habitats and migration behaviour (all without ever interfering). The resort's enviable position, Hanifaru Bay, is also a dedicated manta ray sanctuary and feeding station run in collaboration with the Manta Trust and Ocean Group to nurture a safe habitat and achieve global conservation for these endangered creatures. With the Manta Trust team living on site, InterContinental Maldives protects these animals' natural habitats, offers guests educational workshops / research snorkelling trips with marine biologists, arranges donation/adoption schemes for The Manta Trust. The resort also hosts regular 'Manta Retreats'- with dates for the next one already confirmed for March 2024 – where guests can live the life of a marine biologist during the best time of the year for swimming with juvenile mantas. Activities are designed to ensure the guests understand and respect the ocean's most charismatic beings and include tracking mantras, evening talks about their natural environment / the importance of plankton, replanting coral – and certified divers can observe the natural manta 'spa'. 
Windjammer Landing Partners with the Perry Institute to Create Environmental Diving Packages in Saint Lucia
Windjammer Landing, Saint Lucia, is delighted to showcase a series of diving excursions in partnership with The Perry Institute for Marine Science and Eastern Caribbean Diving (the resort's onsite scuba diving team). The Perry Institute for Marine Science, situated in the Caribbean, is a non-profit organisation which supports a wide range of research and educational activities that help to protect the oceans. Windjammer Landing has created two diving packages which ensures that The Perry Institute receives 10% of every course booking, to support their research in ecosystem and restoration. Alongside a financial donation, The Perry Institute curated a carefully tailored environmental diving package – exclusively for the resort – which encourages young divers to take an interest in marine conservation and the importance of coral restoration and rejuvenation. The package includes three days of diving (six dives in total alongside the PADI Reef Rescue Diver Certification) and activities include dive visits to coral mitigation sites, hands on experience maintaining a coral nursery and out-planting nursery reared corals. 
A carefully tailored environmental package has been designed for marine conservation and to encourage divers' interest in coral restoration and rejuvenation – they will receive hands-on experience of maintaining a coral nursery. A family package has also been designed as a flexible way to educate young children on the importance of sealife. Windjammer Landing is an idyllic diving destination set into 65 acres of lush hillside on St Lucia's northwestern coast. Offering exclusive access to 64,000 square feet of powdery white sand and unrivalled views of the surrounding tropical landscape.
100% Non-For-Profit Safari Lodge, Lepogo Lodges, Develops Own Carbon Offset Programme to Support Local Conservation & Communities, South Africa
Lepogo Lodges' Noka Camp, one of Africa's few entirely not-for-profit safari lodges fully designed with the environment in mind, has added to its stellar eco-credentials by working with local and global charity organisations to fully offset their guests' carbon footprint. Lepogo Lodges is family run and entirely energy self-sufficient due to the property's own solar walkway and is the first luxury lodge in Africa to calculating the carbon emissions resulting from each guest's journey from the time they leave their home to the moment they return, this figure is converted into a monetary value which is then donated by Lepogo Lodges into one of three conservation projects, chosen by the guest. The projects include 'A Community Stove Outreach Programme' in collaboration with the neighbouring Lapalala Wilderness School's Outreach Programme – here high-efficiency stoves are donated to the local community. The new stoves reduce the wood used in each household by an estimated 2.5 tons per year. This does not only result in an upsurge of trees being saved and lower emissions from burning less wood, but it also increases time efficiency when cooking and positively impacts the health of families. The second project is a 'Biodiversity Enhancement Programme' with The South African Reforestation Trust, a not-for-profit organisation and platform that brings landowners, institutions, companies and individuals together to plant and extend indigenous forest ecosystems. The third project, 'Stand for Trees' is a global programme – Stand for Trees and its 16 conservation projects aim to protect the world's most spectacular forest landscapes, surrounding communities and inhabiting wildlife. The projects span across Northern Zimbabwe, Kenya, Tanzania, Sierra Leone, Papua New Guinea, Indonesia, Peru, Brazil and more, offering guests a range of sites to choose from. In addition to the carbon offset programme, Lepogo Lodges is committed to supporting local communities by helping them start businesses which supply products for the lodge and on-site curio shop. Passionate about wildlife conservation, Lepogo Lodges is funding research and working with Lapalala to establish the reserve as a centre of excellence for the release of wild cheetah alongside additional conservation of the 'Magnificent Seven'.
Sani Resort, The First Certified Carbon Neutral Resort in Greece, Provides Guest-Friendly & Ground-Breaking Sustainable Initiatives
Sani Resort, the first certified carbon neutral resort in Greece since 2020, is proud of their world-leading Sani Green programme which is dedicated to improving its sustainable performance through well-defined policies, measurable target and interactive guest experiences – all designed in line with the UN Sustainable Development Goals. Set in a majestic 1,000-acre ecological reserve with Blue-flagged sandy beaches, forest trails and wetlands to explore, the resort encourages guests to respect and look after nature within a sustainable mini self-contained world. Alongside greatly increasing the renewable local energy capacity, while cutting down on carbon emissions (Zero Carbon Footprint), the resort has also pledged to be net zero by 2030, as well as zero plastic and zero waste by 2024 – as part of Sani's Zero Carbon Footprint project. New for 2023, Sani resort is also undergoing an assessment of the carbon footprint of Sani Forest, named 'ECOCARBON' and launching another project 'ECOSERVICES' to protect and enhance the biodiversity and natural regeneration of Sani's forest ecosystems. Sani also supports various biodiversity projects, the Sani Wetlands Project and tree-planting, as well as over 40 organisations (schools, hospitals, refugee shelters) and provides scholarships to encourage local farmers to farm more sustainably. The Sani Bee Spot, is the largest bee spot in Greece and in collaboration with the non-profit Bee Camp protects the residential bees and pollinators, which are very important for the local ecosystem. Sani has also teamed up with non-profit iSea to catalogue, for the first time ever, the resident dolphins of the Halkidiki region. Alongside guest experiences, over 60% of Sani's produce comes from within 100mi of the resort, with in-resort botanical gardens supporting the farm-to-table approach of its restaurants and the 'Winnow Programme' carefully monitoring food waste – Tomata Restaurant in the Marina has also been launched as Zero Waste Kitchen. Sani has reduced water use by 48% in the last five years, reducing single use plastic by 80% since 2013, as well as recycling rates of over 90%. The resort is now powered by 100% renewable electricity. Additionally, electric car charging stations can now be found in various locations around the resort, all club cars are now electric, and the resort has introduced a new fleet of plug-in and hybrid cars for transfers.
Aristi Mountain Resort & Villas Shares its Unique 'Green Story' in an Undiscovered Region of Northern Greece
A mountainous paradise, the spectacular Zagori region is currently under consideration for the UNESCO World Heritage List and is the first Greek cultural landscape to be proposed for this. Hardly on the tourist radar, Aristi is one of the most famous villages of the entire Zagori area and is home to the enchanting Aristi Mountain Resort & Villas – a member of Beyond Green (Preferred Hotels Sustainability Accreditation). The hotel is a proud member of the Zagori Excellence Network (ZEN), an initiative run by a group of outstanding tourism that protects the region's environment, biodiversity, human geography and traditional economic activities and ways of life. This is achieved through systematic preservation efforts, digitisation of records, the promotion of sustainable practices and well balanced economic growth initiatives. Aristi Mountain Resort & Villas was built with a green ethos in mind as it was built from the ground up, and its "green story" begins with its very architecture, as environmental factors were considered from its inception. The resort is built in complete harmony with the surrounding landscape and the local architectural style. Only local materials, stone and wood decorate the inner and outer part of the buildings. The operational needs of the buildings are both environmentally sustainable and have a very low impact on nature. In order to conserve water, waste water is processed in a high tech tertiary cleaning system, to ensure that released water is as clean as possible. In terms of managing out-waste, the resort's purchases are chosen with care and contain a low percentage of packaging materials. The hotel also prides itself in employing local workers, and it is extremely important for the resort to use local products, and cooperate with local companies in order to maintain a close relationship with the local community. The resort's recently opened natural dining concept Greenhouse and Aristi Farm also allows guests to dine on fresh produce grown by the hotel and the resort restaurant 'Salvia' typically sources all ingredients from a 50-km radius.
Quinta do Lago, Drives Sustainability through Award-Winning Golf Courses, Portugal
Quinta do Lago, Europe's premier modern golf and lifestyle destination situated in the Algarve, is continuing to drive the resort's ongoing sustainability strategy through sport and golf – both two industries typically associated with being detrimental to the conservation of our environment. Through the redesign of the South Golf Course and working closely with the Golf Environment Organisation, the resort has launched a multi-tiered strategy to: foster nature, conserve resources and support the community. As part of this initiative, Quinta do Lago has made vast eco-improvements including installing a start of the art irrigation system, nurturing current nature trails, and cultivating their own farm-to-table offering working with headchefs and gardeners of the resort's own Q Farm, helping reduce the resorts' overall eco-footprint. Situated in the heart of the Ria Formosa Nature Reserve, Quinta do Lago is a region consistent with its masterplan only, allowing 9% of built area – leaving the rest green and fully untouched. Enclosed by the majesty of the Ria Formosa Nature Reserve, Quinta do Lago has also teamed up with local Wildlife Research and Rehabilitation Centre (RIAS) to help repopulate native species and return rehabilitated animals to the wild – as well as protect its natural landscapes. The Ria Formosa is made up of 18,000 hectares of tidal marshes protected by a breathtaking 60 km long system of sand-dune islands that separate the land from the ocean.