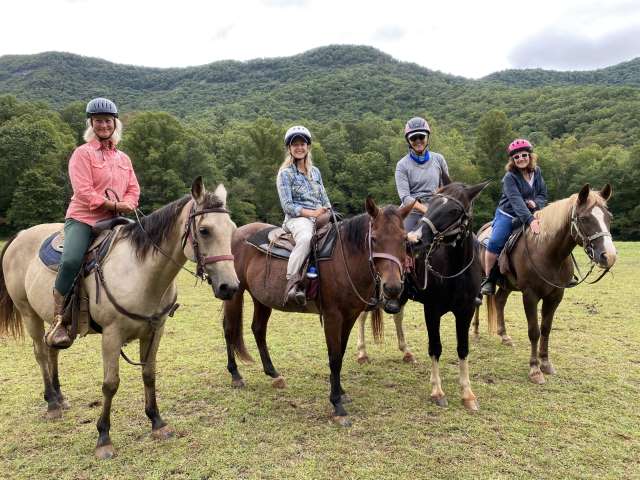 According to Catalyst, women were responsible for an estimated $31.8 trillion in consumer spending globally and $6.4 trillion in the United States in 2019. Given recent cultural and societal changes and women's strong interest in travel, female-centric travel is experiencing significant growth. A 2019-20 Travel Trends Survey conducted by Internova Travel Group (formerly Travel Leaders Group) found women's only travel was one of the top five specialty travel trends along with active/adventure travel.
Adventures in Good Company (AGC) are both domestic and international adventure travel experts, offering adventure travel experiences for women from all walks of life. With small, female-only tour groups and experienced female tour guides, AGC provides unique experiences for women to make lifelong connections, especially (re)connecting with themselves and the world around them. With help from AGC's CEO, Kelly Kimple, we're taking a look into why all-female tour groups are more popular than ever.
The benefits of travelling in a female-only group
All-female tour groups offer a unique experience like no other. From the sense of kinship, the supportive environment, and the ability to achieve self-growth through shared experiences, there are so many benefits to explore.
Less perceived pressure
On a female-only tour group, many women report feeling less self-conscious. Specifically, women can enjoy outdoor activities without any perceived pressure to act or move their bodies in a certain way. With a supportive and non-judgmental group around them, women are free to learn more about their strengths without the need to 'keep up' with anybody.
For example, tours with Adventures in Good Company are always smaller, very supportive groups. Nothing is competitive, and there is no emphasis on who can hike the fastest or who has visited the most places. As AGC CEO Kelly Kimple says, "We like to challenge ourselves but do so in an inclusive and supportive environment. We create a space for women to connect with each other, themselves and with nature."
This lack of perceived pressure means women feel more free to be themselves, connect with others in a non-competitive way, and learn more about themselves in the process.
A safe space for solo travellers
While the majority of leisure travellers are women, and multiple sources report that women make 70-85% of all travel decisions, there is still a degree of hesitance for them to travel alone. While there is a multitude of reasons for this, the fact remains that many women don't feel safe or comfortable travelling to unknown parts of the world alone.
In late 2020, Solo Traveller conducted a survey with 83% of respondents being female. The results showed that 53% of solo travellers were likely to take escorted tours after the Covid-19 pandemic, rather than going it alone. Female-only tour groups provide an even greater level of comfort and safety for those who may have reservations about travelling alone.
AGC's CEO Kelly Kimple had this to say: "We're welcoming many first-time travellers onto AGC trips. A common thread is that women are interested in travelling, but might not have a partner or friend who cares to join. We provide the opportunity for solo travellers to explore in the comfort of a small group."
A focus on reconnecting with yourself
For many women, gender and family roles play a big part in everyday life. So, regardless of whether a woman is a mother, a wife or a partner back at home, these roles can be eliminated while on holiday. This is crucial for those looking to reconnect with themselves or gain a greater understanding of who they are as a person.
This doesn't in any way suggest they don't love their family roles or their careers at home, but it provides space for them to make a deeper connection with who they are and how they want to be in their own lives. Not only that, but they also get the chance to travel with women from various backgrounds and home situations, which helps to form a bond through shared, similar, or even completely different experiences as women.
Making lifelong friendships
Women who participate in all-female tours tend to make friends very quickly. The shared experiences we just mentioned, as well as an openness to learn from each other, make for a deeper bonding experience. Any single tour group could bring together a mother of 5 and a career-focused CEO. A solo traveller with years of experience and a person on their first overseas trip. On the surface, their lives may seem different, but they have very real female experiences to share.
Travelling with like-minded individuals creates a sense of community that blossoms very quickly. It's important to remember though, that female-only tours aren't all about being together as a group. A good tour allows women the space for some solitude and quiet, in order to connect more deeply with themselves. Travelling is a personal experience, so there will be times you want the full group experience, and others when you need a little room – and both are more than supported.
A sense of self-empowerment
Travelling with women is an amazing opportunity to gain a sense of empowerment. And this goes a lot deeper than the simple fact that they are travelling without a partner. On AGC's tours, for example, it's not just about rest and relaxation. The tours are designed to cater for people who want to explore, finding out more about themselves and the world around them. Enjoying these experiences with like-minded travellers is empowering and more immersive.
It's not uncommon for women to learn new skills or experience things they never thought they would, and this is enormous when it comes to boosting self-confidence and discovering both inner and outer strengths that may have previously been unknown.
Smaller groups and targeted tours
As is the case in most group situations, bonding occurs far more easily when the group is small. In a large tour group, it's not uncommon for small groups to form and break off from the larger one. However, providing a smaller group of just women travellers promotes a deeper connection with each other.
AGC maintains a 6:1 traveller-to-guide ratio on all tours, with most tours comprising no more than 12 guests. This allows the experienced, female guides to spend more time with individuals and foster a sense of community within the group.
Care is also given to the types of planned activities and the interests and needs of all travellers. Group dynamics are always kept in mind when planning tours, from the lodgings, the guides, and the activity ratings (1-5). This ensures everybody can fully share experiences in a supportive, encouraging environment while having all of their other needs met, too.
Access to unique experiences
As most people know, different cultures approach gender equality in a variety of ways. This means that in certain regions, many experiences are off-limits to men. As a result, mixed-gender tour groups often miss out on these experiences. There may be culturally sensitive traditions, or even entire communities that only women can experience.
Due to these complexities, female-only tour groups often have more access to unique experiences. They're also able to focus on more gender-related issues that can be difficult to discuss when men or children are present. Ultimately, this helps to form a type of sisterhood, where female experiences and issues can be explored more deeply.
What does the future hold for female-only travel?
CEO of Adventures in Good Company, Kelly Kimple is extremely positive about the future of women-only tour groups. Before the Covid-19 pandemic, AGC was on track for its biggest year ever in 2020. Despite the following difficulties, the company experienced record growth in 2022.
When AGC started back in 1999, the female-only travel market was almost non-existent. Activities such as hiking, camping, and learning survival skills had not yet been normalized for women, and those who were breaking into these interests were assumed to have a specific lifestyle and sexual preference. Today, more and more companies are realising the potential for growth and the desire women have for unique, purpose-driven and meaningful travel experiences. In fact, niche travel is on the rise everywhere, with groups targeted towards people with a certain marital status, religious beliefs, and even diets.
So, when it comes to adventure travel opportunities for women, Kelly Kimple sums it up perfectly. "Women are an increasing presence in the outdoors and we anticipate more women looking for like-minded travelling companions who are interested in adventuring outside."
The future is certainly bright for female travellers all over the world.