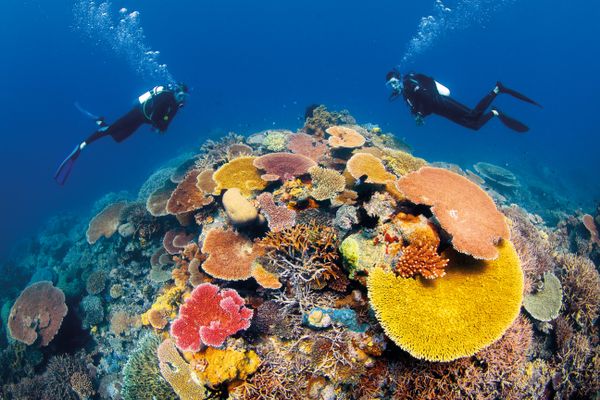 Celebrate the International Year of the Coral Reef by discovering just what is so great about Australia's Great Barrier Reef.
The Great Barrier Reef is the only place in the world where you can swim with Dwarf Minke Whales, float over colourful giant clams and look for six of the world's seven species of turtle.
Whether you like your Reef adventures big or small, wet or dry; exceptional visitor experiences can be found in Tropical North Queensland, the gateway to this World Heritage area.
Those wishing to tick bucket list boxes will look for the Great Eight – Clownfish, Potato Cod, giant clams, Manta rays, Maori wrasse, sharks, turtles and whales.
But don't stop there! The Great Barrier Reef has the "Magic Millions" – coral chomping Parrotfish, colour-changing Cuttlefish, and so much more.
With 1625 species of fish, one-third of the world's coral species and a mosaic of different reefs along its 2300km length, every day and night on the Great Barrier Reef delivers a different and memorable "David Attenborough" moment.
These days you are spoilt for choice with the way you experience the Reef. There are better boats, the latest equipment and knowledge shared by passionate crew to make the experience even better.
Tropical North Queensland's eco-accredited Reef operators offer diverse ways to explore the Great Barrier Reef with diving, snorkelling, stand-up paddle boarding, helicopter flights, island getaways, helmet diving, kayaking, sailing, citizen science projects, live-aboard expeditions, semi-submersibles and marine biologist guided tours.
Several new vessels have joined the Reef fleet, an additional outer Reef pontoon has been installed, another has been refurbished with the addition of the Reef's first waterslide and a dive centre will soon open in Port Douglas adding even more ways to experience the Great Barrier Reef in Tropical North Queensland.
Pick your "David Attenborough" moment
Discover one of the best shark experiences in the world while diving with Mike Ball Dive Expeditions. The live-aboard expedition takes you to spectacular, remote Coral Sea drop-offs that attract charismatic mega fauna and plunge thousands of metres into the ocean. www.mikeball.com
Follow a Quicksilver marine biologist on a snorkelling tour of Agincourt Reef to discover Farmer Joe, a white Damselfish that picks up coral pieces placed on his patch and spits them outside the boundary to keep his farm clean. www.quicksilver-cruises.com
Encounter a family of giant Potato Cod at the iconic Cod Hole on a Coral Sea adventure with Spirit of Freedom which includes the picturesque Ribbon Reefs. Extraordinary coral towers, Olive Sea Snakes and an endless array of colourful fish can be seen. www.spiritoffreedom.com.au
Swim with a Dwarf Minke Whale or cruise past a spy-hopping Humpback Whale when they migrate through the Great Barrier Reef in Winter. The Ribbon Reefs are the only place where you are permitted to swim with the Dwarf Minke Whales. www.diversden.com.au
Tick off two or three of the bucket list Great Eight at the Frankland Islands where a variety of Clownfish swim through colourful anemones. Manta rays put on a show at their cleaning station and turtles nest on the islands during breeding season. www.franklandislands.com.au
Listen to the Parrotfish chomp on coral with their parrot-like beak and discover how they start life as drab coloured females before some become colourful males. Down Under Cruise and Dive visits reefs where these sex-changing fish can be seen. www.downunderdive.com.au
Join a scientist for access to rarely seen snorkelling sites at Lizard Island and learn first-hand about the challenges the Great Barrier Reef faces. There are just 12 spots on this expedition which includes a guided tour of the island's research station. www.lizardisland.com.au
Watch a turtle being released it has been cared for by the Cairns Turtle Rehabilitation Centre. The turtles swim free from Sunlover's new Moore Reef pontoon, but you can slide in from the Great Barrier Reef's first floating spaghetti jet waterslide. www.sunlover.com.au
Experience the regeneration of the Great Barrier Reef during the annual coral spawn after the full moon in November. Deep Sea Divers Den run seasonal night tours so you can dive or snorkel among tiny pink bubbles that will be tomorrow's coral. www.tusadive.com
Sign up to be a citizen scientist for the day with Passions of Paradise. Join an accredited EcoGuide on a snorkelling tour to document the marine life you see for the Great Barrier Reef Marine Park Authority database. www.passions.com.au
Float above a garden of 80-year-old giant clams at Mackay Cay to see more colour than you will find in a rainbow. The trip on Sailaway IV Guests departs from the sandy beach of Cape Tribulation in the Daintree rainforest. www.sailawaycapetrib.com
Go underwater without getting wet on a Big Cat Green Island Cruises air-conditioned semi-submarine to see juvenile fish using the seagrass around Green Island as protection from predators including turtles and dugong. www.greenisland.com.au
Terns, noddy birds and frigates are just some of the 20,000 sea birds that call Michaelmas Cay home. Ocean Spirit Cruises sails to this Great Barrier Reef bird sanctuary where you can swim with turtles straight off the beach. www.oceanspirit.com.au