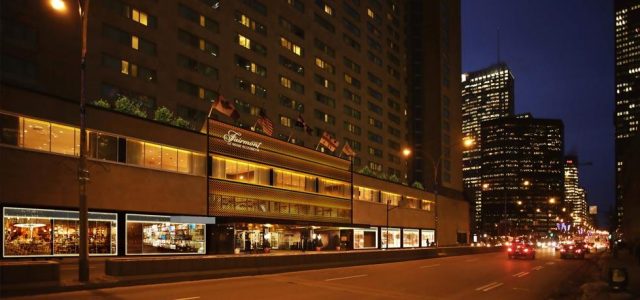 Music and travel go hand-in-hand. Whether it's listening to your favourite song on a cross country road trip or flying to a new destination on the other side of the globe to attend that once-in-a-lifetime concert or music festival, music plays a crucial role in the life of a traveller. To celebrate the upcoming Grammy Awards, Booking.com, the global leader in connecting travellers with the widest choice of incredible places to stay, presents six accommodations that have hosted major music artists throughout the years and are perfect for channeling your inner musician.
Fairmont The Queen Elizabeth, Montreal, Canada

Fairmont The Queen Elizabeth is an elegant hotel located in the heart of Montreal. The famous John Lennon and Yoko Ono suite is the site of the 1969 "bed-in for peace", where the song "Give Peace a Chance" was composed and recorded. Today it's been revamped into a luxury suite that can accommodate up to four people and features a virtual reality experience and plenty of in-room surprises.
Andaz West Hollywood – a Concept by Hyatt, Los Angeles, USA

Just a five minutes' walk from the lively Sunset Strip, the Andaz West Hollywood has hosted world famous musicians throughout the years including musical superstars Led Zeppelin, Jim Morrison and Keith Richards. The hotel developed a rock 'n' roll reputation during the 1970's, but today features a modern restaurant that serves seasonal Californian cuisine and a chic bar with signature cocktails. The property was also one of the filming location of the American movie 'Almost Famous', a coming-of-age story about a teenage journalist covering a band for the Rolling Stone magazine during the early 1970s.
nhow Berlin, Berlin, Germany

Europe's first music and deign hotel, nhow Berlin is located directly on the banks of the river Spree and just a five-minute walk from MTV Berlin and Universal Music, the world's leading music company. nhow Berlin offers its guests two professional music recording studios and the hotel's electric guitars can be borrowed at no extra charge. You can even order a DJ set to your room! The hotel also hosts weekly concerts and DJ sets, perfect for soaking up Berlin's popular techno atmosphere.
Gstaad Palace, Gstaad, Switzerland

Built in 1913 the Gstaad Palace has earned an unrivalled reputation for discreet, refined hospitality over the years, and has always welcomed the most discerning, musical international clientele. Musical legends Louis Armstrong and Ella Fitzgerald are some of its famous guests of the past, who have also performed in the hotel's elegant lounge. A few years ago, pop-star Madonna was spotted celebrating New Year's Eve at the hotel's famous GreenGo nightclub.
BackStage Hotel, Amsterdam, Netherlands

Situated only two minutes from Amsterdam's popular concert venues Paradiso, Sugarfactory and Melkweg, this unique property is adorned with furniture and decorations from the music industry. Not only will the friendly staff provides its guests with the latest info about concerts in town,  guests are also welcomed to star in their own impromptu jamming session using one of the many guitars hanging on the wall. Other music venues such as The Amsterdam Arena, Ziggo Dome and Heineken Music Hall can be reached within 30 minutes by public transport.
Phoenix Hotel, San Francisco, USA

Featuring a rich music history, the Phoenix Hotel is a quirky boutique hotel located at the intersection San Francisco's Tenderloin, Civic Center and Little Saigon districts. It's also a stone's throw from the Bill Grahm Civic Auditorium and the Great American Music Hall. Over the years, it's been known to welcome generations of traveling musicians including major figures David Bowie, Red Hot Chili Peppers, and REM. The property features original sculptures and art in the courtyard, as well as an outdoor pool and iPod docking stations in every room. It's continues to be the perfect home to musicians and other artistic vagrants pass through as well as intrepid travellers looking to have a good time in the heart of the San Francisco.