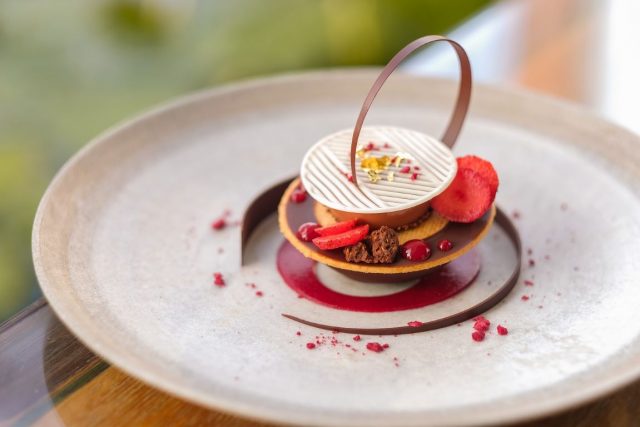 After a gruelling five-hour public cook-off in New York City, Executive Pastry Chef Yusuke Aoki of Four Seasons Resort Bali at Jimbaran Bay has been crowned World Champion of the Valrhona Chocolate Chef Competition (C3).
Representing Asia, Yusuke was the only hotel chef to make the world final of the 2018 Valrhona C3, where he competed against top restaurant pastry chefs representing Europe, the US, Africa and the Middle East. Drawing inspiration from his homeland, Yusuke's winning 'Samurai' chocolate dessert paired Nyangbo 68% Valrhona chocolate with cinnamon kombu seaweed ice cream, red wine fig confiture, fresh fig and a touch of Japanese sansho pepper to add a tingling and numbing sensation.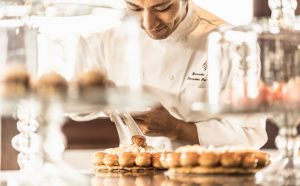 After winning Indonesia's Best Pastry Chef at the Salon Culinaire 2018 and the Asian Valrhona C3, Yusuke spent over three months preparing for the world final. He made more than 50 trial plates in order to perfect the technique, flavours and presentation, creating a unique blend of French and Japanese flavours and an elegant yet strong design. His winning Samurai creation is now available at Sundara, the resort's sophisticated beach-club and restaurant, for diners to try the World's Best Chocolate Dessert for themselves.
After passing intense regional selections earlier in the year, each chef competing at the C3 world final had to make 10 pre-dessert plates using any Valrhona product and 10 main dessert plates using Valrhona's 68% Nyangbo Ghana chocolate — all within five hours in front of a live audience in Brooklyn, NYC. A judging panel of 10 star-studded chefs rated contestants on hygiene, organization, stress management and overall demeanour, before a final taste test.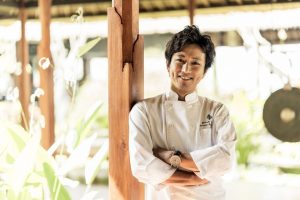 "I entered this competition because I wanted to challenge myself," said Yusuke. "There's a different pressure when you compete, with hundreds of people watching you as you work and the judges walking around taking notes over five hours. Going through this process, the stress and the pressure, makes me stronger."
Since moving to Indonesia in 2017 to join Four Seasons Jimbaran Bay's culinary team, the Japanese native has challenged his creativity beyond chocolate. He opened a new temperature-controlled Patisserie at Taman Wantilan restaurant, offering diners at the live cooking dinner concept the perfect sweet finish: an unlimited selection of dainty French classics with a Balinese twist. Highlights include cinnamon, cloves and poached pear baked tart, and mango mousse cake with coconut sponge. However, his one true love is chocolate and he insists on using only Valrhona for the a la carte chocolate desserts at Sundara.
What's the next challenge for this chocolate fanatic? "I am currently perfecting my own 64% organic Bali chocolate, making it from scratch," said Yusuke. He sources organic cacao beans from a family farm in Bali's highlands, and roasts and grinds them using a melanger at Four Seasons Jimbaran Bay to produce a smooth, silky texture. Watch this space for the imminent launch of house-made chocolate by the World's Best Chocolate Chef.
Yusuke's award is the second #1 achievement for Four Seasons Resorts Bali this year, after sister resort Four Seasons Resort Bali at Sayan was voted #1 World's Best Hotel in the 2018 Travel + Leisure Readers' Awards.