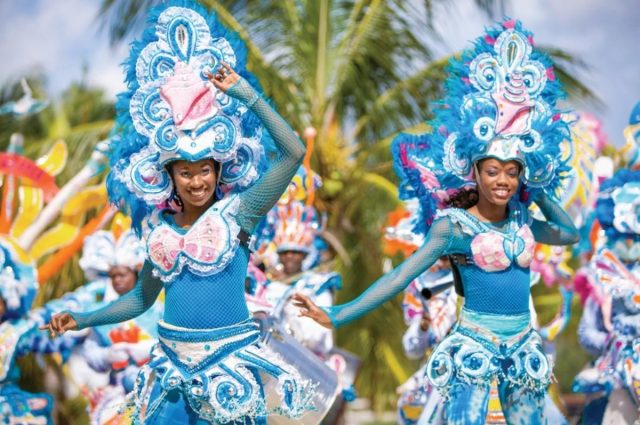 A Boxing Day and New Year's Day tradition native to The Islands of The Bahamas, Junkanoo is as vibrant, colourful and Caribbean as any carnival can be. In the spirit of festive competition, children and adults join Junkanoo groups (some numbering in the hundreds!) in hopes of dazzling the thousands of spectators in attendance with an unforgettable performance and taking the Junkanoo crown. 
The rhythmic beating of a goatskin drum heralds the Junkanoo parades: eye-popping processions of spirited dancing, waving banners, expertly decorated floats, and fantastically funky music. With West African roots, this sensory-stimulating display of heritage, culture and community has been observed in The Bahamas since the late 18th century. Pride and honour are embedded in this deeply traditional celebration, with Bahamians and other participants preparing and planning for each Junkanoo display up to a year in advance. The incredible costumes, impressive dance routines and wonderful musical performances are all created to reflect a chosen theme and compete in categories such as best free dance, best banner, and best choreography. 
The Junkanoo Parade traditionally travels along the looped route of Bay Street and Shirley Street, the oldest and busiest strip in Nassau. With interesting native instruments such as goatskin drums, conch shell horns, hand melded cowbells and other brass instruments, the sounds of Junkanoo can be heard from very early in the morning to very late at night. The diverse and eclectic sounds of Junkanoo have won at least one famous admirer – Bahamian American musician Lenny Kravitz is known as a massive Junkanoo enthusiast.
Junkanoo is a festival for all who wish to watch art, history and joy all collide in an incredible performance parade extravaganza. In recent years, it's also become a festival with a decidedly environmentalist bent. Whereas cloth, straw and grass were once the primary materials used in costume construction, Bahamians now pride themselves on realizing fantastic, inspired designs made wholly from recycled cardboard.
Described as being the spirit of The Bahamas, Junkanoo is uniquely Bahamian: you won't find an experience anywhere in the Caribbean quite like this one. The enthusiasm and passion that Bahamians have for their Junkanoo parade are what makes it so special. Don't hesitate to book your ticket, join the party and relish in the sights, sounds and festive ambiance of this joyous moment. Junkanoo awaits you on your upcoming winter getaway.
Visit the Educulture Junkanoo Museum & Resource Centre on your next visit to Nassau!