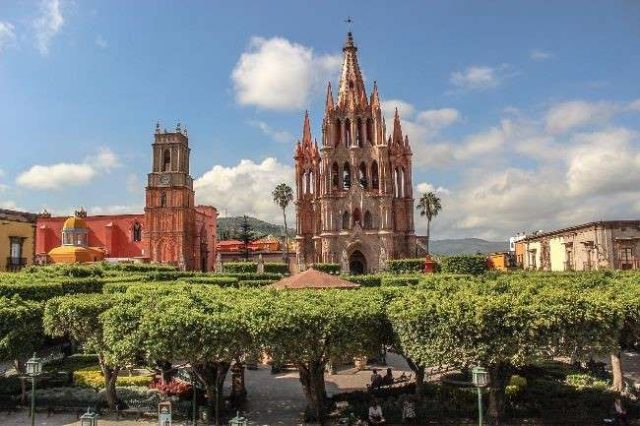 San Miguel de Allende, located in the State of Guanajuato and known as the "Heart of Mexico," will start reopening to tourists today, with hotels working with a maximum 40% capacity and everyone must adhere to social distancing and mask protection.

Access to San Miguel de Allende has been closed since March to non-residents, with the city sacrificing the local economy for the health and wellness of its residents. On May 25, the city launched its "Health First" certification, which is granted after local health and safety officials evaluate each location and certify compliance with sanitary protocols for reopening. This was followed on July 2 with the city receiving the World Travel & Tourism Council's Safe Travels seal. This was seen as an acknowledgment of the many sacrifices the city has made to contain this pandemic and ensure that all international requirements are met.

Obtaining the WTTC's 'Safe Travels' seal endorses this work and reaffirms that San Miguel de Allende is properly ready in terms of sanitation, said Laura Torres-Septien President of Tourism Board. That same day, it was announced that hotels in San Miguel de Allende could start confirming reservations for a July 15 reopening.

San Miguel de Allende and its nickname, the "Heart of Mexico," serve as a travel and tourism metaphor, as the city plays a key role in the country's cultural tourism. As the new normal begins to take shape, it is San Miguel de Allende that takes on the task of welcoming visitors back to Mexico. The city beats with a new rhythm, one that goes beyond the resort experience and invites visitors to an authentic experience.

The town has a mystical quality. Its picturesque cobblestone streets and Spanish colonial architecture are complemented by age-old traditions both religious and secular, a spectacular natural setting for hot-air balloon rides and open eatery food tours, flourishing wine country and tequila fields, and rooftop bars and restaurants.

Those planning to make their way to San Miguel in its current state will find the city fits well with the new realities of social distancing and the craving for outdoor activities. The following are some activities not to be missed.

EL CHARCO DEL INGENIO: Located on the outskirts of San Miguel de Allende, El Charco del Ingenio is a privately funded ecological reserve and botanical garden dedicated to the restoration and conservation of Mexican flora and fauna and the encouragement of endangered species' reproduction. The large grounds house a cactus conservatory, the remains of a mill and the manor house of a hacienda. It is home to native and migratory birds. All the terrain is linked by paths, ideal for walking, that allow visitors to climb the walls of the canyon, which offer excellent opportunities for bird watching.

CAÑADA DE LA VIRGEN: One might think the site was occupied by Náhuatl groups in pre-Hispanic times due to the type of construction found but, thanks to archaeological data, experts have concluded that the Otomi people were, in fact, the inhabitants of the Cañada de la Virgen zone. The area is confirmed by five architectonic groups, of which three are in visiting conditions. "The House of the Thirteen Skies," or "Complex A," is a 16-meter-high pyramid with a sunken patio and three platforms. "The House of the Longest Night," or "Complex B," is composed of several structures such as the pyramidal basement, one more sunken patio and a series of platforms that indicate mixed functionality of the architectural spaces. The so-called "House of the Wind," or "Complex D," is a circular structure that presents three constructive stages.

BENITO JUÁREZ PARK: A park and garden founded in the early 20th century, it presents a French style of design, with fountains, ponds, wrought-iron benches, old bridges and wide roads and trails. Currently, the park is a recreational space with playgrounds and basketball courts. Benito Juárez Park is full of plants and trees typical of the region, such as chirimoyos, blackberries and walnuts.

EL CHORRO PARK: Built around one of the oldest and most winding streets of San Miguel de Allende, the stairs of this quiet park rise to an ancient natural water spring, 18th century baths, a primitive chapel and the current temple. According to legend, this chapel was the site the first Christian ceremony conducted in San Miguel.

INSTITUTO ALLENDE (ALLENDE INSTITUTE): The De la Canal family built this huge complex in the 17th century as a hacienda and a place of retirement. The old manor house is full of interesting courtyards, a private chapel in which you can see some colonial frescoes, and a modern art gallery and restaurant. In 1951, it became an art institute offering courses and classes that range from silverware and ceramics to Spanish language instruction. It attracts hundreds of students of different nationalities annually.

LA AURORA FACTORY: After years of functioning as an important part of the regional textile industry, the walls of La Aurora Factory now house galleries, art studios, jewelry and design stores. In this art and design center, you can watch the work of many artists. There are about 50 galleries, as well as antique shops and a couple of restaurants and cafes. In this large complex, you still will be able to see some of the big machines and pipes that formed part of the textile factory. It has a parking lot, but if you decide to walk from the Main Garden, it will only take you 15 minutes.

CRAFTS MARKET: This market occupies a three-block-long pedestrian alley filled with stores that sell folk art and local craftsmanship, silver jewelry, decoration items, souvenirs and typical manufactured objects from all over Mexico.

COYOTE CANYON GUANAJUATO: A family-owned destination management company specializing in adventure and ecotourism since 2000. Coyote Canyon Adventures is proud to offer horseback riding excursions, archaeological and cultural tours, adventure activities and unique events for families and private groups.

MAIN GARDEN: This central square is undoubtedly the heart of the city. On the south side, you can watch the outline of San Miguel Parish, to the east and to the west are the arches of the portals and colonial buildings, and on the north side you will find the old Municipal Palace. But it is the garden itself that attracts visitors to sit and chat on the wrought-iron benches under the shade of the laurels, while they listen to musicians who play in the surroundings or watch one of the many enjoyable parades.

SAN MIGUEL DE ALLENDE WINE COUNTRY: The San Miguel countryside is one of the area's most treasured hidden gems. With its mix of vineyards, orchards and cattle ranches, the stunning vistas alone are worth the visit.