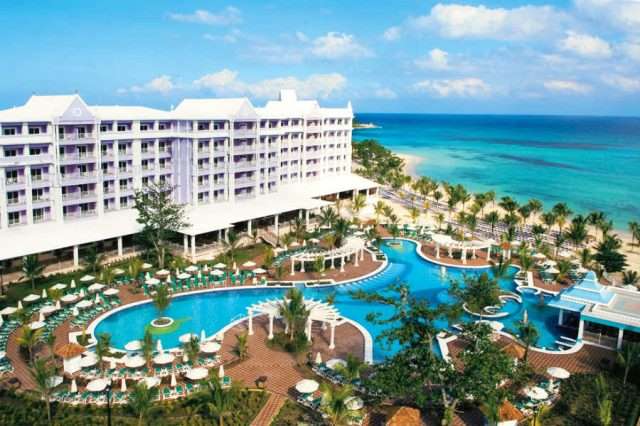 Ocho Rios, Jamaica is one of the most sought after sun destinations for travelers from around the globe and the Club Hotel RIU, Ocho Rios is fast becoming a favorite resort. Located directly on a long strip of pristine white sand and embraced on all sides by the eco rainforests and fantastic waterfalls of Ocho Rios, Club Hotel RIU is a luxurious beachfront resort property that offers 856 rooms and suites and offers every imaginable amenity.
There is truly no need to leave the resort as the Club Hotel RIU, Ocho Rios has thought of everything and brought it onsite for your pleasure and ultimate convenience. Enjoy world class cuisine in one of more than a dozen restaurants, cafes and bars. Spend an afternoon luxuriating in the hotel spa or enjoy day and night entertainment at multiple resort locations. For the water lovers, there is a plethora of sports and activities including snorkeling, jet skiing, scuba diving, and small craft boating. For sun worshippers, there are two large pools with Jacuzzi, a massive sun terrace and complimentary sun loungers, towels and umbrellas.
Each of the 856 rooms are nicely decorated and adequately spacious, especially the junior suites which include deep soak jetted tubs, mini bar and liquor dispensers. Laid back enough for families and friends traveling in groups to feel comfortable, and yet elegant enough to satisfy the needs of even the most discerning vacationers.