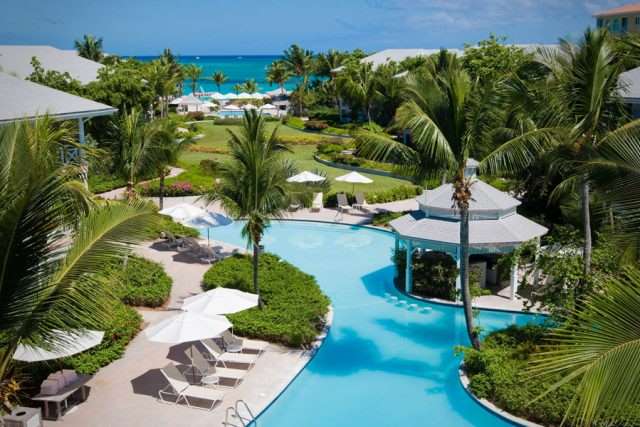 The best of both worlds, at Oceans Club Resorts you can choose between two oceanfront properties, Ocean Club and Ocean Club West – located 1 mile apart on Grace Bay Beach and guests are welcome to stay at one, but play at both! The resort offers a complimentary shuttle bus between the two properties and guests are welcome to partake in activities at both and indulge in the culinary delights at any of the 3 restaurants, swim in any of the 3 massive pools and enjoy a game on the multiple tennis courts at both resorts.
Whether you choose Ocean Club or Ocean Club West on Grace Bay Beach, you will enjoy one of the suites that range from studio to 3 bedroom accommodations. If peace and quiet is your idea of the perfect holiday, choose Ocean Club which is at the secluded northeast point of Grace Bay Beach. If you prefer your vacation to be a little livelier in terms of water sports, nightlife and shopping choose the newer Ocean Club West. At both locations, all suites are superior and feature quality décor and furnishings, sleek Caribbean tile floors and lovely terraces. Available to all guests is internet access, valet services, spa treatments and an on site fitness center.
Ocean Club Resorts is perfect for a single pioneer, a couple getting away from the city grind or a family reunion getaway. Amenities are superior, service is always world class and for the staff at Ocean Club Resorts your best vacation ever is always their number one priority.