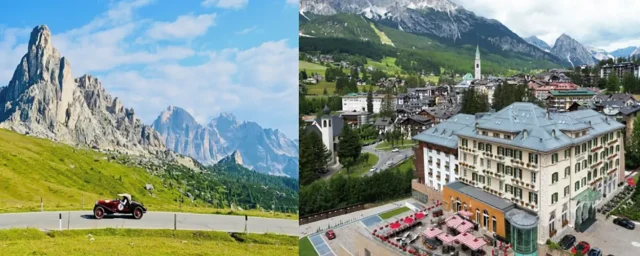 The Coppa d'Oro delle Dolomiti, a classic car race famous for its vintage automobiles, returns to the Dolomites where the headquarters will be at Grand Hotel Savoia Cortina d'Ampezzo. The race will be held from 20th – 23rd July with three categories of cars to be entered, dependent on year of manufacturing. This classic car race has been a regularity on the streets of Cortina d'Ampezzo since 1947 and takes racers along a picturesque route through the Dolomite mountains, a UNESCO world heritage site. 

The event, organised by the Automobile Club di Belluno and the Automobile Club d'Italia (in collaboration with the ACI Storico Club and ACISport), will see its participants roaring up and down the roads of the Dolomites in their classic cars. The extraordinary mountain setting becomes the most exceptional stage for more than 70 crews from 10 different countries including Belgium, Germany, Greece, England, the Netherlands and non-European countries such as Japan. It's three days of elegant classic gentleman racing.
The Coppa d'Oro is entering its 76th year of racing through the majestic Dolomite mountains of northern Italy. The race is the third event in the Campionato Italiano Grandi Eventi, a series of regularity races. The events will be run from the Grand Hotel Savoia Cortina d'Ampezzo, which turns itself into the ultimate Gentleman's Racing Club, in the heart of Cortina d'Ampezzo, where it has been part of the scene for over 100 years. The hotel has always enjoyed a front row, offering the inside track to one of Italy's most beautiful mountain destinations. Sophia Loren was here posing for the paparazzi at the 1956 Winter Olympics; David Niven featured in The Pink Panther shot in Cortina, and the roar of vintage cars around hairpin bends is still a regular feature, with a few flashbulb moments thrown in from the town's glamorous past – all these aspects make it a culturally interesting destination. Cortina is the place where the golden age of travel never ended, and today the town continues to make history.