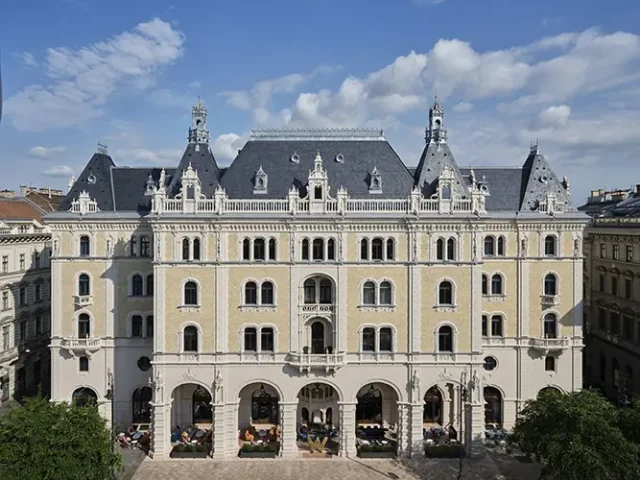 W Hotels Worldwide, part of Marriott Bonvoy's global portfolio of 31 extraordinary hotel brands, today announces the highly anticipated debut of W Budapest, marking the brand's first opening in Hungary. Housed in the historic Drechsler Palace, previously home to the Institute of Ballet, W Budapest is set to become an evolutionary heartbeat of the city with visionary design, eclectic gastronomy and a socially driven spirit drawn from the cosmopolitan capital.
Located on Andrássy Avenue, a UNESCO World Heritage Site and the city's most luxurious shopping street, W Budapest features 151 stylish guestrooms and suites as well as three innovative dining concepts, all influenced by Budapest's rich history, creativity and diversity.
Following the 2021 opening of W Rome, W Budapest showcases the evolved direction of W Hotels, offering incredible design in an elevated and sophisticated yet playful setting that intrinsically connects the next generation of luxury travelers to the locale.
"The debut of W Hotels in Budapest marks a monumental milestone and signals a new era of design ethos for our iconic brand," said George Fleck, Vice President and Global Brand Leader, W Hotels. "We look forward to connecting our guests to this timeless and inspiring city through inviting yet unexpected design, imaginative dining and unparalleled guest programming."
Bold, Intriguing and Locally-Inspired Design
Interior designers Bowler James Brindley (London) and Bánáti + Hartvig (Hungary) have carefully restored and reimagined Drechsler Palace, drawing inspiration from its rich cultural history and multiple identities as a café, social hub and Hungarian State Ballet Academy, to create captivating design narratives. Alongside the palace's history, the hotel has a 'second skin' design story bringing together the two sides of the city, Buda and Pest, with a playful juxtaposition. From soft layering to the use of metallic meshing to create perspective and intrigue throughout the hotel's public spaces and guestrooms, the design concept has created spaces that reveal new depths each time they are experienced.
Further inspiration has been sourced from the grand French Renaissance architectural aesthetic throughout the city, leading to a spirited modernisation with colour palettes of green, coral and deep blues and paired with contemporary Zsolnay inspire tiles, stained glass features and jewellery-inspired light fittings. Hungary's vibrant and eclectic cultural scene, including the city's famous love of chess and deep-rooted connection to ballet, can also be seen throughout the new hotel. Subtle nods to both are expressed in the form of bespoke chess-piece lamps and monochrome tiled marble flooring or soft pink hues, curved lines and lighting inspired by the graceful fluidity of the dance form. A few of Hungary's most famous exports, Harry Houdini and Zsa Zsa Gabor, have sparked a creative vision for the interior concept, expressed using mirrors to create optical illusions and nostalgic touches of Hollywood glamour.
The intertwining design narratives are present throughout the hotel's 151 distinctive guestrooms, including 45 suites. The fifth floor's unique wooden-centric style is sympathetic to the Palace's original roof design that has been restored, while the hotel's connection to ballet is reflected in the all-black Extreme WOW suite and all-white WOW suite – a celebration of the famous ballet Swan Lake.
Fusion Dining and a Timeless Cocktail Culture Ignites Curiosity
Shaking up the city's culinary scene, W Budapest opens with three new imaginative dining concepts, curated to spark curiosity and foster connections between guests and locals alike. Under the helm of world-class restaurateur Riccardo Giraudi, the hotel's destination restaurant, Nightingale by Beefbar, is the gastronomic heart of the hotel. A spinoff of the famous Beefbar concept, the restaurant offers an approachable introduction to Asian cuisine, pairing fresh traditional Asian flavors with a selection of Beefbar's signature and iconic meat dishes for a vibrant culinary experience. Spearheading the Nightingale by Beefbar kitchen is Fabio Polidori, who has curated a sociable menu of small plates designed to be shared with friends. Signature dishes include crispy carpaccio drizzled in a piquant chipotle dressing, yellowtail sashimi with yuzu truffle sauce and the playfully named Miss Bao, which invites diners to dip caramelized banana into a divine dark chocolate sauce. The bar at Nightingale by Beefbar offers a host of creative cocktails, from bourbon-based Nightingale Boulvardie to the gin and sweet wine-based cocktail Budapest Calling.
A destination for those in the know, Society25 is the hotel's exclusive speakeasy located in the basement. Society25 takes inspiration from the creative conversations and secret table societies that frequented the space in its past life, offering a fiercely intimate and socially liberating experience. The extensive cocktail list offers eight bespoke cocktails paying homage to the great eras, people and buildings within the city, each including a mysterious ingredient, expertly overseen by Head Bartender Stefano Ripiccini. Guests can take their pick from The Illusionist named after the great Houdini; Brew Bop which nods to Budapest's Golden Age of coffee and Geranium inspired by Drechsler Palace itself.