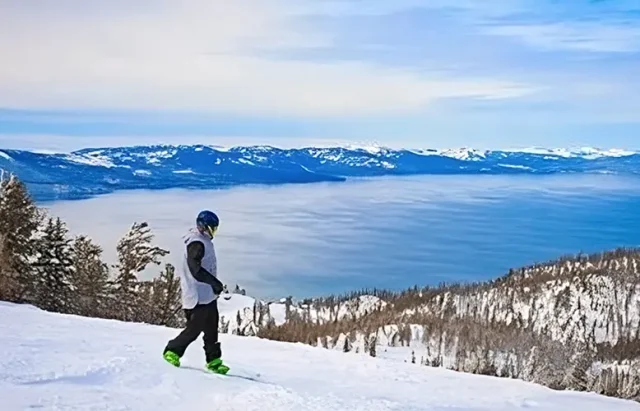 Mastering a new language is never easy, but nothing is quite as fun as practicing your Ski Slang in preparation for a visit to the slopes.
The experts at RnR Vacation Rentals in South Lake Tahoe can provide the perfect venue for a master class on this time-honored lingo. And because it's never too early to book for the winter ski season, the family-owned company invites potential guests to peruse its inventory of long-stay homes that put you on the doorstep to the best "freshies" in the world.
OK, lesson No. 1. Freshies refers to making the first tracks through untouched, powdery snow. As in, "That line was so sick, I got freshies the whole way down!" It's also known as "first tracks." And if it's a particularly difficult or challenging run through the freshies, you can always add the word "gnar," shortened from gnarly, of course!
For the uninitiated, here are a few more Ski Slang terms to know before you make the trip of a lifetime:
Chowder: Choppy, skied-out snow + powder = chowder. Not easy to ski in. AKA Tracked out.
Little Ripper: Kids who blaze their own trail, as in, "look at that little ripper!" You may also hear them referred to as grommets, or simply groms.
Shredder: A talented snowboarder who can "shred" everything on the mountain.
Ski Bum: Someone's top priority is skiing or riding, and often fits work around their ride schedule.
Après: This can be used as a noun or verb and refers to après ski, or "after ski." This means getting a drink or food after a delightful day on the hill.
Boards: Snowboards and skis. If someone says, "nice boards," you've chosen the right equipment.
Bombing: Going downhill at a fast rate of speed, usually out of control. Also called straightlining.
Carve: To use the edges of your skis or snowboard to cut a nice, deep turn in the snow.
Yard Sale: When someone falls and loses their gear, including ejecting from their skis, dropping their poles, and scattering other accessories across the snow.
For those planning a white Christmas near the slopes, Lake Tahoe sees an average of about 75 inches of snow in December, with temperatures in the 30s and low 40s.
The snowy period of the year lasts for 6.9 months, from Oct. 15 to May 11, with a sliding 31-day snowfall of at least 1.0 inches. That means a snowy Halloween, Thanksgiving or Easter can also be possible.
While an extended stay through RnR provides plenty of opportunities to speed down the slopes, it also allows families to embrace a slower pace of life. Since the beginning of the pandemic, Americans have taken greater stock of the small blessings in their lives, and the tranquil and beautiful Lake Tahoe setting provides the perfect backdrop for this shift.
Having proven they can do their work remotely — often under difficult circumstances — many parents have not returned to full-time office life and the toll it took on their family life. They've taken advantage of extended stay remote "workcations," mixing business with pleasure, and changing the way they think about the 9-to-5 world.
RnR's larger properties are especially popular, allowing guests to enjoy time with extended families, have friends join on weekends and immerse themselves in the amenities and technology of a well-equipped home away from home.
Owned by the husband-and-wife team of Stu and Diana Roberson, RnR uses a hands-on, detail-oriented approach to property management. With a varied list of extended-stay vacation homes, RnR can help guests live their best life during a 30- to-90-day exploration of paradise.