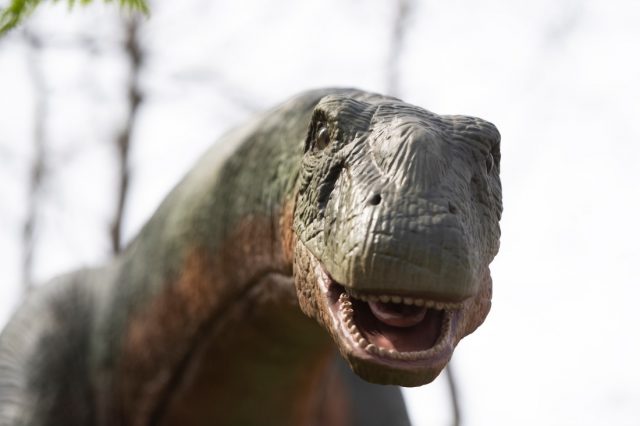 Dinosaurs will be making a big comeback this summer at the Bronx Zoo. Dinosaur Safari – the biggest, most realistic dinosaur ride in America – will open to the public on Friday, April 19.  

The immersive experience will take adventurers on a ride through a two-acre wooded area of the Bronx Zoo where 40 ultra-realistic, life-sized animatronic dinosaurs lurk  Featured dinosaur species include two massive 40 foot longTyrannosaurus rex, a favorite species in popular culture that was the apex predator in its time; the lesser-known Omeisaurus, a herbivore that spans more than 60 feet head-to-tail and towers over the safari trail; and the Spinosaurus, which was one of the largest carnivorous dinosaurs ever to roam the Earth.

The narrated ride and a Dinosaur Safari Field Guide will showcase each species and illustrate some of the physical and behavioral adaptations utilized by many dinosaurs and modern-day wildlife.

The ride concludes with an ADA-accessible fossil dig area for families; photo opportunities; and dinosaur-themed activities throughout the zoo.

This limited engagement will run for the 2019 season only (Friday, April 19 – Sunday, Nov. 3) and will be included in the zoo's Total Experience ticket. For tickets, more information about Dinosaur Safari at the Bronx Zoo, and a full list of daily activities, visit www.BronxZoo.com.