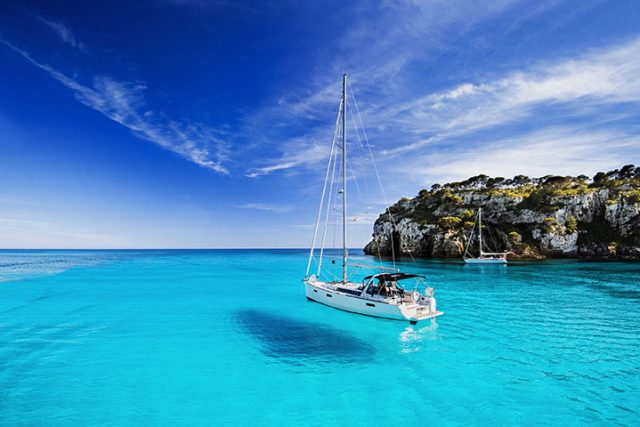 For a majority of people traveling is the ultimate escape – a break from the hectic, mundane life into the wild realms of the wonderful and unexpected. And there is nothing that screams freedom more than a bright white sailing yacht cruising amicably in the crisp blue ocean.
From the fascinating old-meet-new jewel that is Turkey to the exclusive South of France, the blue Mediterranean Sea is interspersed with countless coasts and scenic islands, majestic natural wonders and charming little towns just waiting to be discovered. With Samboat, you can easily rent a boat and see any of these destinations.
All this combined with favorable sailing conditions, delightful old ports, perfect climate, and posh marinas make the following five sailing destinations in Europe a yacht lover's dream come true:
1. The Greek Islands
Picturesque fishing harbors, modern fully-equipped marinas, fascinating history, and idyllic anchorages make the Greek Islands the perfect sailing destination in summers. It is known as the Mediterranean home of sailing and has always been a favorite of island-hoppers, sailing enthusiasts, and travelers.
The Greek Islands offer a unique chance for people to explore its timeless ancient archeological sites and beautiful beaches and what better way to do it than on board a private yacht. The most popular sailing routes include the Ionian Islands, the Sporades, the Cyclades, the Dodecanese, and the Saronic Islands.
Each of these breathtaking destinations not only offers unparalleled scenery, but also has a distinctive character that has lots of history, culture, and a plethora of hidden treasures.
2. Croatia's Islands
Croatia, the land of beautiful beaches and traditional way of life, is an absolute paradise for sailing. With more than a thousand islands, sailing along the Croatian coast is a truly unique experience. It has typical Venetian villages with ancient bell towers, quaint taverns, baths, a medieval fortress, and some of the most pristine beaches and clearest waters in the Mediterranean.
Sailing around Croatia, you will discover secluded coves inaccessible from land, savor delicious local food, bathe in spectacular waterfalls, and enjoy some good vintage wine in the taverns of some of the most breathtaking hidden islands.
Head off from the historic cities of Dubrovnik and Split and don't forget to explore the upmarket island of Hvar and the remote islands of Elafiti or Kornati. Also, drop the anchor at the timeless Vis Island and enjoy a dip in the fantastic expanse of translucent aquamarine

sea. From stunning national parks to 24-hour party pontoons to nudist beaches these islands on the Adriatic Coast really have it all!
3. South of France
Sailing is nowhere as luxurious or stylish as it is in the sunny and warm South of France. Famous for its movie star lifestyle, glamorous resorts, and charming coastal towns replete with art, history, and culture the South of France offers you a choice from a variety of sailing itineraries each more fascinating than the other.
Stretching from Saint Tropez to Monaco, you can get a taste of the good life in the legendary Cote d'Azur, Cannes, Saint Tropez, or Monaco. Indulge in mouthwatering Provencal cuisine, explore fabulous hilltop towns, or be amazed by the brilliant works of Picasso and Matisse in the fantastic art galleries and museums that line the quaint cobbled streets.
4. Turkish Riviera
Another popular sailing destination is Turkey where the most popular sailing routes on the Turquoise Coast run from lively Istanbul to the port town of Marmaris. This provides you with an opportunity to discover one of the most enthralling and unique European coastlines – a land steeped in rich ancient history, peppered with priceless ruins, and traditional fishing villages.
You will definitely love the country's fascinating cuisine, irresistibly blue waters, and
sun-soaked coastlines dotted with scenic ports. Moreover, the legendary hospitality and warmth of the locals are bound to make this a wonderful sailing experience.
5. The Amalfi Coast
If you seek an authentic Italian experience, then a sailing holiday on the Amalfi coast should be on your bucket list. This vibrant and fantastic city attracts travelers from all over the world but chartering a private yacht allows the freedom to escape the crowds and relax in secluded coves or laze on idyllic remote beaches.
The stunning natural scenery, scintillating marinas, and heavenly Italian food and wine all combine together to create an unforgettable sailing destination.