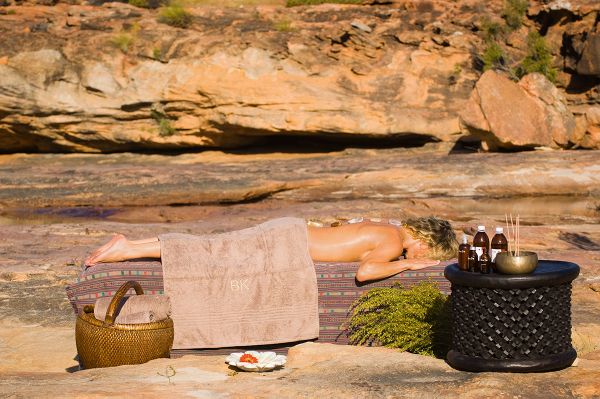 Simply put, there is nowhere else in the world like Bushmans Kloof Wilderness Reserve & Wellness Retreat. Located at the center of an 18,500-acre Natural Heritage site in South Africa's Cederberg mountains, Bushmans Kloof's ancient rock art, rare mammal species, crystal-clear waterfalls and stunning sandstone formations are a form of natural therapy for travelers seeking to replenish mind, body and spirit.
The Spa at Bushmans Kloof is the nexus of the natural healing energy that's abundant in this corner of the African bush. Recently awarded 'Best Spa' in the 'Africa and Indian Ocean' category by the Global Spa & Wellness Awards, it's a peaceful sanctuary where one can surrender to the ancient mystical powers of the African landscape, rejuvenate all the senses, nourish the spirit, and achieve inner peace and harmony.
Located amid the botanical gardens and pristine wilderness of the reserve, the spa's world-class facilities include an array of indoor and outdoor treatment rooms such as the Riverside Gazebo, a unique dual treatment room that offers exceptional panoramic views beside tranquil waters, and allows guests to be truly at one with the natural environment; and the Crystal Steam Room, which uses rock quartz crystal and moist aromatic heat to deliver therapeutic healing deep into pores, muscles and bones.
The Spa's unique holistic therapies include a wide range of massage touch therapies as well as reflexology, chakra balancing and cupping, using products that incorporate indigenous African ingredients with renowned healing propertiessuch as rooibos and fynbos. The Cederberg "Soul"ution, the spa's signature treatment, includes a relaxing massage utilizing hot stones to prepare the muscles, a rooibos milk bath foot treatment, and a face and scalp massage that uses oil infused with fynbos vegetation.
Spa treatments are a great complement to the abundance of other physically and spiritually enriching activities available at Bushmans Kloof, such as such as game drives, botanical walks, canoeing, archery, fly-fishing, hiking, swimming, yoga and stargazing.