As the sun falls westward across Myanmar and the sky puts on a show, there's only one way to make this special moment even better – with a sundowner in hand. And if one is lucky to catch the sunset in all its glory from the perfect vantage point, there's no better way to end the day.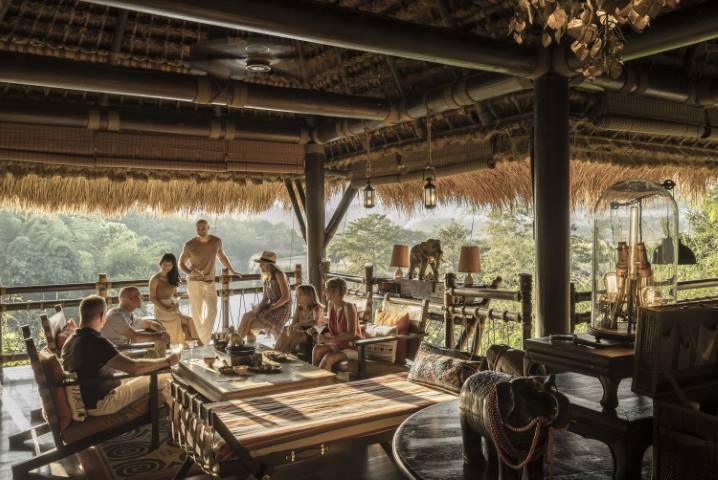 "There are so many special venues to catch the setting sun with us," smiles Tobias Emmer, Camp Manager at Four Seasons Tented Camp Golden Triangle. From the deck of the tent or atop a fully-refurbished Land Rover, to a secluded corner of the riverside peninsula, the Camp serves up delectable sundowners to set that perfect mood at its varied venues.
Social Sundowners
Guests can end the day with a drink and some company at Burma Bar, the best place to spend those sweet few hours before nightfall. The list of signature cocktails entices and complements the moment – a classic with a twist such as the Lemongrass Martini or the exotic Mekhong Kiss – perfectly complementing the moment. "The overstuffed leather chairs are very inviting! Ending the day at Burma Bar with fellow adventurers is quite perfect," shared Tobias.
A Sip of the Bucket List
Views of Myanmar, the Golden Triangle, with the gentle peaks rising across the Ruak River, are a sight to behold. Savour the same views at a private deck below Burma Bar. Here, guests get a special menu of "Bucket List" cocktails that are winched down – in a bucket! "If you want privacy, this is your spot," smiles the Camp Manager.
Champagne for Two
"The peninsula and river come alive in the evening as the birds return to their nests and the elephants stroll back to their resting place," explains Tobias. As the jungle comes alive with the enthusiastic bird calls and the gentle glow of twilight, guests can enjoy canapes and Champagne on the tent's private deck – an exclusive sundowner experience, just for two.
One for the Road
Guests can chase the sunset in the fully-restored Land Rover in a safari-style glamping trail for a more adventurous way to watch the day end. "Our team will take you on this perfect ride to end the evening with a sundowner atop the vehicle," shares Tobias. Here, birdsong and calls of the gentle giants amid the thick bamboo jungle setting is the perfect throwback to the life of a 19th century explorer.
Sundowners in the Wild
In the depths of the Camp's jungle peninsula is a secret riverside spot where guests can experience the golden hour in all its glory. "Add cocktails and canapes to the mix, and you have an experience of a lifetime," smiles Tobias.