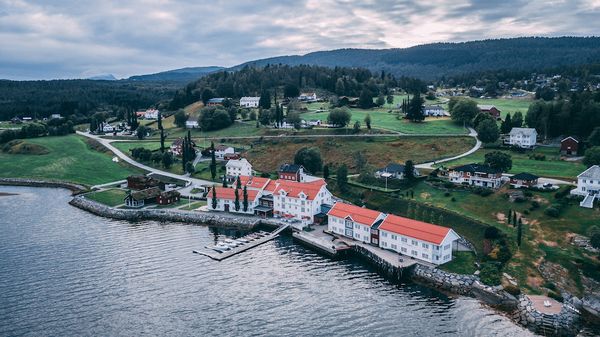 Ever since the blue cheese 'Kraftkar' was voted the world's best cheese in the 'World Cheese Awards 2016', Norway has cemented its position as a genuine cheese destination. When the Norwegian producer Ostegården won gold for its 'Fanaost' in the 2018 awards hosted in Bergen, they quickly became a hot destination for visiting for cheese lovers and foodies. Up Norway invite you to take part in this competitive whey-in by following their curated cheese trails to some of the world's best producers and idyllic locations in the world.
Three different complementary trails have been curated, each highlighting the unique terrain of the different region and guarantee an out-of-the-ordinary and memorable experience. You can choose just one or combine two or more, with transfers organized for a seamless transition.
Trøndelag Cheese Trail: Located in central Norway, this is one of the most fertile regions of Norway with a large agricultural output. This trail takes in the food hub and cathedral city of Trondheim; the scenic Inderøy Golden Route; and last but not least, Tingvoll dairy farm, producers of the World Champion Kraftkar cheese.  For the full itinerary, click here
Oslo Cheese Trail:  Norway's capital city sits on the country's southern coast at the head of the coast.  It is known for its rich green spaces and panoramic view of the fjord.  This trail introduces the Norwegian cheese revolution in the city and then takes you to the rural country towns of Thorjornrud where you will follow the food from farm to fork and Granavolden, the heart of history and former home of authors, poets and secret political meetings.   Don't miss the guided tour of the city's two stone churches that date back to the 12th century.  For full itinerary click here.
Lofoten Cheese Trail:  Lofoten is an archipelago in the far northwest known for its dramatic scenery and untamed beauty.  In winter, a snowcapped mountain and a mysterious twilight daytime and in summer, the sun never sets.  You will meet a family of Dutch origin who settled here and make cheese from biodynamic milk and also get hands-on experience making goat's cheese with the Hugo, the farmer.  Taste a signature cheese with a local tang of seaweed and enjoy a homegrown lunch with the family.  At Hattvika you will enjoy local storytelling while enjoying a festive plate of stockfish, a local speciality which was Norway's first exported product and learn about the influence of this delicacy in global cuisine.  The next visit is to the boutique Aaland Farm and dairy run by Knut and Tove who make several different types of goat's cheese and grow herbs. Their award-winning cheeses are unique, including their special brown cheese. For the full itinerary, click here.