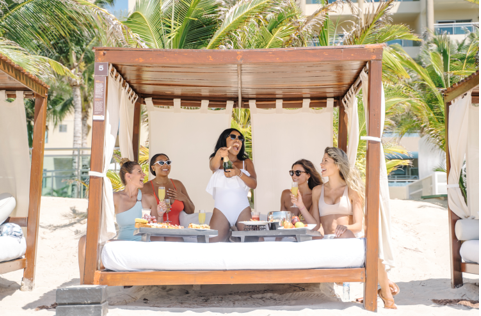 Bring the Fancy One, the Foodie One, the Active One, the Chill One and – of course – the Fun One, to the sandy beaches of Mexico's Caribbean coastline reuniting old and new friends at Generations Riviera Maya by Karisma and shine light on the best characteristics of the entire group. Girlfriends can enjoy one-, two-, and three-bedroom oceanfront luxury suites big enough to share, offering the perfect combination of togetherness in common spaces, the privacy of individual bedrooms and unforgettable itineraries customized to each person's unique interests.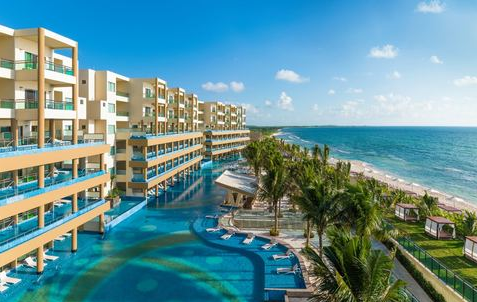 Each GenGirl has their own personality. Generations Riviera Maya has something for all and is excited to welcome girlfriends of every kind. Based on the type of GenGirl guests most related to, Generations Riviera Maya will offer a personalized package to ensure the perfect vacation in paradise, including:
The Fancy One is the kind of girl whose hair is always perfect, even in a Riviera Maya seabreeze. Sparkling wine and mimosas by the pool, in-suite breakfast and brunch and reserved pool and beach cabanas for the group are all luxurious perks to ensure she is pampered to the fullest.
The Foodie One lives by her taste buds and lets her appetite lead the way. Cooking lessons, international cuisine at Habb Indian and Jade Pan Asian Cuisine, expert wine pairings and a tour of the 76,000 square-foot greenhouse leave even the most curious fulfilled.
The Active One is packed and ready for paddle boarding on gentle turquoise waves, snorkeling the reef, and jogging on Riviera Maya's pristine Caribbean sands. Bootcamps by the beach, private bike tours of the 76,000 square-foot greenhouse and tennis clinics are all adventurous options for the active souls.
The Chill One keeps self-care top of mind and does so at the Náay Spa or doing downward dog at beachfront yoga. A tranquil kayak tour, hydrotherapy or a soothing lavender massage, or yoga group classes at nearby Xolumado Inspiration Village are all options too relaxing to pass on.
The Fun One always keeps the party going and loves to live it up. She is excited to try a cocktail class, play beach volleyball or take advantage of the 24-hour room service after a long night out gallivanting to Generations' sister resorts to enjoy the beach and amenities of El Dorado Royale and El Dorado Casitas Royale.
While the hotel is perfect for girlfriends, moms and daughters are also invited to experience the GenGirls offerings, where they can make treasured memories at any age. Busy moms don't have to pack a thing with the Gotcha Covered Amenities, which provide parents with a stroller, pack n' play and other baby essentials in their room. A Pink Tea Party, jewelry making, and other activities ensure perfect bonding time beyond the pools, Family Lounge and pristine Riviera Maya sands.
Generations Riviera Maya is run and powered by revered women who deliver an unparalleled vacation experience incorporating award-winning hospitality, luxurious poolside views and stunning accommodations making the resort the perfect spot for a special girlfriend retreat – including its owner Senora Dolores Martinez, Kelly Poling (CEO) and its on-property team.