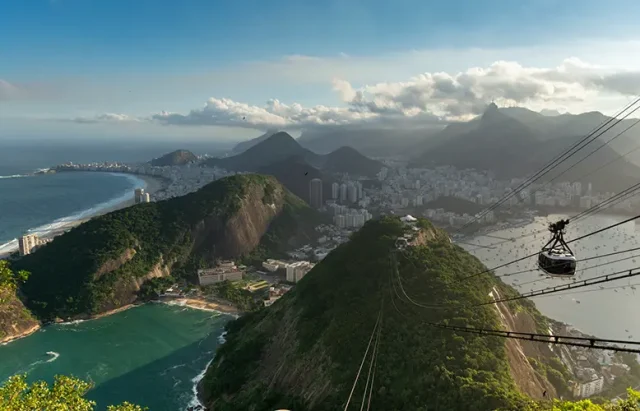 Brazil, the largest country in South America, is a land of astonishing diversity and natural beauty – and if you have the time, you can explore some of the wonders that it offers – from the Amazonian rainforest to the vibrant cities and party vibes. Brazil really offers a wealth of experiences for travellers, no matter what they are after.
In this guide, we'll take a look at some of the best places to see in Brazil.
Rio de Janeiro – The Marvelous City
Rio de Janeiro certainly needs no introduction or explanation! Nestled between lush mountains and blindingly beautiful beaches, this is a place of iconic landmarks. Instagram the statue of Christ the Redeemer atop Corcovado Mountain, dance to samba rhythms in the streets and just enjoy the stunning views from Sugarloaf Mountain. R&R? Then the Copacabana and Ipanema beaches offer sun-soaked relaxation, while the historic Santa Teresa neighbourhood provides a glimpse into Rio's interesting past.
While in Rio, you should visit the iconic Maracanã Stadium. It's one of the most famous football stadiums globally, steeped in history and known for hosting legendary matches, including the 1950 World Cup final. There may even be a match – where you can get your bets on the best football odds and experience the real passion of Brazil's iconic love of football. 
The Amazon Rainforest
One of the most iconic places on Earth, the Amazon rainforest, often described as the "Lungs of the Earth," covers a vast portion of Brazil. Why not take time out to explore the depths of this biodiversity hotspot, home to countless species of flora and fauna? You can take a riverboat cruise along the Amazon River, hike through dense jungle trails and visit local indigenous communities to learn about their way of life.
Salvador – The Heart of Afro-Brazilian Culture
Salvador, the capital of Bahia, is a bright and vibrant city with a rich Afro-Brazilian heritage. Explore the historic district of Pelourinho, known for its colourful colonial architecture and lively street performances. Immerse yourself in the rhythmic beats of capoeira and savour the unbeatable Bahian cuisine as you try dishes such as acarajé and moqueca.
Iguazu Falls – Nature's Spectacle
Straddling the border between Brazil and Argentina, Iguazu Falls is a natural wonder that is deserving of a place on anyone's bucket list. Witness the awe-inspiring power of over 275 individual falls as they cascade amidst lush rainforests. Make your way up walkways that provide you with the most stunning panoramic views and boat tours that take you up close to the falls' misty embrace.
Pantanal – Wildlife Wonderland
The Pantanal, the world's largest tropical wetland area, is a paradise for wildlife lovers. You can take the opportunity to embark on a safari to spot jaguars, capybaras and caimans in their natural habitat. The region's vast network of rivers and lagoons also offers exceptional bird-watching opportunities if you consider yourself a bit of a twitcher.
Brasília – Modernist Architecture
Brasília, Brazil's capital, is a unique destination known for its modernist architecture and urban landscape. Designed by Oscar Niemeyer and Lucio Costa, the beautiful city is a UNESCO World Heritage site. Take time out to walk amongst the futuristic buildings, including the National Congress and the Cathedral of Brasília, set against the backdrop of the sprawling cityscape.
São Paulo – A Cultural Melting Pot
São Paulo is Brazil's bustling metropolis, known for its diversity and vibrant arts scene. While you're there, you can visit the São Paulo Museum of Art with its iconic suspended structure, then go for a stroll through the bohemian neighbourhood of Vila Madalena, and if you start to get a bit peckish, try out the diverse cuisines at the city's numerous restaurants.
Fernando de Noronha – Perfect Paradise
Fernando de Noronha is an archipelago of volcanic islands known for its perfectly pristine beaches and bright blue waters. Go for a dive or put on your snorkel and swim around the vibrant coral reefs teeming with marine life. You would be crazy to miss the chance to visit this UNESCO World Heritage site – an eco-paradise that is steeped in colour and natural beauty.
There are just too many places to mention – and you'd need all the time in the world to discover all that this beautiful country has to offer. Brazil is a country of unparalleled beauty, diversity and experiences that you could find nowhere else on Earth. Whether you're looking for natural wonders, culture or the allure of sports and football, Brazil offers a kaleidoscope of wonders that will leave you never wanting to go home again.