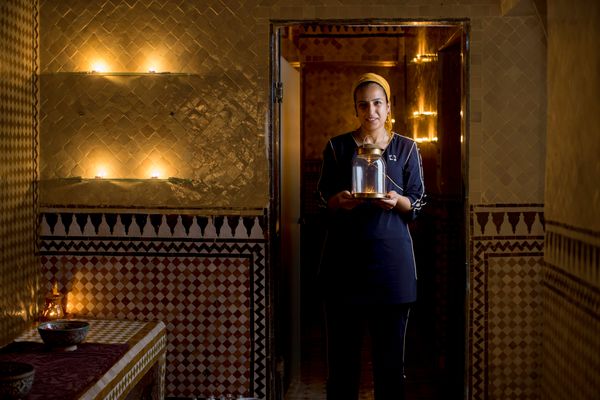 Visitors to Morocco's second city Fez, will discover old Morocco in the elaborate architecture, the historic medina and the throngs of people that make their home here. But medina life evolves with the times and new experiences have emerged allowing tourists to dive into this magical city.
Here are 10 experiences in Fez:
Explore and/or get lost in the medina
Around 10,000 car free alleys are full of adventure. Palais Amani can organise a guide to introduce visitors to the beating heart of Fez and navigate around Africa's largest medina.
Shop for authentic Moroccan items
With Palais Amani being set on the edge of the oldest part of the medina, a vibrant crafts district awaits. Aside from home furnishings, a wide selection of fashion items can be purchased.
Try a Moroccan hammam treatment
At Palais Amani, the hammam lit by candlelight only, is designed in true Moroccan style complete with a hot room, an exfoliation room, separate showers and a luxury relaxation chamber.
Learn to cook Moroccan cuisine
Start with a guided foodie tour of the medina followed by a cookery class with a chef at the purpose-built Fez Cooking School located on Palais Amani's roof terrace. End with lunch and views of Fez.
Sip through a Moroccan wine tasting
Morocco produces a wide selection of wines with reds taking the top spot. Palais Amani's chef matches a dish with a wine and a wine specialist will talk guests through each wine and pairing.
Learn the old skill of bookbinding with a local
CRAFT DRAFT in the medina offer a unique 4-hour workshop which guides the guest through the step-by-step technique to craft their own handmade leather journal with long stitches.
Eat your way around a growing food scene
From market stalls to pop up restaurants to traditional riad dining rooms, Fez offers a style of cuisine for most tastes. Moroccan cuisine is varied but Fez is also home to a unique Thai restaurant.
Visit the annual World Sacred Music Festival
Each June, The Fes Festival of World Sacred Music takes place across the city. Various venues, squares and hotels across the city host music concerts including Palais Amani.
Leave the city and head for the hills
Leaving the medina behind and heading towards the countryside, an altogether different Fez is visible. A 30-min drive with a guide gets guests to the Zalagh hillside. Palais Amani organise picnics.
Stay in a traditional riad
Each of the 18 bedrooms and suites at Palais Amani is completely different both in design and layout. The Classic Rooms are cosy offering discreet views of the garden or medina. The second category of rooms are the Luxury Rooms which combine a seating area and bedroom with stunning large windows and doors. The Junior Suites have a master bedroom, elegant salon and bathroom and can accommodate an extra bed so can sleep up to three. The Senior Suites offer an additional single room and the minimum dimensions are from 45m2 and include a salon and dedicated dressing area. Finally, The Grand Suite; this unique splendid room covers the whole 100 sq/m of the south wing. The suite includes a salon, a his and hers dressing room, spectacular bathroom and includes breath-taking views of the gardens and hills beyond. All rooms have their own fragrance and feature local beauty products and a selection of water and wines. Room service is also available.
Possibly one of the finest breakfast experiences of any hotel. Breakfast is a three-course experience and includes a daily changing course of traditional Moroccan dishes. Aside from the wide selection of fruit, pastries, breads, eggs and warm and cold drinks, the Moroccan specials include Harira and Meloui, M'hammer or Bghrir. Breakfast is served both in the restaurant and alfresco to the backdrop of birdsong.
Eden Restaurant at Palais Amani offers 'Market Moroccan' local produce. Here diners can enjoy Moroccan signature dishes from an a la carte menu along with a weekly changing three-course bistro menu. A diverse tapas menu is also available daily. Diners have the option to dine in the outdoor hidden paradise under the majestic citrus trees for a truly unforgettable culinary adventure.