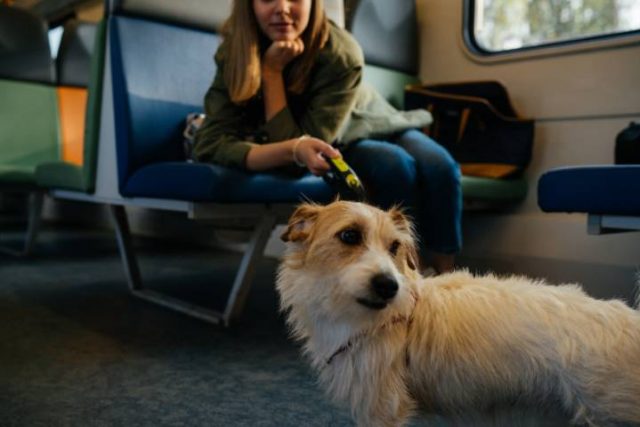 Let's face it, traveling with your dog can be difficult. You have to make sure that you find accommodations where your canine will be welcome, check that all the sightseeing tours are pet-friendly, and do lots of other things that you never worry about when traveling in an only-human company. To help all dog parents, we've gathered some ideas about the best pet-friendly destinations in Europe, so traveling together with your four-legged friend would bring only great memories and no troubles.
Paris, France
The city of romance, fashion, dreams, and dogs – Paris is a stunning place where your pet will be most welcome. There are over a thousand dog-friendly venues in the city, so you won't have any problems looking for a place to stay or a restaurant where animals are allowed. Alas, there are some restrictions. Visiting the Eiffel Tower or admiring the masterpieces housed in the Louvre can't be done together with your dog (service animals are an exception, of course), but apart from the sightseeing part, you will find it very easy to navigate with your pet.
Rome, Italy
Another amazing capital of the world where pets are loved and welcomed is incredible Rome. You won't have any difficulties finding accommodation, as most hotels allow dogs, and looking for a dining venue shouldn't be a problem as well. Another great news is that sightseeing together is not completely off-limits, although you will have to explore the historic ruins in the city center on your own (or can enjoy the views over the magnificent Colosseum from the outside with your canine). There shouldn't be any difficulty getting around Italy with your dog as well, as animals are allowed on public transport (but you will have to buy your pup a separate ticket in most cases).
Ljubljana, Slovenia
Welcome to the gem of Central Europe, scenic Slovenia, and don't forget to bring your pooch to share the experience with. Hotels, restaurants, and public transport are dog-friendly, and even sightseeing is possible! For example, the hiking trails around the world-famous Bled Lake are perfect for both you and your pet, Ljubljana Zoo welcomes dogs as long as they are kept on the leash, and Savica Waterfall would make an amazing day trip destination. While all dogs must be kept on a leash outside, there are two beautiful dog parks right in the city center where you can let your canine friend run around and stretch his legs.
Zurich, Switzerland
A country that both you and your dog will fall in love with, breathtaking Switzerland, is a fantastic destination to consider if you are looking for a place to spend your next vacation. Amazingly, it is so pup-friendly that you can take the "dogs are welcome unless otherwise stated" setting as a default! Exploring Zurich, you will see dogs everywhere from high-end restaurants to various shopping venues (mostly safely tackled in the owner's shoulder bags or gently carried around the shops). As you can imagine, finding accommodation with a pet-friendly policy is not a challenge and dogs are welcome on trains (even the high-speed Railjet trains). Plus, Switzerland is famous for its one-of-a-kind sceneries and an abundance of hiking trails to explore – an experience you are welcome to share with your canine.
Riga, Latvia
Visiting this Baltic country with your pet is a great experience and hardly a challenge, as Latvia is one of the most dog-friendly places in Europe. It's not only easy to find a restaurant where your puppy will be allowed, but the waiters are also likely to rush and offer a bowl of water to your canine companion first. Most hotels have very nice pet-friendly policies and Riga's many parks and public areas are a great place to unleash the pup. But keep in mind that sightseeing options are not very extensive, as churches, museums, and galleries don't allow dogs (as a rule), but you are welcome to explore the streets of this charming historical town, admiring the architecture, and enjoy the multiple hiking trails and beaches, accompanied by your pooch.
Yes, traveling with a dog can be a hardship, but only if you don't prepare for the trip. If you carefully plan ahead and explore the subject beforehand, you can easily organize an amazing experience for both you and your canine companion. And all of the destinations mentioned above are great places to consider for your getaway. After all, sharing the vacation with your pup will bring a ton of lifelong memories and expand the world for both of you.