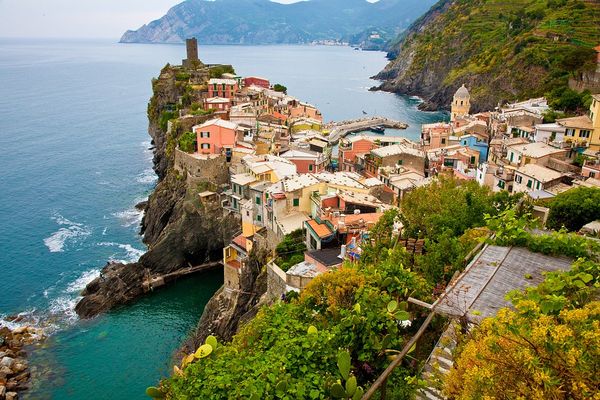 Called a "pastel-hued perfection" by Lonely Planet, Cinque Terre is comprised of five cliff-side villages along the Italian Riviera whose colorful beauty draws thousands of visitors every year.  It is also one of the inspirations for Art Walk Italy, a unique, seven-night walking vacation offered by 'The Blue Walk', a vacation specialist with tours in France, Italy and Greece.  Led by American artist and teacher Leslie Fehling, Art Walk Italy features onsite sketching and watercolor classes combined with daily coastal walks and tours of villages steep in Old World charm.  Fehling, recognized in the U.S. and Europe for her lively style, tutors guests in drawing, watercolor techniques, hand lettering, page design, and travel sketching – all while they absorb the scenic beauty of some of the world's most stimulating environments.
Art Walk Italy is available September 22- 29, 2018, with rates starting at $3,350, based on double occupancy.  In addition to art lessons, rates include daily buffet breakfast, a welcome dinner in Rapallo and farewell dinner in Lenno, all hotel taxes, fees, and service charges.  The groups are small, allowing both the new and experienced sketchers to gain valuable insight into their craft through personalized instructions.
"Going to these popular destinations during the shoulder seasons, when they are relatively free of crowds, is the best time to 'brush up' on your creative nature," said Jeannette Candau, co-owner of  The Blue Walk.  "If you're new to drawing, Fehling is experienced in helping students bring out their best to capture the essence of the quaint village scenes and stunning coastal trails."
After a night in Milan, Art Walk Italy guests spend three nights in the town of Rapallo, from which they visit Cinque Terre and Portofino.  For the second half of the tour, they take a train and short ferry ride to Lake Como, a playground for the wealthy that sits at the foot of the Alps in Northern Italy.  Guests will sketch the villas, mountain, and lakeside scenes of the towns of Bellagio and Lenno.  Art Walk Italy also offers an optional three-night extension, September 29 – October 2, which visits Venice, Verona, and Padua in Italy.  Rates for the extension start at $1,095 per person, based on double occupancy.
"The smaller crowds during our visit allow our guests to linger, individually or in groups, at almost any point in their walks to capture some of the world's most magnificent views," said Candau.
Candau noted that The Blue Walk tours continue to grow in popularity.  Spring tours are sold out, but there are still spaces in their fall tours. The company is also accepting reservations for their 2019 tours, typically offered in spring and fall.
Visit them online at www.thebluewalk.com.