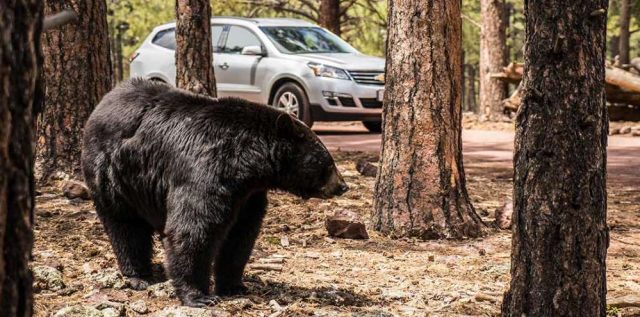 Residents across the Southwest looking for safe regional excursions and activities amid growing COVID-19 concerns can add Bearizona to their list of crowd-avoidant destinations, as many already have. In fact, the popular wildlife park experienced a 47 percent year-over increase in visitors in February 2020, compared with February 2019. Bearizona naturally provides an excursion with built-in social distancing, via its drive-thru option, and will continue normal park operations at this time, as a result, with a few modifications.
"We are in a unique situation where our guests view animals from the comfort and safety of their own vehicle. We tell people to stay in their cage (car) because the animals roam free here," said Co-Owner Sean Casey. "This is an ideal way for anyone seeking alternative forms of entertainment to stay away from the crowds and do something fun, from the privacy of their own vehicle."
Casey said he was not surprised by the temporary closure of Disneyland and completely understands their decision because of the park's large number of visitors and small number of acres.
"Bearizona has nearly twice the land mass of Disneyland and two percent of the visitors, which makes for an environment where our visitors can easily create what they are now calling 'social distance' between one another. If they arrive at 9 am or after 3 pm, people pretty much have the park to themselves," he said. "When you add that to the fact that we are an open-air attraction in the Coconino Forest and the Grand Canyon is more than 250 miles long, it makes Northern Arizona a very attractive option for families looking for safe things to do together at this time."
In an effort to proactively address mounting health concerns nationwide, the park has taken several health and safety precautions, including the following:

All employees who accept payments will wear gloves and encourage guests to pay with credit cards instead of cash
The optional Wild Ride open air bus will not operate until further notice
Sanitizing stations throughout the park have been increased
The park added distance markers to the few places in the park where a queue can form, to encourage guests to maintain a safe distance from others.
Since it was founded in 2010, Bearizona has fast become a must-see attraction when visiting the Grand Canyon's South Rim or driving through the wilds of Northern Arizona. It was voted among the top three wildlife parks by the annual USA Today Reader's Choice Awards twice and is the only wildlife park of its kind in the southwest.
Park guests are invited to take a scenic, three-mile drive through packs and herds of wild animals, including Alaskan Tundra Wolves, American Bison, American Burros, Arctic Wolves, Big Horn Sheep, Coues Whitetail Deer, Mule Deer, North American Black Bears, Rocky Mountain Elk, Rocky Mountain Goat, Reindeer, and Pronghorn Antelope.
When asked about the supply chain for food and supplies for the park's animal family, Casey said, "We have a very professional animal team that always thinks six months ahead, so our animals will experience no disruptions to their enrichment or nutrition plans."
The park is located in Williams, AZ near the intersection of Historic Route 66, Interstate 40 and Highway 64, just an hour from the Grand Canyon's South Rim, where travelers can camp out in the wilderness, away from crowds. The park is within a day's drive of Los Angeles, San Diego, Las Vegas, Phoenix, Tucson, Albuquerque, Santa Fe, Taos, St. George, Moab, Salt Lake City and El Paso.
For more information, visit www.bearizona.com.