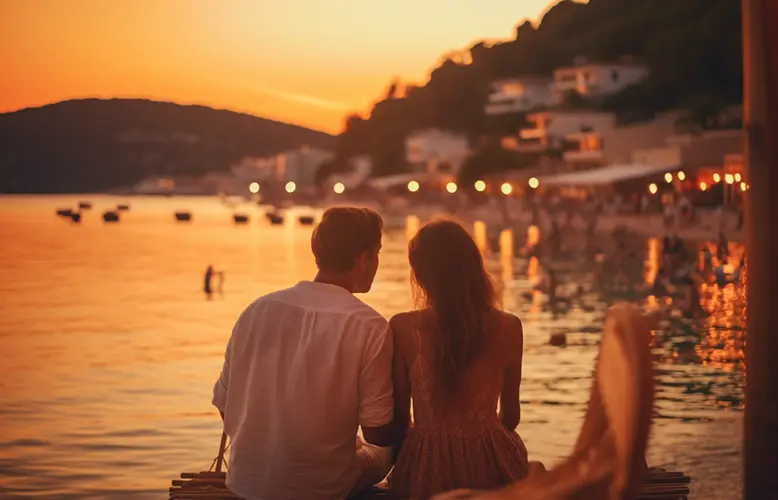 Envision reciting your vows amidst the mesmerizing splendor of a green forest or in front of a breathtaking sunset on a quiet beach. Elopements to exotic locales allow the happy couple to share their love with family and friends in a personal and memorable way. We'll discuss the appeal of destination elopement packages, take a look at some of the most popular locations, and offer helpful advice to engaged couples arranging their ideal wedding abroad.
The Appeal of Honeymoon Weddings
Due to their unique combination of intimacy and romance, destination elopements have recently surged in popularity. They let engaged couples enjoy the outdoors and local culture without adhering to the standard wedding ceremony format. Elopements in picturesque settings allow for a more intimate and genuine celebration of the couple's love, apart from the prying eyes of family and friends back home.
Destination Elopement Hotspots: A Exploration
Santorini, Greece, has a romantic atmosphere thanks to its whitewashed structures and the brilliant blue seas of the Aegean Sea, making it a top destination for honeymooners.
Maui, Hawaii is the perfect place for a beachside elopement thanks to its tropical beauty, golden beaches, and lush sceneries.
Banff National Park, Canada: For mountain-loving couples, Banff's breathtaking alpine vistas and tranquil lakes make for a picture-perfect elopement location.
With its towering cliffs, colorful villages, and the appeal of Italian romance, the Amalfi Coast in Italy is a fantastic choice for couples looking for a once-in-a-lifetime elopement adventure.
Bora Bora, French Polynesia, is a top pick for a romantic and lavish elopement because to its overwater villas and blue waters.
Planning Hints for the Perfect Destination Wedding
1. Do your homework and plan ahead of time. Learn about the local laws of marriage. There may be residency or paperwork requirements that must be met in advance of the ceremony in certain countries.
2. Choose a Package: Many locations offer all-inclusive elopement packages that cover the bases, from photography to flowers to the officiant. Purchasing one of these bundles can streamline your preparations and make for a more enjoyable trip overall.
3. Learn about and appreciate the local customs and culture in your vacation spot. Include symbolic gestures from the host country in your elopement ceremony.
4. Know the typical weather patterns at your elopement location throughout that time of year. Prepare for the worse and plan for a rainy day and then a sunny one.
5. Plan Your Trip and Book Your Stay in Advance 5. Plan your trip and book your stay in advance.
6. Make sure you and your visitors have a wonderful time.
While elopements to a faraway location are often small and private, you may choose to include a select few of your closest friends and family members to help you celebrate.
Hire a professional photographer to record the magic of your destination elopement in all its splendor. The combination of the breathtaking scenery and your love story will result in photographs that will last a lifetime.
Engaged couples can celebrate their love in some of the world's most beautiful locales by having an elopement. The beautiful beaches and majestic mountains here provide the perfect backdrop for more intimate and spiritual celebrations. If want to know how to  plan a destination wedding, it's important to remember the legal requirements, consider local customs, and choose a package that fits your vision. Indulge in the thrill of the trip, immerse yourself in the charm of the setting, and create memories that will forever captivate your mind and heart.