With Lima's Central winning the coveted Best Restaurant in the World Award for 2023, the culinary spotlight is shining brighter than ever on Peru. But the Peruvian capital isn't the only city to boast extraordinary dining.
Cusco and Arequipa also offer standout opportunities to savor Peru's unique and distinctive gastronomy. It features traditional Peruvian dishes; chifa and Nikkei cooking influenced by a 19th-century influx of Chinese and Japanese immigrants, respectively; and Peruvian cooks who trained and apprenticed abroad before coming home to Peru as seasoned chefs ready to succeed at running their own kitchens.
Here's a guide to where to sample the best of Peruvian cuisine in Lima, Cusco, and Arequipa.
Lima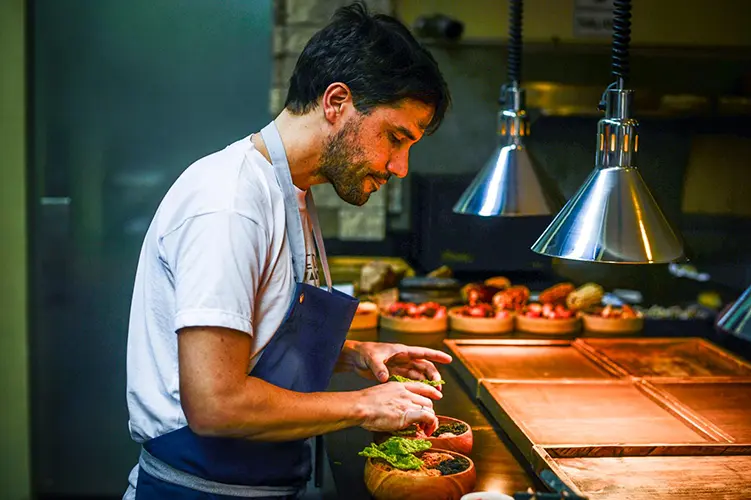 Since first opening in the Miraflores district in 2012, Central has been a hotspot, making the Fifty Best Restaurants list every year since 2013. Virgilio Martínez has long been known for his impressive tasting menus but also for constantly experimenting, researching native ingredients, and raising the bar with his partner and co-chef Pía León, who happens to be his wife. With their 2018 move to a culinary complex they built in Barranco to house Central, León's first solo restaurant Kjolle upstairs, and their research lab Mater Iniciativa, the couple unveiled a new concept that altitude dictates the way an ingredient should be used. Central's 17-course tasting menu whose dishes each feature ingredients that are all grown at the same elevation — from sea level at the Pacific coast to the Amazon rainforest and higher elevations in the Andes. It's about more than exceptional food.
Relying on ingredients sourced only from Peru — such as tubers including yucca, olluco, and local potatoes — Kjolle has also racked up accolades. This year León's restaurant made the Fifty Best Restaurants in the World list at No. 28 after earning the No. 1 spot on the Fifty Best Restaurants in Latin America in 2019, and León being named best female chef in Latin America in 2021.
Two additional Lima restaurants made the Fifty Best list this year, Maido at No. 6 and Mayta No. 47. Lima-born Japanese chef Mitsuhara Tsumara studied culinary arts in the U.S. before moving to Japan to train in sushi-making and izakaya (Japanese tapas) in kitchens all over the country. In 2009, he came home to Lima and opened Maido to showcase a fusion of Peruvian ingredients prepared with Japanese techniques. That's how Tsumara became Peru's Nikkei master chef.
Another Peruvian chef among the best, Jaime Pesaque apprenticed in Michelin-star kitchens in Italy and Spain before opening his contemporary Peruvian restaurant and pisco bar Mayta that relies on produce grown at his family's pisco vineyard two hours south of Lima.
Le Cordon Bleu-trained Rafael Osterling chose an old Art Deco townhouse in Miraflores for his first restaurant, Rafael, opened in 2000. Elegant meals ranging from pasta and pizza to ceviche, sashimi, and carpaccio served in intimate art-filled dining rooms have made Osterling a favorite. It's the kind of place that calls for savoring every bite and lingering.
Dining choices in Lima would have a big hole without Gastón Acurio. The influential chef led the way for the next culinary generation by rejecting law school in Spain for training at the Cordon Bleu in Paris and returning to his homeland with his German pastry chef wife Astrid. Once in Lima, the couple focused their elegant menu at their flagship restaurant Astrid y Gastón on the beloved traditional Peruvian dishes Acurio grew up on, honed to perfection with his refined training and French cooking techniques. Located in a restored 17th-century mansion in the San Isidro neighborhood, Astrid y Gastón serves an ambitious 45-course tasting menu. Acurio has received a score of honors and worldwide credit as an ambassador who popularized Peruvian cuisine abroad. He also created a handful of other restaurant brands including Tanta and La Mar, his Miraflores cevichería (an eatery that specializes in ceviche).
In a historical home on a corner near the plaza in Barranco, José del Castillo found the perfect spot for his restaurant named after his mother, Isolina, whose Lima cevichería La Red was an early training ground for him. There always seems to be a line for Peruvian comfort food at Isolina with a menu designed for sharing generously sized stews, saltados, and other traditional dishes.
Arequipa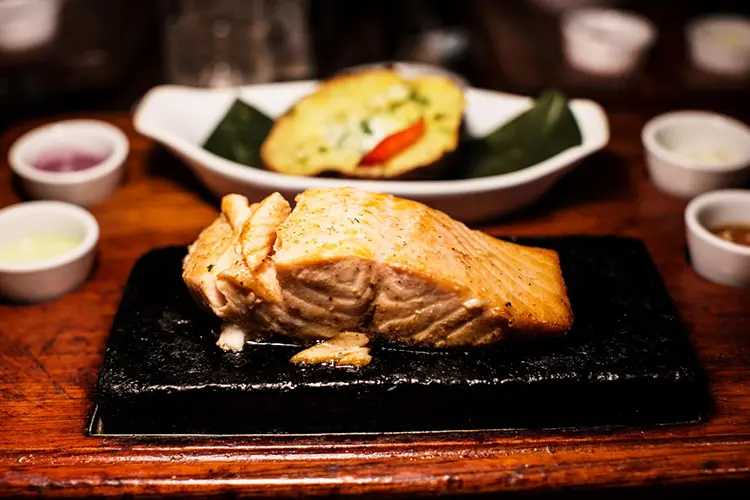 Due to roadless isolation from the rest of the country during its first few centuries, Arequipa developed an independent character and unique spicy cuisine. Known for a wide selection of original dishes such as rocoto relleno, a spicy rocoto pepper stuffed with minced meat, cheese, eggs, raisins, peas, and carrots typically served with pastel de papa, layers of thin-sliced potatoes with eggs and cheese; and adobo, a pork chop stew cooked in a clay pot on an open fire. Arequipa is a happy place for those who enjoy spicy food and rich flavors.
With a barrel-vaulted stone ceiling and circular iron staircase said to be designed by Gustav Eiffel, Zig Zag rates as a cool place for Swiss and Peruvian fusion — small plates, fondue, plus fish, alpaca, ostrich, and beef cooked and served on a sizzling volcanic slab.
Near Mirador de Carmen with an impressive view of three towering volcanoes (Chachani, Misti, and Pichu Pichu), Salamanto serves contemporary Peruvian food cooked with modern techniques, imaginative style, and ingredients sourced from the Arequipa region, such as
octopus slow-cooked in olive oil with native potatoes. Integrated into the massive Santa Catalina Monastery, La Trattoria del Monasterio has three dining rooms with views into the interior of Arequipa's oldest cloister. The menu offers a mix of traditional Italian and Arequipa cuisine: pastas, lasagna, pizza, risottos, and Arequipa-style soups and stews; Old World wines from Italy and Spain; and New World wines from Peru, Chile, and Argentina.
Another restaurant with a mix of Italian and Peruvian specialties and fine wines, upscale Sambambaias has been a favorite in Arequipa for 30 years with live music in the garden on weekends. Off the courtyard of an old mansion, Chicha puts an inventive spin on regional cuisine by star chef Gastón Acurio, whose menu here focuses on regional dishes, seasonal products, and corn-based breads.
For hearty home-style cooking and the most authentic local specialties, dine at picanterías, which are typically open only for lunch, especially in the countryside and Arequipa's Yanahuara district. Here are three standouts: For regional dishes such as grilled alpaca, shrimp soup, and stuffed ricoto, try La Nueva Picantería. Named for the owner's mother, Laurita Cau Cau serves family recipes handed down for 50 years. In the cloisters of the Church of La Compañia, La Benita de Characato has been passed down from mother to daughter for eight generations of picanteros.
Cusco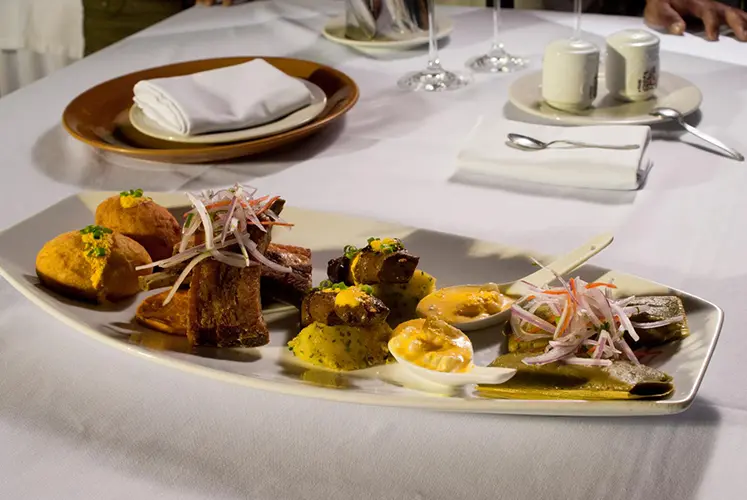 There are two reasons for great dining in Cusco: a wide variety of cuisine you wouldn't expect to find here, such as chifa (Peruvian/Chinese fusion), Indian, Israeli, Italian, Japanese, Mexican, and vegetarian, and restaurants close enough to organic farms in the Sacred Valley to receive just-picked produce every morning. Almost any ingredient chefs want is grown or raised in the area. Several Cusco restaurants even operate their own farms. Anywhere you eat you'll probably notice that produce has so much more flavor than it does at home.
One of the best restaurants in town, Cicciolina is a fine-dining spot near Plaza Nazarenas and the Plaza de Armas. It's a swanky tapas and wine bar that serves Italian-style dishes and Peruvian favorites. The chef is a biochemist who understands the science behind adapting recipes that are cooked at high elevation, such as different methods for making light croissants, al dente pasta, and crisp baguettes than at sea level. Cicciolina Café, two blocks downhill, is a wonderful casual spot for breakfast, lunch, and delicious baked goods.
On the West side of the Plaza de Armas, dine on the balcony at Calle Del Medio and be mesmerized by the magical lights around the cathedral and the hillside San Blas neighborhood while savoring classic Peruvian dishes or international fare. Two favorites are the 24-hour lamb shank and pumpkin risotto.
On the north side of Plaza de Armas, Inka Grill serves flavorful modern versions of Peruvian dishes inspired by the Inkas with a vibe to match — high ceilings, large windows, stone walls, and spicy scents wafting from an open kitchen. Also on the north side of the square, Morena sticks to classic Peruvian fare but also offers vegetarian options that include some pastas and risottos and excels at appetizers and sauces such as uchucuta, a creamy spicy sauce made from hot rocoto peppers served on sauteed pork belly, and creamy huancaina sauce made from mild yellow chiles.
In San Blas near the church, Pachapapa occupies an old colonial house with small dining rooms and courtyard tables. Expect classic Peruvian dishes such as lomo saltado and rocoto relleno, plus pizzas, calzones, and dinner rolls cooked in a wood-burning oven on the terrace. Just below Plaza Nazarenas, Uchu Peruvian Steakhouse may specialize in steak but it's not a classic chophouse. Uchu's sophisticated, whimsical design sets the mood for enjoying alpaca, beef, chicken, fish, and shrimp that are still cooking/sizzling on a volcanic stone when brought to the table.
Gastón Acurio has two restaurants in town, Chicha for a modern twist on Peruvian classics, and Papacho's, which specializes in huge, juicy burgers. Yearning for Chinese? Go to Kion for chifa cuisine (a fusion of Cantonese techniques and Peruvian ingredients) whose colorful Chinese décor sets the mood for ordering off a menu with 43 dishes.