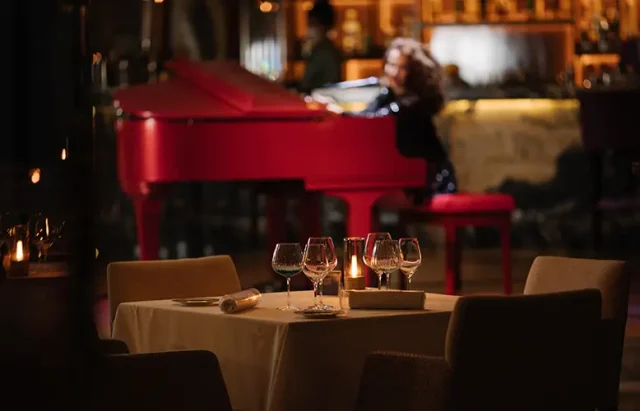 In the heart of Four Seasons Hotel Istanbul at the Bosphorus, a winter tale unfolds through the notes of pianos and the soulful tunes of jazz vocals. As the new season settles in, the venue transforms into a haven for music enthusiasts, welcoming them to a series of captivating performances. Yalı Lounge Entertainment Calendar promises a delightful musical journey every night of the week.
On Mondays and Fridays, the Hotel's atmosphere transforms with the captivating live piano performance by the skilled Aslı Güral. On Tuesdays and Thursdays, Hande Ateş' piano performance and the Jazz Vocal Duo fill the night sky with their elegant melodies, enchanting all who listen. Wednesdays and Saturdays usher in a touch of romance with the dynamic duo, Ayşe Evrim and Koray Ekin, enveloping guests in a nest of warmth and intimacy. As the week draws to a close, Sundays awaken to the soul-stirring tunes of the Uninvited Jazz Band. Against the breath-taking backdrop of the Bosphorus, guests indulge in a delightful brunch, where the culinary excellence of Four Seasons Hotel Istanbul at the Bosphorus harmonizes with the rhythmic beats of jazz.
This winter, Four Seasons Hotel Istanbul at the Bosphorus merges with the musical artistry of Yalı Lounge, crafting an unparalleled and immersive experience.
Live piano performance Aslı Güral – Mondays and Fridays, Yalı Lounge
Hande Ateş' piano performance and the Jazz Vocal Duo – Tuesdays and Thursdays
Ayşe Evrim and Koray Ekin live performance – Wednesdays and Saturdays, Yalı Lounge
Uninvited Jazz Band – Sunday Brunch