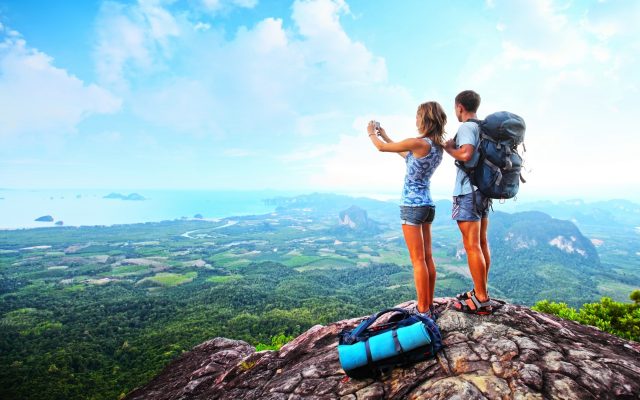 Whether you are traveling by air, sea or rail… whether you have chosen to stay in a five star hotel or a quaint B&B, there are several tips that we can offer you that are applicable to all aspects of travel and vacation planning.
Be Open Minded and Flexible: The more flexible you are with your travel dates   and destinations, the sweeter the deals! The travel industry LOVES last minute travelers who really do not care which airline they travel on or whether it is Tuesday or Wednesday return date. The more flexible you can be with your travel plans, level of hotel accommodation, etc… the greater the deal will be.
Seek Out Real Last Minute Bargains: Booking windows vary between travel websites, so it is important to understand just how spontaneous you can be with your travel plans. There are some companies that can book you in as little as 3 hours online! Now that is last minute travel! Other sites will not allow you to enter a departure date unless it is at least 2 or 3 days in the future. That will truly limit your options so find the 'true' last minute deals.
Package Deals Can Be A Good Thing: Travel providers offer the best deals when their inventory is sold in a package. Everyone's a winner–you get a great deal on a hassle-free experience and suppliers don't have to let the seat, room, or car go empty or unused. Especially if you are getting away at the last minute, it is nice to have everything included (hotel, air and car) and in some cases food and drink too! It makes for an awesome stress free last minute getaway.
Choose Your Travel Partners Carefully: Make sure you can choose from trusted travel brands and are not kept in the dark about your trip details (airport details, flight times, hotel property information, and rental car options, just to name a few).
Get the Most Out of Your Points/Loyalty Programs: Make sure you get frequent flyer miles or hotel loyalty points with your last-minute travel booking – you are still a valued customer even if you are traveling last minute, and you deserve them! Sometimes you do have to ASK but if they want your business, they will not make you choose between low fares and frequent flyer miles or hotel points – they will cheerfully give you both.
Be an Off Season Adventure Vacationer! Off-season destinations can be where the best deals are found, so head to the beach in August or go skiing in March. Here are some good insider options for you to consider:
Be a Flexible Traveler: Similarly, leisure destinations are often wide open during the week and business destinations are empty on weekends, so great deals can be had, especially for contrarian travelers who are willing to leave at the last minute, go mid week and come home just as the destination is becoming crowded with weekend tourists.
Use your time wisely… traveling instead of planning: Don't waste what little free time you have surfing websites to put together a memorable travel experience. Find a website that handily does it for you such as a specialty last minute travel website or paid membership travel club.
If you find a phenomenal deal, book it! Travel inventory moves fast and rates can change many times during a day, often selling out in just a few minutes. When you see what you want, book it straight away! If you wait even a single hour, chances are it will be sold out when you go back to book it.
Become a Walk-In Travel Expert: If you are an adventurous traveler as well as a spontaneous one, you may want to wait until you arrive at your destination to secure a hotel room or car rental. Depending on your destination and the time of year, you can almost always get the best rates by walking in and asking for their very best prices. No sensible company wants you to walk and give your travel money to their competitors. In most cases, they will do whatever they can to earn your business. There are a few exceptions when novice travelers can get snagged or find themselves either without a hotel room or car rental or end up paying top dollar, which is never desirable! So, simple remember the following important golden rules to walk in haggling:
Be cautious using this strategy in peak travel seasons or around busy holidays such as Christmas, thanksgiving and spring break. You may find yourself in a situation that not only can't you negotiate a great deal, but you cannot find a room or a car rental! In such cases, especially if you are traveling to peak period destinations (Florida at Spring Break or Vermont at Christmas)
This strategy can work exceedingly well if you are loyal to a particular hotel chain or car rental company. They all use linked computer systems so they have your personal information including how many times you have patronized their company. In almost every case, make it known that you send a lot of business their way and you want the best deal possible for the nicest room or vehicle. Companies love repeat customers! If you have a hotel or car rental company loyalty card, get it out right off the bat. Let them know that although you are a very loyal patron, you are not afraid to go to a competitor if the deal is not to your liking.
You may need to try one or two before you get a really good rate, but in most cases it can really be worth it financially for you. Simply walk in if you are in a dense downtown location and you can walk from one hotel property to the next, or call from the airport. Tell them you are looking for a rental (room, car, or otherwise) today, tell them how many days, and be assertive in telling them you want their best 'last minute' rate. For hotels especially, a cut-price rate is better than an empty bed. The later your flight arrives, the better deal you should be able to secure as the chances of the rooms filling to capacity at 9pm is highly improbable. Keep in mind that approximately 90% of major hotels will hold a room until 6pm. After that time, they start selling off the beds unless an incoming patron has paid for the room in advance and let the hotel know they are arriving late. When it comes to renting a car last minute, these companies love short term rentals so you will get your best last minute deal if you only need the vehicle for 1-2 days. This allows them to rent out their lot inventory without interfering with long term reservations – so it's a win-win and you should be able to swing a big deal. The car rental agency would rather rent you the car at a hugely discounted rate for a day or two, instead of having the car sitting on their lot getting dirty.
When In Doubt, Seek Out an Expert: Often times, the best way to become an expert at something is to seek out experts and learn from them. In this day and age, that can be as simple as finding a great website that is chocked full of the travel information you are seeking. Find a website that caters to what you are looking for – that might be last minute travel deals, bargain travel, or travel tailored to women, families or business travelers. Many websites state that they offer this or that, but are often disappointing and truly do not specialize in what you are looking for. Here are a few good starting points that we recommend:
Insider Travel Information: http://www.petergreenberg.com (aka The Travel Detective)
Travel for Women: http://www.womentraveltips.com
Travel for Executives: http://www.mybusinesstravel.com
Travel for Families: http://www.familytravelnetwork.com
Price Comparison for Airfare: http://www.farecompare.com
 Price Comparison for Hotels: http://www.hotelscomparison.com
Using insider secrets to plan your travel can also be fun and exciting. Aside from being economical, it can be a lot of fun challenging yourself or your travel group (whether that is your family, colleagues or a work group) to also plan frugally so there is more money left over to spend once you reach your travel destination. Remember that if you are brave enough to wing it and travel last minute, you can save as much as 60% off the regular 'rack' rate for travel packages. If you use insider secrets to secure your travel plans, you can always save money and sometimes you will hit the jackpot and save as much as 75% off advertised rates. The trick is to see past the travel industry hype and use all the tools available to you to get the best travel itinerary at the very best price. Unstructured vacationing that is flexible to obtain maximum value is a very liberating experience and will earn you more than just extra cash in your pocket.
Economic times are challenging now, to say the least. Unfortunately, when money is tight, the first thing to be eliminated from the average American's personal or family budget is travel and vacation time. This is a very bad decision! When times are really tough, stress levels are unusually high and that is the best reason to take a vacation – even if it is only a long weekend mini-break. The key is getting to know the secrets that veteran travelers have long been privy to, and using this information to your advantage to make your travel budget stretch that much further.