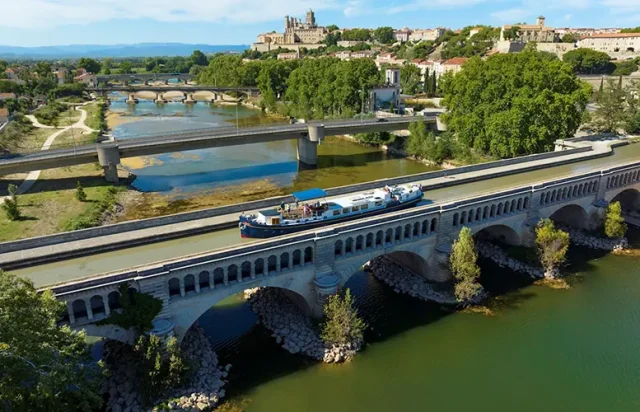 European Waterways has announced the availability of its new luxury hotel barge cruising brochure for the 2024/25 season. Celebrating 50 years as  pioneers of inland waterways cruising, the company is marking this milestone with the introduction of a new vessel, Kir Royale, which will cruise the Champagne region of France starting May 2024. European Waterways is also expanding its private excursions and gastronomic experiences with such offerings as a tour and wine tasting with gourmet lunch at the Château de Paraza on the banks of the Canal du Midi, as well as a tour and whisky tasting at Ben Nevis Distillery, one of the oldest licensed distilleries in Scotland.
 
"Growing up next to each other on the banks of the River Thames, John and I discovered our shared passion for the extraordinary experiences of river life beyond the crowds of the large cities and well-worn tourist spots," said Derek Banks, who manages European Waterways with John Wood-Dow. "We decided to share this passion with as many people as possible, taking them 'off the beaten path' to explore the history, culture, and gastronomic traditions of the picturesque European countryside – all while traveling in complete luxury and comfort."
 
"For our guests, it's truly about the journey, more than the destination," agreed Wood-Dow. "Today's more experienced travelers don't just want to watch the world go by – they want to be immersed in the experience. Our cruises introduce them to like-minded fellow guests and takes them to private, sometimes exclusive excursions and unique 'insider experiences' that reveal the heart and cultural spirit of the cruise region along the canals and smaller waterways of Europe."
 
European Waterways' 2024/25 free brochure can be ordered or viewed online via the following link.