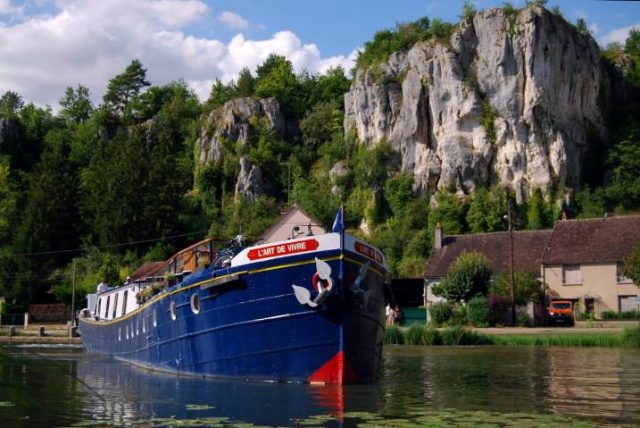 With Europe reopening its borders to international travel, luxury hotel barging specialist European Waterways is saying, "Come on in, the water's fine!" Managing Director Derek Banks confirmed that the company's fleet of hotel barges is sailing again on the picturesque canals and smaller waterways of Europe and the U.K.  Its eight-passenger L'Art de Vivre is already exploring Burgundy with the first passengers who had been eagerly awaiting their six-night, all-inclusive cruise. Next to get underway with guests onboard in the coming weeks are Renaissance in Western Burgundy; Anjodi on the Canal du Midi; and Panache in Alsace and Lorraine. The company's newest luxury vessel, the Spirit of Scotland, which sails the legendary Caledonian Canal in the Scottish Highlands, is scheduled to start a little later in the summer.

"It's been a waiting game for us, with our cruises having been delayed until travel restrictions were eased," said Banks. "We're happy to report that we're back on the water. Our guests will enjoy all of the amenities that they've come to expect from European Waterways. These include gastronomic meals paired with local wines, private and often exclusive excursions that immerse them into the art, architecture and culinary history of the region, and – as always – the excellent company of like-minded fellow travelers."

A Cruise for All
Like all European Waterways hotel barges, in addition to their classic cruises, the eight-passenger L'Art de Vivre offers themed chartered cruises in Burgundy that include biking, walking, golf, and wine appreciation. These themes are also available on the eight-passenger Renaissance, which cruises the Upper Loire and Western Burgundy, as well as on Anjodi, which can be found on the Canal du Midi. The 12-passenger Panache explores the unique region of France's Alsace and Lorraine; while the 12-passenger Spirit of Scotland treats passengers to the sweeping Scottish Highlands scenery and mystic lochs of the Caledonian Canal, offering such unique charters as the Whisky Trail cruise.

Multi-generational and group charters are also available on most cruises, with itineraries that can be modified to meet guests' unique interests. These include family-themed excursions, as well as those that can focus on sports, gastronomy, and health and well-being.