For those planning a staycation with family and friends post-lockdown, Stay One Degree – the exclusive members community that allows discerning luxury travellers to rent some of the finest homes around the world from like-minded members – avows that some of their most desired and stunning properties are right at your fingertips, with many hidden gems close to home.
With that in mind, the team has curated some gorgeous UK properties that highlight 2021's top interior trends: outdoor living, multifunctionality, wellbeing, biophilic design, escapism and cosiness. As we know from the time we've been forced to stay at home over the past year,our interior spaces have never been more important – and now you can rent the best luxury homes, with no price increase compared to last year.
Picturesque Georgian Manor House in the Cotswolds
Cotswolds, Painswick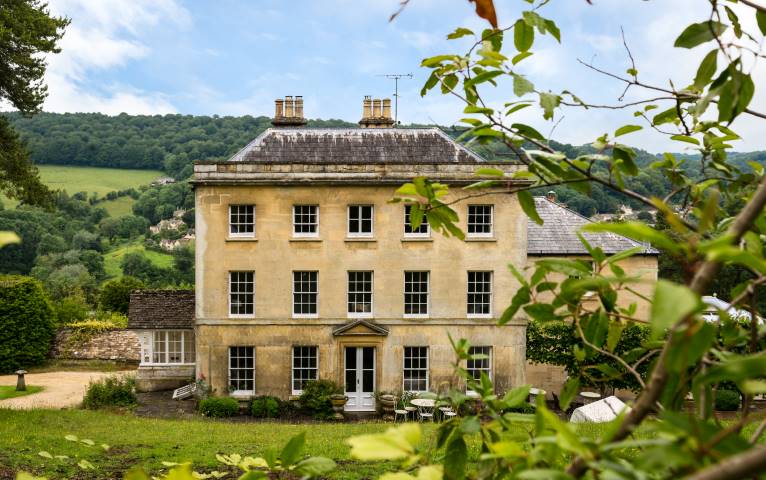 This grand Georgian Manor House is surrounded by picturesque English countryside in the heart of the Cotswolds. The alfresco dining space is ideal for summer evenings, and the treehouse with slide, heated outdoor pool and tennis court are perfect for children. The interiors celebrate key period features such as rustic wooden furniture, large sash-windows, open fireplaces, and an aga in the kitchen offers a traditional 'country' feel. Enjoy evening meals in the conservatory brimming with exotic plants, or relax in the cinema room for a cosy film night.
Superbly Crafted Architectural Masterpiece in the Welsh Hills
Radnorshire, Powys, Wales
Perched in the rolling Welsh hills, this three bedroom home boasts simple, sleek design and a flexible, multifunctional space. Set in extensive gardens and part subsumed by the hillside on which it stands, this contemporary home is set on one level, and offers spectacular views through large picture windows that feature throughout. Multifunctionality is at the core of this property, with three quirky multi-use bedrooms: the 'library' bedroom is bursting with books; the 'music' bedroom has an audio system and extensive record collection; and the 'bathing' bedroom provides a platform with an inset bath in which to relax.
Stylish Cornish Home with Sea Views & Infinity Pool
Cornwall, Wadebridge
This stylish home is tucked away on the Cornish coastline, set amongst lush private gardens filled with flowers and wildlife typical of the British countryside. Complete with tennis court, peaceful infinity-style pool and jacuzzi with panoramic sea views, this house set-up is idyllic. Inside, the living area has a wood burning fireplace and sweeping wooden beams – the ultimate relaxing room. This wonderful home makes use of natural materials to furnish its interior with vintage leather armchairs, gorgeous wooden wardrobes as well as calming light fabrics and bed linen for a great night's sleep.
Fabulous Contemporary Lakeside Home in the Cotswolds
Cotswolds, Lechlade
Situated on the southern edge of the Cotswold Hills, this fabulous four bedroom contemporary home with glass façade and spectacular views of the surrounding lakes offers a truly unique experience. Relax lakeside on the decked terrace or enjoy the peace and seclusion offered by the lower deck with its private garden. Inside, the home is slick and contemporary with floor to ceiling glass walls flooding the property with natural light, blending indoor and outdoor living. An enormous open plan living area with a contemporary wood-fired fireplace adds softness to the modern interior and a large roof terrace completes this fabulous home, offering 360 degree panoramic views.
Grand Edwardian Mansion on Remote Private Island
Essex, Private Island
This Edwardian mansion located on the private Osea Island in Essex is the ultimate UK getaway. Accessed only twice a day via a causeway, you'll experience perfect solitude at this remote island hideaway where there is no traffic and no shops. Just a few steps from the beach, the house also boasts a swimming pool and expansive gardens. Guests also have full use of The Clubhouse nearby, where a pool, games room and lounge can be found along with a bar and café. Inside the house, a grand dining room with seating for up to 20 guests is the ideal place for post-lockdown celebrations.
Spectacular Castle in Scottish Highlands
Perthshire, Folda
Fit for royalty, this castle is located in the picture perfect Scottish Highlands. It has been lovingly restored to its former glory with a Great Hall for entertaining and cosy inglenook fireplace. This hall is where guests can gather to relax, entertain, watch films, dance along to Ceilidh's, drink whiskey, light fires, read and dine around the grand 16-seater dining table. There are seven stunning bedrooms to choose from – all are furnished in a cosy, traditional style and most have four poster beds. The master suite is fit for a king with its own turret, a large sofa, and an open plan bathroom with roll top tub, you absolutely won't forget that you're in a castle when you stay in this bedroom!