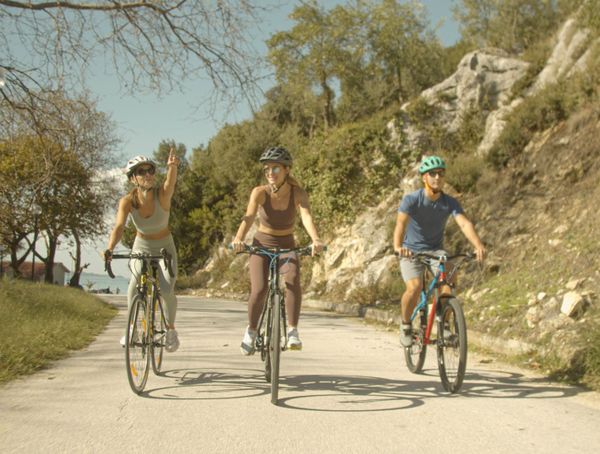 The MarBella Collection is delighted to introduce new property MarBella Elix as a unique and unexplored cycling destination, following the hotel's newly awarded 'Bike Friendly' certification. The new property, opening on 30th April 2021, is situated amongst lush greenery, surrounded by olive groves and a variety of biking landscapes from coastal through to mountainous geography. This new 'bike friendly' label certifies and assures future guests that a set of internationally established criteria are being met, for bikers of all abilities, making it a real pleasure to pedal around the mountains, verdant forests and bright beaches with ease.
Opening in April 2021, MarBella Elix is an inspirational new 5* property in a previously undiscovered area of Greece. As the third hotel to join the MarBella Collection portfolio and the brand's first property outside of the island of Corfu, MarBella Elix is perched above the beautiful Karavostasi Beach in the Parga region, looking west towards Corfu and Paxos.
MarBella Elix – A Bike-Friendly Destination
MarBella Elix is a brand-new hotel ideal for active families, couples and singles alike to explore on two wheels. From white sands and turquoise waters to sublime Mediterranean cuisine and off the beaten tracks, a wide variey of trails await. Sitting discreetly on top of a pine-forested hill, MarBella Elix commands views to the islands of Paxos, Antipaxos and Corfu, with the stunning beach of Karavostasi stretching out below – easily reached by the resort's funicular or for those more active by bike or a short walk down a tree-lined path.
Bike Friendly Certification
This new certification reassures adventurous guests that the hotel will be well accommodated to suit their cycling demands. The hotel offers secure bike parking and storage along with tool kit availability for all cyclists. Those without their own bikes can be met with local bike rental, whether they are looking for a simple bike for exploring or a mountain bike for the thrill-seeker. Repair services are also available both in and near the property.
Enjoy a healthy breakfast and an organic lunchbox service to fuel the long journeys over coastline paths and treelined tracks. Following a long ride through green hills, hidden beaches and tiny peaceful bays guests will be met with maximum comfort on return to the hotel. Riders can soothe their muscles in the sauna, relax into a massage or lounge by the pool sipping on a sundowner. This certification is just another reason to visit MarBella Elix, with cycling holidays suited to everyone, guests can expect to see more of the charming landscapes and towns that Greece has to offer.
Cycling Routes
Working in collaboration with local cycling tour operators, the hotel is able to offer digital and printed bike routes for the solo rider taking guests through a combination of picturesque villages and vast countryside; or for those wanting a tour of the beautiful Greek landscape that surrounds MarBella Elix can be guided on group excursions organised through the local bike specialist.
Nearby routes include a shorter 22km cycling route along the stunning coastline finishing in Igoumenitsa at a steady incline of 400m. Alternatively, more advanced cyclists can experience a 54km, circular route of the local Perdika and Parga region on a more advanced terrain reaching 791m. Numerous local cycling routes have been carefully plotted and designed to showcase the beautiful mountainous and coastal countryside, and the range to suit all levels of ability.