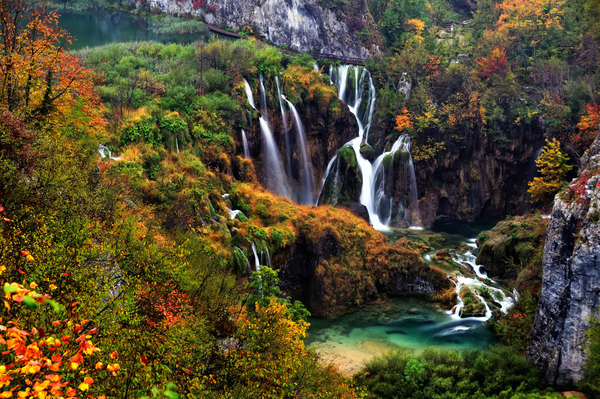 There's never a dull moment when visiting Croatia during autumn, where hiking and biking trails come alive with the colors of fall, and festivals celebrate everything from food to movies, music and sailing. Culture connoisseurs and foliage foragers alike can find the adventure of their dreams in elegant city centers and vast national parks boasting spectacular seaside, highland and island panoramas. Visitors can explore Croatia's historical sites and designated parkland while trail hiking or biking, or choose a more leisurely day indulging in epicurean delights while strolling Renaissance era streets lined by shops full of assorted local delicacies. For wine lovers, Croatia is speckled with vineyards spread over 300 geographically defined wine districts. As the vestiges of summer make way for fall, Croatia's lush mountains, unspoiled coastline and rich history grow even more enchanting.
With its eight national parks Croatia teems with breathtaking natural wonders, including majestic waterfalls, caves, and rolling hills. Centrally located and rich in biodiversity, at 185 square miles Plitvice Lakes National Park is the nation's largest and arguably most remarkable, with 16 lakes all flowing to brilliant, cascading waterfalls which pool into sea-glass and cobalt hued ponds and shoals; a stunning sight any time of the year but particularly vivid with the contrasting backdrop of bright fall foliage. The entirety of this UNESCO World Heritage Site can be enjoyed by foot on an exceptionally maintained, wood-planked walking trail, dotted by instructive boards that provide interesting ecological factoids covering everything from the park's plant life to its 160 species of birds to the wolves, brown bear and lynx that thrive in this natural habitat. The trail maps provide visitors with route options depending on how many hours are planned for the park. An electric boat shuttles visitors across the largest of the lakes, while another can be crossed on a bisecting boardwalk that leads to a uniquely close vantage of a cluster of waterfalls. A day trip to Plitvice is easily accessible by public transportation from cities like Zadar, Zagreb and Split.
Closer to the coast, Krka National Park is less than 10 miles from Sibenik, a city known as the gateway to the Kornati Islands and renowned for a 15th-century stone cathedral, 14th-century Prince's Palace and St. Michael's Fortress, with its working open-air theater and expansive views of Sibenik Bay and the neighboring islands. Like Plitvice, Krka Park is blessed with waterfalls phenomenally knotted together, including Skradinski Buk Falls- one of Croatia's most famous sights, which can be enjoyed from afar on a forested walking trail or up close on a boat trip through the park (included in the entrance ticket). An Instagram favorite, the falls grew so popular this past summer that park managers limited entrance to the Skradinski section to a maximum of 10,000 at a time. Autumn visitors however, will find no such crowds.
Just off the coast, Mljet is the most southeast of the larger Adriatic islands of the Dalmatia region, easily accessed through day trips from the mainland, including nearby Dubrovnik, Korčula, Zagreb, Hvar and Split. Mljet National Park features two saltwater lakes: Malo Jezero (Little Lake) and Veliko Jezero (Big Lake), connected by a short channel that also empties into the Adriatic, providing the lakes with the same ebb and flow as the ocean tides. The twin bases of the park are the small villages of Pomena and Polače. Thronged with summer visitors, the thinner crowds and vibrant colors of autumn seem more suitable for these villages, lending them an irresistible aura. The park can be explored walking or biking or on the lakes themselves, by kayak or small boat, either independently or by tour. An admission ticket to the park includes a boat ride on the Big Lake to the Isle of St. Mary, home to a well preserved 12th century Benedictine monastery, replete with fortress like architecture that protected the monks from pirates and Turkish raiders. Another popular spot on Mljet is Odyssey's Cave, where according to Greek legend Odysseus was ship wrecked, swam to the cave and met a nymph named Calypso, and remained for seven years. The cave can be accessed by small boat, kayak, or by land over very steep stairs.
For anyone interested in adventure sports, Paklenica National Park, located at the base of the Velebit Mountains just 25 miles from Zadar, is a must see destination. The park, comprised of two dolomite limestone canyons called Velika (big Paklenica), and Mala (small Paklenica), is  a hiker's delight, with 90 miles of trails ranging from extreme hiking and mountain climbing to gentle walking, and everything in between. Many of the trails offer parched hikers potable spring water direct from the mountain, crisp and delicious, so remember to carry a small bottle. The highest peak in Croatia is found here, Vaganski, nearly 6000 feet at the summit. For more casual climbs check out Manita Pec, a large cave complex located 1800 feet up from the park's entrance, taking about 90 minutes to reach. The beauty of the cave's chambers has been delighting visitors since 1937, when the trail was set up and guided tours began. Other activities in the park include rock climbing lessons, canoe safaris, climbing races, paintball tournaments and ATV buggy tours.
The best of culture and biking can be found in Istria, where more than 300 miles of bike trails connect forest-land to historical landmarks, and the sea to the cellars. Istria is also the home of fall-favorite Truffle Days, when the local delicacy is celebrated in weekend festivals and can be enjoyed fully, from do-it-yourself truffle hunting to delectable consumption. With the area's rich soil, the famous truffles can be perfectly paired with locally produced wines. There are several such festivals throughout autumn in Istria, including Zigante Truffle Days in the town of Livade, deep in the Motovun forest where white truffles have been harvested for generations, held and zealously attended by truffle devotees each weekend from mid-September thru November 19th.
Weekend road races are held all over the world, but we doubt any of them can compare to Run, Eat, Drink, a seven stage event that began in April and concludes in November. More hedonistic than grueling, this uniquely Istria event is held on courses carefully selected for their scenic beauty and connection to local foods and wines, enabling runners from all over the world to satisfy their fondness of fitness and friendly competition, with a gastronomic reward. The tour continues next on October 15 at Kumparicka Farm in Pula, where 250 goats graze freely across 100 acres of land. Spectators can watch the race or observe the production of the farm's much beloved, unpasteurized goat cheese. The final stage will be held on November 19th in Vodnjan, where the racers will celebrate the Days of Young Olive Oil in the world's best olive oil region. In addition to the race, visitors will find cooking demonstrations, lectures, and copious tastings, with an emphasis on new extra virgin Istrian olive oil.
Food and wine aficionados have another reason to cross Dubrovnik off their bucket list: the three day, Good Food Festival, to be held from October 19th thru 22nd, is loaded with food oriented events. Visitors will find exhibitions of culinary specialties typical for the region, educational workshops for aspiring chefs, tastings of local wines, introductory culinary programs for children, ˝Dinner With a Famous Chef˝ celebrations, specially prepared menus in Dubrovnik restaurants, a voluminous ˝Eat & Walk˝ culinary tour, and last but not least, a ˝Sweet Tooth Map˝ for fans of gourmet desserts.
With its incredible fusion of sea, islands and highlands, the adventure you're seeking can be found in Croatia. Between local traditions, parks and cities to explore and the breathtaking views of autumn foliage with stunning surroundings, the reasons to venture to Croatia this fall are endless. Whether your perfect vacation is defined by exploring lakes and waterfalls, cycling in the hills or experiencing food and culture, Croatia is a must visit.