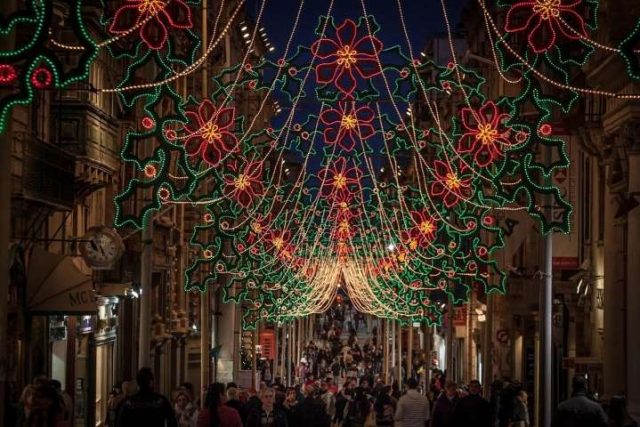 As the Holiday season approaches, one of the best things about spending time in Malta and its sister island of Gozo is being able to observe and experience some of the excitement of the Maltese national traditions as well as the culinary delights. Malta, the archipelago in the Mediterranean, with its year-round mild weather, offers visitors a perfect place to end the year and ring in a new one.
Festivals, Fireworks and Culinary Delights
When visiting Malta during the Christmas season visitors will see nativity scenes or cribs on every street corner. Cribs are an important and popular part of the Maltese tradition during Christmas. Presepju or cribs in Malta differ from traditional nativity scenes. Maltese cribs include Mary, Joseph, and Jesus with a landscape that portrays Malta often rocky stones, Maltese flour, windmills, and ancient ruins.
Bethlehem f'Ghajnsielem – December 2nd – Jan 5th visitors can explore the customs and folklore at this Maltese crib.
Visitors of the capital city of Valletta, the 2018 European Capital of Culture and a UNESCO World Heritage Site, can admire the unique, colorful and spectacular Christmas lights. Republic Street and adjacent side streets are given a festive makeover with colorful light designs. The festive lights are switched on during a ceremony by the Minister of Culture.
The Malta International Christmas Choir Festival
Visitors can hear the angelic sounds of the holiday season at the Malta International Christmas Choir Festival which takes place between December 5th-9th. Guests will enjoy a number of choirs participating in the festival, ranging from male, female, youth, and gospel to folk choirs.
Every year, a spectacular pantomime is staged at the marvelous Manoel Theatre in Valletta. This year, visitors can enjoy The Little Mermaid, from December 22nd to January 5th, a holiday tradition for Maltese adults and children.
The iconic St. John's C0-Cathedral in Valletta is worth visiting at any time of year. However, during the Christmas season is an especially exciting time to visit. In the weeks leading up to Christmas, the church hosts a series of candlelit carol concerts and processions which are guaranteed to get visitors in the festive spirit.
New Year's Eve Malta Style – Fireworks!
Visitors can end the year in style and welcome in the New Year at the Valletta Waterfront. Valletta itself, Malta's Capital and the 2018 European Capital of Culture, is a UNESCO World Heritage Site. Valletta's romantic waterfront lined by restaurants with exquisite cuisine is the place to welcome the New Year with a glass of champagne in hand. Travelers can ring in 2020 with a myriad of New Year's Eve festivities featuring live bands, children's entertainment and fireworks and confetti display at the stroke of midnight. Visitors can experience all of this with the breathtaking view of the Grand Harbour as the backdrop. Once the New Year begins a DJ will lead the festivities with various classics and popular hits.
For further information on the Holiday season and destination Malta, please see visitmalta.com