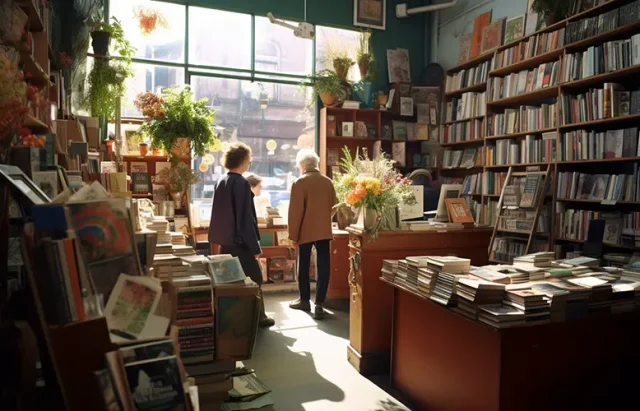 There's nothing more synonymous with a relaxing holiday than reading a good book – it's the perfect way to unwind, whether that's on the beach with an ice cream in one hand and a paperback in the other, or cosied up next to the log burner in your holiday cottage. 
Cottages in Northumberland has put together a list of great little bookshops around the UK.
Barter Books – Alnwick, Northumberland
This second-hand bookshop in the heart of historic Alnwick tops our list with a staggering amount of quirky features. It's worth a visit all year round, with an open fire roaring in the winter months, while you'll find that ice cream is served next door in the Paradise ice cream parlour, part of the Station Buffet. All age groups will be delighted by Barter Books' train set which travels above the bookshelves throughout the shop in homage to the building's origins as Alnwick's train station during the Victorian era. This railway link is kept alive and well at Barter Books with the Aln Railway meetings being held here monthly. Another unique feature is that Barter Books is home to one of the few original 1930's 'Keep Calm and Carry On' posters that have become so synonymous with British culture.
Find Barter Books in Alnwick Station, NE66 2NP
Mr B's Emporium – Bath, Somerset
Mr B's Emporium does exactly what it says on the tin, combining both eye-catching quirky décor with a truly unique reading experience. You'll find a staircase decorated in readable comic book pages, a children's room and 'Imaginarium' decorated with the inspiring work of a local artist, as well as the opportunity to enjoy a reading spa for tailored book recommendations from the Mr B's team, and reading booths where you can try a book out before purchasing. This bookshop has won the Independent Bookshop of the Year award twice so far, but selling books is just one of its many services. Mr B's also has its own publication house, a bookshop band to enjoy during author events, and a science fiction and fantasy book club known as 'The Emporium Strikes Back' (yes, we did award extra points for that punny name choice.) Perhaps mostly famously, being a proud citizen of the city of Bath, Mr B's has its very own bathtub of books – a fancy clawfoot one at that!
Find Mr B's Emporium on John Street, BA1 2JL
P&G Wells – Winchester, Hampshire
P&G Wells has been a feature of Kingsgate in Winchester for over 300 years, with the name being on the door of their current address for almost 200 years. The shop frontage you see today, with the intricate stained glass, is the very same as that installed in 1891. One part of this long history is that Jane Austen is said to have spent the final days of her life just two doors away, a detail that P&G Wells have used to inspire the wide range of Jane Austen related literature they stock. Bookselling and binding may originate even further here, with records traced back to 1729 at this location.
Find P&G Wells on College Street, off Kingsgate Street, SO23 9LZ
Much Ado Books – Alfriston, East Sussex
Unlike any other bookshop we've come across, Much Ado is a quirky bookshop intricately decorated with literary themed paper crafts, including a Shakespeare inspired diorama. The team at Much Ado also run a social enterprise known as Prospero's Project which puts books into the hands of schools, care homes, migrant charities and many other well-deserving beneficiaries. Admirers of the Bloomsbury group will love the décor here and the selection of books on Vanessa Bell, Virginia Woolf and others local to the area. The books themselves are arranged over two floors as well as in a cabin home to fiction, art and the Much Ado haberdashery, and in a shepherd's hut packed full of second-hand and vintage books. As well as all these delights, Much Ado sells a range of book-memorabilia, from badges and prints giving new life to old and damaged books, to framed author autographs and paper craft 'bit' bags.
Find Much Ado Books on West Street, BN26 5UX
Richard Booth's – Hay-on-Wye, Wales
What could be quirkier than a bookshop that's also a cinema? Well a bookshop that's a cinema, a pilates studio and café, of course! Richard Booth's combines all three features to make for a really special visit in what is regarded as one of the UK's most book-ish towns, Hay-on-Wye. With a number of comfortable chairs and soothing plants, the bookshop offers a range of second-hand books and the perfect environment for trying them out before you buy. The building itself is the former agricultural hall and was noted as the world's largest second-hand bookshop in 1978 for having over one million books in stock at that time. Booth himself is something of an iconic figure in the town, once declaring himself 'King of Hay' with a plan that independence from the UK would bring renewed tourism interest and re-energise the struggling town. To this day, the town still has its own flag and while Booth's plans may have been controversial, there's no doubt that his eccentricity and love for books that been an important factor in establishing Hay-on-Wye as a heartland of book lovers.
Find Richard Booth's on Lion Street, HR3 5AA
Five Leaves, Nottingham
As Nottingham's leading independent bookshop, Five Leaves offers a range of books outside the mainstream. They take particular interest in independent publishers as well as political publishers, with sections including LGBTQ+ fiction and non-fiction, politics, paganism and witchcraft, as well as a children's section devoted to diversity. The shop has its own publishing press, mini festival and has close ties to a number of community groups too. Five Leaves is recognised for its alleyway position, where visitors are greeted by a lush garden of potted plants before browsing the bookshop shelves.
Find Five Leaves in Swann's Yard off Long Row, NG1 2DH
Scrivener's – Buxton, Peak District
Set in the heart of Buxton in the Peak District, Scrivener's is an impressive bookshop before you even step inside. A window sign lets visitors know that books can be found across five floors – 40,000 books in fact! Inside you'll find a few cosy spots ideal for browsing titles of interest, as well as the original fireplace and coals. Whilst the book selection is all second-hand, you'll also find a number of trinkets available in the shop, including hand carved traditional walking sticks.
Find Scrivener's on High Street, SK17 6HB
Forum Books – Corbridge, Northumberland
The second Northumberland based bookshop to make our list, and one of three independent bookshops owned by the same people in the North East, each of which has its own quirky features; Forum Books is set in a stunning old chapel in the heart of Corbridge, with the bright chapel windows flooding the bookshop with light – perfect for reading!
Find Forum Books in The Chapel on Market Place, NE45 5AW
Sam Read Booksellers – Grasmere, Lake District
Sam Read Booksellers in Grasmere is set in a stunning building made from traditional Lakeland stone. While naturally popular with tourists, Sam Read puts a special spotlight on local writers and books with a natural world theme. The bookshop was shortlisted in the Independent Bookshop of the Year award in 2022, 135 years from its opening as a bookseller in Grasmere. Many visitors to the Lake District come to see the home of famous writers like Wordsworth and Beatrix Potter, and according to one of the Sam Read booksellers, EM Forster used this very bookshop to send his letters home.
Find Sam Read in Broadgate House, LA22 9SY
Leakey's – Inverness, Scotland
Recognised as Scotland's largest second-hand bookshop, Leakey's has been a staple of Inverness for 44 years, and the bookshop itself is hard to miss as it can be found in an old church, with beautiful stained glass windows still intact. Inside, visitors will find a stack of wood and a fire roaring in the colder months. The galleried landing, showcasing shelves upon shelves of rare second-hand books, is impressive anytime of year.
Find Leakey's on Church Street, IV1 1EY