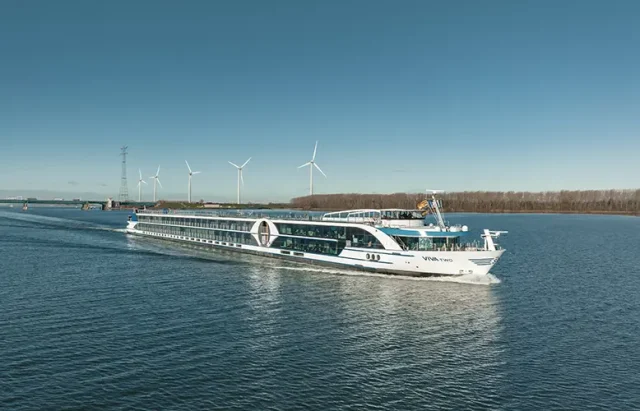 VIVA Cruises, has launched its 2024 catalogue featuring more than 280 cruises on the Rhine, Main, Danube, Moselle, Rhône and Seine; plus the launch of its third built ship, VIVA ENJOY. All 2024 itineraries can already be booked online.
Following the launch of VIVA ONE in 2022 and VIVA TWO earlier this year, VIVA Cruises will be unveiling its third built ship, VIVA ENJOY, in September 2024 – one of the highlights of the 2024 catalogue. With a similar design to VIVA Cruises' second build ship, VIVA ENJOY will feature 95 stylish cabins (including eight suites) and three restaurants.
Throughout 2024, the Düsseldorf-based river cruise company will be offering 85 different itineraries and more than 280 sailings on its eight vessels. There will be itineraries to cater for all tastes – from short four-night city breaks and Christmas and New Year's itineraries to VIVA Cruises' popular themed cruises plus VIVA ENJOY's maiden voyage. Guests will also find a wide variety of tours and shore excursions in the new catalogue to match the trips on offer.
Andrea Kruse, COO of VIVA Cruises, said: "In addition to our popular classics, we are offering numerous new itineraries, experiences and special moments for 2024. With the exciting launch of VIVA ENJOY next year, we will have a total of eight ships – three of them sailing all year round, including in January, February and March, whilst most cruise lines are still in hibernation. This will enable us to meet the ever-increasing demand in river cruising."
In 2024, VIVA Cruises will continue to offer flexibility to its international guests, who will be able to choose from a wide range of voyages and different ports of departure. For example, VIVA ONE, VIVA Cruises' first built ship, will be mainly sailing on the Rhine from/to Düsseldorf and towards the Netherlands and Belgium. On the other hand, VIVA TIARA will be offering a large number of the inner-German voyages starting and ending in Frankfurt and Koblenz, including the popular four-night city break cruises.