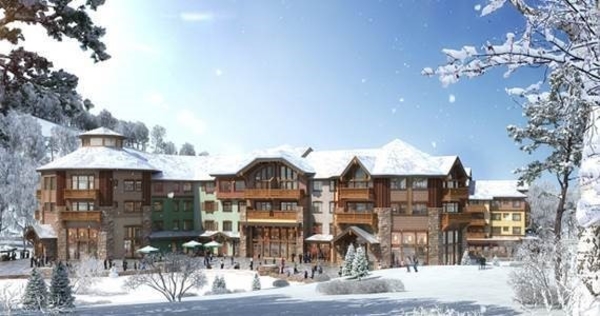 Element Hotels, part of Marriott International (NASDAQ:MAR), announced the opening of Element Chongli, marking the debut of the eco-conscious, extended stay brand in the mountainous ski resort area of Hebei, Northern China. Owned by Chongli Taiwoo Tourism and Resorts Ltd, Element Chongli is the third Element hotel to open in Greater China. Perfectly positioned for active travelers, the new hotel is located in Taiwoo Ski Resort of Zhangjiakou – the co-host city of the 2022 Beijing Winter Olympics.
"Our active guests want to explore new destinations while maintaining their daily routines, whether they're planning longer stays, traveling with a large group or going on a family vacation, Element Hotels gives them the flexibility and the space to live their lives," said Mike Fulkerson, Vice President, Brand & Marketing, Asia-Pacific, Marriott International. "We're noticing a strong interest for this fresh-thinking, longer-stay brand in China, where there is a fast-growing need, inspiring us to continue to grow. Element Hotels also has planned openings in Tianjin, Sanya, Yinchuan in Ningxia, and Mile in Yunnan."
Built green from the ground up, Element Chongli features 164 guestrooms bathed in natural sunlight. Flexible, open-concept interiors feature modern design in a palette of soft hues and textures inspired by nature. Comfort is central to every guestroom, which showcases a plush Heavenly® Bed that ensures a comfortable night's rest and a spa-like bathroom with an invigorating rain shower, complemented with organic bath amenities. Continuing the natural aesthetic, Element Chongli brings the outdoors in by featuring a telescope in each room to view the starry skies at night. Energy-efficient kitchenettes in most of the  guestroom let guests prepare meals as they would at home and experiment with local produce, or simply pick up simple ingredients from the 24/7 self-serve pantry, Restore.
After a day of active exploration, travelers can catch up on work with ergonomic work stations in every room, along with fast-and-free Wifi throughout the property. A 90 sqm conference room onsite is also suitable for business meetings and social events.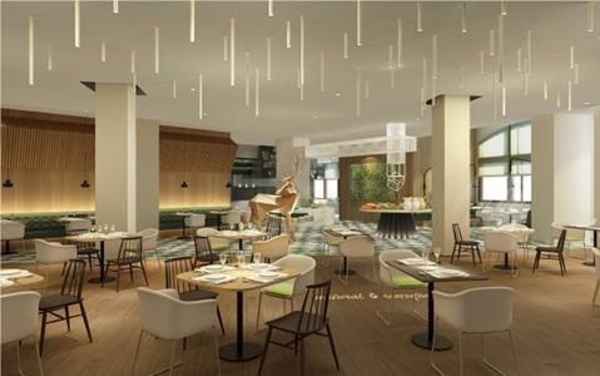 To discover local specialties and find comfort in international cuisines, all-day dining venue Salon Restaurant offers guests a relaxing environment to enjoy complimentary breakfast and traditional Chinese and international dishes. Guests can also enjoy wine and canapes during the Relax cocktail hour as an après-ski treat or a way to unwind after an outdoor excursion.
Element Chongli also offers a state-of-the-art fitness center open 24 hours a day and an indoor heated saline swimming pool. Offering outdoor activities for every season, guests can also take part in skiing, mountain biking, and golfing. The Bike to Borrow Program lets guests discover the local sights and take in the surrounding mountainous landscape on two wheels.
"We are delighted to introduce Chinese and international guests to the first Element Hotel in China situated within a ski resort," said Element Chongli General Manager, Baker Ma. "There are increasingly more Chinese travelers who are choosing destinations where they can experience outdoor activities and stay healthy. Element Chongli delivers with its proximity to nature matched with modern, well-equipped guestrooms, excellent dining venues and facilities as well as its exciting programming."
Located in Taiwoo Ski and Mountainous Resort, Element Chongli is situated in Chongli District, Zhangjiakou city, which is about 220 km away from Beijing. Amid a vibrant mountainous ski resort area, Chongli stays refreshing and cool in the summers with ideal skiing conditions in the winter months, making it a prized holiday retreat for nearby Beijing residents as well as a popular destination for international travelers.
Element Chongli is within easy access to both the city center as well as the Zhangjiakou Airport, which are both less than one hour away. Presently, the high-speed railway between Chongli and Beijing is under construction and expected to be operational in 2018, which will condense the travel time from Chongli to Beijing to within 40 minutes. Element Chongli is a mere 1 km away from to the future high-speed train station.
For more information or to make reservation, please call (86) (313) 477 8500 or contact Customer Contact Center at 4008 688 688, or visit www.elementhotels.com/chongli.