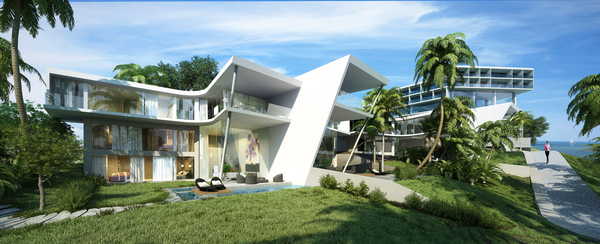 LUX* Bodrum is a sparkling new addition to Turkey's Aegean Riviera, the country's most glamourous holiday desti-nation. Perched on a picturesque pine-clad site and surrounded by rocky coves, the brand new resort lies on the south-western coastline, on a private peninsula with its own exclusive bay, where the Aegean is at its bluest. Setting it apart are the spectacular sea views, private beach and breathtaking sunsets that can be enjoyed from every angle. It is also located not far from some of the Greek islands, including Patmos and Kos.
Tucked away along the Bodrum peninsula, the Resort lies in a sheltered cove, offering a special kind of intimacy. This laid-back haven of luxury has 91 guest rooms and 19 private residences and a one-of-a-kind exclusive beach house with its own private yacht anchorage. The perfect base to explore the extraordinary beauty, culture and histo-ry of this remarkable part of the world, indulge in a welcoming warmth and lighter, brighter atmosphere. Moreover, LUX* Bodrum Resort & Residences has already won the silver A'Design Award in the category for Archi-tecture, Building and Structure Design. Paul Jones, LUX* Resorts & Hotels' CEO, can't hide his delight. "For LUX*, this is a fantastic addition to the portfolio, bringing the LUX* brand to the shores of the Aegean Sea. LUX* Resorts & Hotels is well known for the innovations it has brought to the tourism industry, as well as offering world-class service standards, and now, LUX* Bodrum takes our reputation further."
The sea is always the star along this coastline and LUX* Bodrum has been designed so guests enjoy it fully. In the heart of the resort, the rooms and suites provide discretion within a sophisticated setting, and exceptional 180-degree ocean views. Floor-to-ceiling windows promise unforgettable high-definition views of the crystal waters and Turkey's famous moonrise. With panoramic sea views, the three-room villas with private terrace and balcony provide ideal accommodation for large families. Pure clean lines and bespoke furnishing complement the award-winning ar-chitecture which blends harmoniously with nature – each feature of LUX* Bodrum is carefully orientated to make the most of the natural lie of the land. As well as a picture-postcard private beach, LUX* Bodrum has a 20m x 8m swim-ming pool, while the Aegean itself is a winner for a refreshing swim. Beyond the resort, Bodrum Peninsula's country-side and its coastal and inland villages beg to be explored.
In Turkey, the word keyif is used to express conviviality, contentment and the fun of getting together. The LUX* own brand of beach club Beach Rouge, is where you'll find it. It's an easy-going, feet-in-the-sand chill-out zone by day and a spirited head-in-the-clouds party hang-out by night. Beside LUX* Bodrum's stretch of shoreline, guests gravi-tate to LUX* Bodrum's atmospheric bar, restaurant, club lounge to relax in armchairs and day beds or soak up the sunshine on the wooden deck to graze and feast all day. By night, its music-loving personality kicks in as DJs amp up the beat, mixologists get shaking and bon viveurs hit the dancefloor. Soundtracking the good times, are big names and up-and-coming in-house talents who know how to make evenings memorable.
Bringing a fresh breath of LUX* style island living to Turkey's most scenic and cosmopolitan destination, LUX* Bodrum entices travellers with more than idyllic conditions in which to unwind. A curated calendar of expert-led work-shops inspires curious minds – creative artists and leading specialists share their secrets here throughout the year. Expect uplifting and edifying resort experiences like no other. Discover Sri Sri Yoga and stress-busting meditation. Try the Art of Water marbling and the stained-glass workshop. Take home tips to making the ultimate cup of coffee at Café LUX*.
Wellbeing and beauty are assured from the LUX* ME Wellness Centre, a destination to rebalance and rejuvenate, rest and re-energise, through multi-sensory experiences. Five elegant treatment rooms deliver a wide choice of fa-cials, massages and specialist therapies, and celebrate locally produced therapeutic essential oils. Guided by Well-ness Experts, dip into indoor and outdoor fitness programmes, ranging from Pilates, open-air on-deck yoga, and tai-lor-made fitness training sessions. When it comes to cuisine, LUX* Bodrum is a sophisticated and delightful combination of the traditional and the inno-vative. Its restaurants feature fresh, seasonal produce and dining is a feast, taking cues from Bodrum's Mediterra-nean and Asian neighbours. Using the freshest flavoursome ingredients, and highest-quality fish and game, the chefs pick the best from both cuisines to reimagine simple, traditional Turkish dishes. Stella, the resort's Italian res-taurant thrills epicurean tastes. The menu reveals the talent of Executive Chef Baris Torcu and LUX*'s Corporate Chef Walter Lanfranchi, resulting in not-to-be-missed gourmet dishes. In a region blessed with fertile soil, expect the finest organic vegetables and fruit and local olives, olive oil, grapes, figs, aromatic herbs, mandarins and kumquats which are second to none. The Aegean coast is one of the best spots for fresh fish and shellfish, and this part of the world is also famous for its grape varieties and delicious wines.
LUX* knows it's the little things that make memorable trips. Stay with LUX*, and surprises and delights await round every corner, ranging from thoughtful practical perks to indulgent extras. Phone Home is always there free of charge – just look for the iconic red telephone box. While eyes are peeled, try to spot a Message in a Bottle – hidden in the grounds, it may reveal a free dinner for two or a spa treatment. You don't need a special pass to enjoy pop-up films in the open-air ocean-facing amphitheatre – Cinema Paradiso shows cult and arthouse classics and blockbusters under the stars. Coffee connoisseurs will discover the magic behind LUX* Bodrum's house-roasted ethically-sourced blends at Cafe LUX*. The best holidays involve ice-cream. Served in made-in-front-of-you waffle cones, ICI comes in a fantastic range of flavours – all created and prepared by LUX*'s own ice-cream specialists. If the treats of a LUX* stay makes a sole hungry for more, the Tree of Wishes may come in handy. All guests are invited to pin their heart's desire to the Tree of Wishes at the heart of LUX* Bodrum, and may be win another holiday.
General Manager of LUX* Bodrum, Hakan Oral: "It's a privilege for me to be heading up LUX* Bodrum, a resort that brings a fresh take on hospitality to Bodrum. Luxury, comfort, an award-winning design-style, a friendly, laid-back atmosphere, is combined with a lighter, brighter way of delivering immeasurably special holidays. With the spectac-ular countryside and Turkey's welcoming culture, LUX* Bodrum is the place to be this summer season – and be-yond."
Don't want to go home? You're invited to speak to LUX* about permanent addresses at the resort – private residenc-es are available to buy. Enjoy the privacy of an upscale home in a full-service resort: every property benefits from LUX* Bodrum's five-star-facilities. Best-in-class wining and dining, housekeeping, laundry, boat mooring and security – everything is on hand, so owners are free to make the most of every moment on the peninsula, free from stress and ensuring the best memories and complete peace of mind.