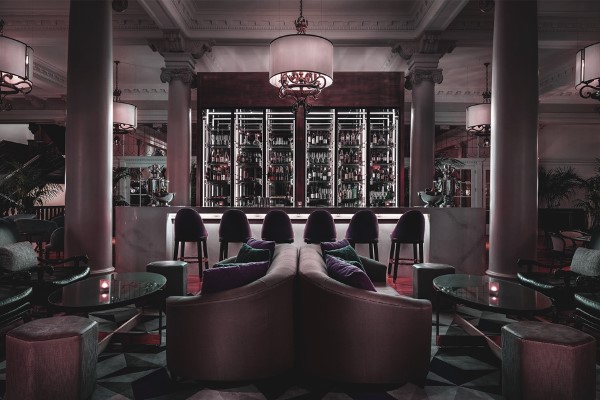 Fairmont Empress, crowned as Canada's 'Castle on the Coast,' will debut Sunset Sips, a new evening cocktail and culinary experience that offers an intoxicating new twist on tradition, on Thursday, May 25. For more than a century, Fairmont Empress has been a beloved spot for afternoon tea, having served famed royalty, celebrities and dignitaries alike and now, building upon the iconic service, Sunset Sips will offer a new elevated nightlife option for the city of Victoria.
Offered in the luxurious Lobby Lounge where the daytime tea service is held, the space will be transformed into a lively atmosphere as the lights dim and the sun begins to set over the sparkling inner harbour. The beverage program features indulgent and playful cocktails and spirit-free libations served in the finest china teapots, incorporating the beloved details of the iconic afternoon tea service. The robust craft cocktail menu is inclusive of drinks such as the Mad Hatter, featuring fresh dill infused tequila, Cointreau, raspberry lemonade tea syrup and lime and pineapple; or the playful Lady Whistledown, inspired by the popular Netflix seriesthat blends gin, chamomile tea syrup, and garnished with a rolled cucumber and served with a side carafe of prosecco.
Served on a classic three-tiered tea stand, the Sunset Sips culinary menu, available for $45 per person, features tapas-style items like a warm white-cheddar and chive biscuit, grilled avocado and heirloom tomato tartine, and roast beef stuffed Yorkshire pudding, paying homage to the traditional afternoon tea menu with an evening twist. To set the ambiance, the lounge will play upbeat tempos and beats of the 1920s for guests to enjoy while indulging in a Prohibition-style evening.
Sunset Sips will be available every Thursday through Sundays from 8 p.m. until 11 p.m. Reservations are recommended and are now available by booking online. For more information about Sunset Sips and the Fairmont Empress, please visit https://www.fairmont-empress.com/.
Also in 2023, Fairmont Empress is celebrating its 115th anniversary by ushering in a new Fairmont Gold experience on June 1, which includes a multi-million dollar renovation of the Fairmont Gold-level rooms and transformation of 22 guestrooms to gold, as well as the Fairmont Gold Lounge with breathtaking new designs and architecture.