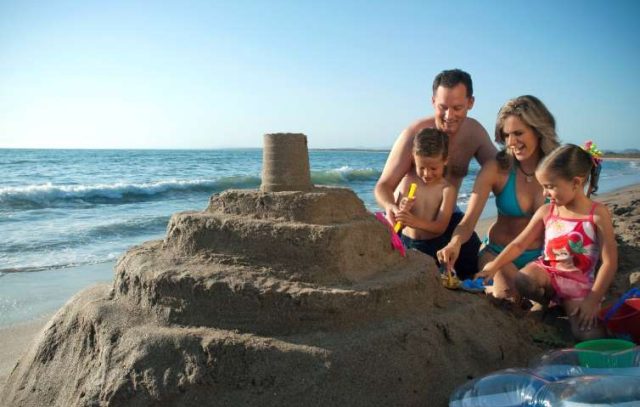 For families seeking a getaway that offers options, adventures, and fun for all ages, two Pueblo Bonito properties in Los Cabos are rolling out the red carpet with a special summer promotion that offers exceptional value and exciting activities to parents traveling with children.
Where to Stay?
Pueblo Bonito Sunset Beach Golf & Spa Resort, a sprawling property with 749 suites set on an ocean bluff within the exclusive residential development of Quivira Los Cabos; or Montecristo Estates Luxury Villas, a refined enclave, also within Quivira Los Cabos, featuring multi-bedroom villas, each with a private infinity pool.
Sunset Beach, a popular choice for vacationing families, is renowned for its warm hospitality and abundant amenities, including an award-winning Armonia Spa, numerous restaurants, six swimming pools (including one dedicated entirely to children), private beach access, and a deluxe all-inclusive meal plan. The spacious suites here include kitchenettes and refrigerators.
Montecristo Villas present a more self-contained experience, with a private pool and jacuzzi, a full kitchen, dining and living rooms, and three bedrooms in each villa, sleeping up to 8 persons comfortably. All resort amenities, services and restaurants are available to Villa guests, including the deluxe all-inclusive plan.
What to do?
The Kid's Club, designed for children from 4 to 11 years old and available Monday to Sunday from 9:30 a.m. to 4:30 p.m., allows younger guests to enjoy fun-filled days by participating in arts and crafts, beach activities, karaoke, pool games, board games and video games. Life-enriching activities include Spanish language primers, aqua aerobics, cooking classes and dance lessons. Kids are also free to join their parents for a game of tennis, pickle ball or beach volleyball. A kid-friendly buffet lunch is also available. Reservations are necessary, as space is limited. Babysitting services for younger children can easily be arranged.
Hard-to-please teenagers can find refuge in the certifiably cool Fun Lab, a teen lounge and recreation center at Sunset Beach that offers video game machines, a pool table, a movie theater, and a soda fountain that serves nachos, pizza, hot dogs, popcorn, and ice cream.
For families who enjoy being in the fresh air and water, the options for 'destination experiences' are endless. In downtown Los Cabos at our two Pueblo Bonito sister properties, there's snorkeling, paddle boarding, windsurfing, parasailing, jet skiing, kayaking, and sailing. It's also a great place to play with the kids in the gentle surf at Medano Beach.
The menu of activities changes daily. All information and schedules can be easily found through the screens in the resort, or on the Pueblo Bonito app.
Through Cabo Adventures, Pueblo Bonito's activities partner, horseback riding or a camel safari on the beach, ATV tours, mountain biking and zip-line adventures in the Baja's striking desert landscapes are available. In addition, the company's Signature Dolphin Swim invites participants (minimum age 4 years old) to swim and frolic with playful Pacific Bottlenose dolphins (they'll even accept a gentle hug and a kiss on the lips!).
The Luxury Two-Bay Snorkel (minimum age 5 years old) sets sail aboard a French-made catamaran to a pair of bays with calm waters and crystal-clear visibility of pristine coral reefs and their colorful inhabitants.
Do your kids need an adrenaline boost? The outfitter's Outdoor Zipline and UTV Adventure Combo, rated one of the Top 10 Experiences in the World by Travelers' Choice 2022, is 3.5 hours of excitement, highlighted by the longest (over 4,000 feet) and fastest (60 mph) canopy line in Mexico, the "Superman." Minimum age 8 years old. The resort concierge assists guests to set up the excursions.
Time to Relax
After all that activity, it may be time for some pampering at the Armonia Spa, where a full menu of facials, body treatments and massages are available. The kids are welcome, too, with two expressly designed experiences, even for younger children: Kids Beauty Treasure (a soothing and relaxing massage for children followed by a personalized basic facial cleansing for young skin); and Magic Hands & Happy Feet (a gentle manicure and pedicure including exfoliation and conditioning creams with delicious aromas).
From Tacos to Burgers – We've Got It Covered
Dining options for Sunset Beach and Montecristo Villa guests are plentiful. Leading the way with something for everyone is The Market at Quivira, a bustling food hall that features an array of enticing eateries. Kids gravitate to the retro, red-and-chrome 1950s Diner, which serves hot dogs, hamburgers, and milkshakes along with the sounds of vintage rock 'n roll. Los Helados offers scoops of homemade ice cream with an array of toppings, while Las Crepas turns out the best crepes in town. The Market is also home to other culinary outposts favored by the younger set, including El Deli (delectable sandwiches); El Italiano (brick-oven pizzas); and El Mexicano (tacos, enchiladas and other Mexican favorites).