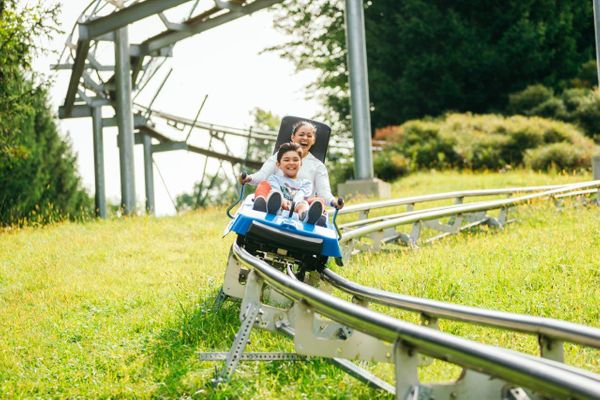 In blossomy April and throughout the warm spring and summer months, outdoor adventure seekers of all ages and skill levels can visit Camelback Resort for great fun and experience the resort's mountain air adventures. Whether it's the excitement of speeding down Pennsylvania's exclusive Mountain Coaster or the thrill of zipping through towering trees, Camelback Resort promises unforgettable experiences.
Camelback Mountain Adventures Schedule:
April 8 (Friday): The Appalachian Express Mountain Coaster launches, boasting 4,500 feet of steel track. Prepare to be thrilled as you hurtle down Camelback Mountain's challenging slopes.
April 16 (Saturday): Gear up for the 1,000-foot Double Barrel Zipline. Securely harnessed, you'll glide through treetops, reaching heights of up to eight stories.
April 30 (Saturday): Both the Euro Bungee and the Mountain Segway/UTV Tour commence. While Euro Bungee promises flips, tricks, and an exhilarating four-minute jump, the Mountain Segway/UTV Tour offers a picturesque journey through the Poconos forest.
For adventure tickets, visit Camelback Resort's Adventure Booking.
More Attractions:
Dive into fun at Aquatopia Indoor Waterpark. Their new slide, Mountain Mayhem, combines techno-centric visuals and music to elevate your water slide experience.
Families can bond over games and activities at the Arcadia Family Indoor Adventure Center. Spread across two levels, it hosts over 100 age-appropriate video and interactive games.
For a seamless experience, the Camelback Resort App is a must-have. Available on both IOS and Android, it aids guests in booking, planning itineraries, equipment rentals, dining reservations, and much more.
Stay and Play: After a day filled with adventures, unwind at the Camelback Lodge. The lodge boasts 453 guest suites, many designed for family getaways, featuring full kitchens, fireplaces, balconies, and expansive lofts.
Join us this spring and summer for an unparalleled adventure at Camelback Resort!