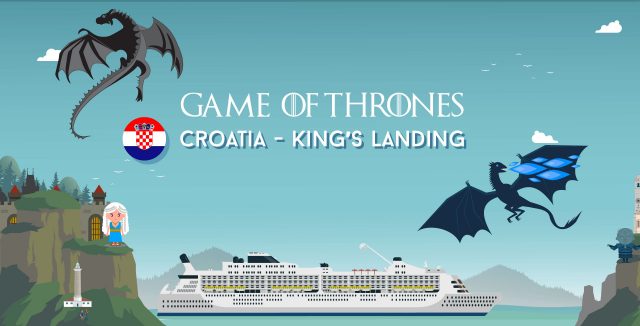 The surprising real-life filming locations for some of the most iconic releases in cinema are revealed by a new online destination finder from Royal Caribbean.

Created shortly after the release of Fantastic Beasts: The Crimes of Grindelwald, Fantastic Filming Locations (and Where to Find Them) unveils where the latest big screen instalment in J.K Rowling's Wizarding World franchise was actually made.
Royal Caribbean's new guide also reveals where several other box office hits were filmed – with some surprising results, and behind-the-scenes facts about the making of the movies.
Even film buffs might be shocked to find out that the 1996 version of Romeo + Juliet, which starred Leonardo DiCaprio, wasn't actually filmed in the story's classic setting Verona, but in Mexico.
Game of Thrones fans out there can take a trip to visit the real location for King's Landing, in Dubrovnik, Croatia. Making sure they don't bump into Cersei Lannister, of course.
Superhero film aficionados can take on The Joker in The Dark Knight if they visit Hong Kong. The waterfront skyscraper is where Batman famously surveyed the iconic cityscape before leaping into action.
In addition to the destinations themselves, Fantastic Filming Locations (and Where to Find Them) reveals fascinating facts behind the movies and why the locations were chosen – as well as tips on how to get there.
The full list of filming locations in Fantastic Filming Locations (and Where to Find Them) includes:
Game of Thrones – Croatia (King's Landing)
The Lord of the Rings – New Zealand (Mount Doom)
James Bond (Caribbean)
Mamma Mia! – Greece (Skopelos)
Wonder Woman – Amalfi Coast (Themyscira)
The Dark Knight – China (Hong Kong)
Star Trek Beyond – Dubai (Starbase Yorktown)
Kong: Skull Island – Vietnam (Skull Island)
Fantastic Beasts: The Crimes of Grindelwald – Paris
Romeo + Juliet – Mexico
To look at all of the filming locations and read information about each one, visit https://www.royalcaribbean.co.uk/fantastic-film-locations/