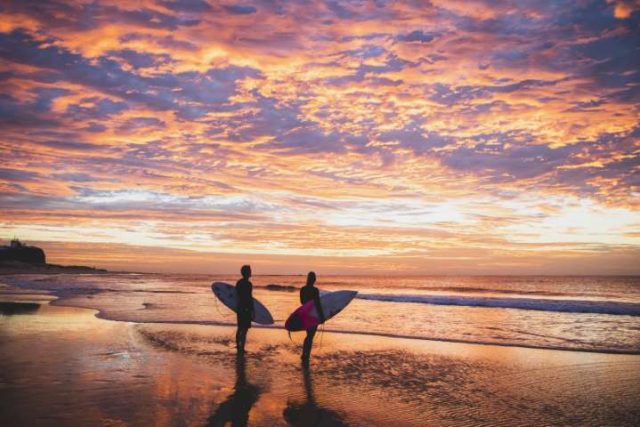 Occupying a dramatically beautiful stretch of coast, Newcastle's former industrial prosperity is etched in her grand buildings and architecture, which are now repurposed to service a vibrant and blossoming city. Be enraptured by Newcastle's ocean-facing lifestyle that sits easily beside a contemporary downtown crammed with arts, culture, design and an enviable food scene. Just two hours from Sydney, this New South Wales metropolis is must-visit for a relaxed city escape.
Where to seek history, art and treasure
Orient yourself in the ocean-side city with a sedate sojourn aboard Newcastle's Famous Tram. This detailed replica of the 1930s original hosts a commentated city tour and is a scenic way to get an overview of Newcastle's rich heritage. Tours depart from Queens Wharf, on the Hunter River side of the city centre, and wind their way past the Memorial Walk Lookout and other historic sites, grand mansions and beaches, and through King Edward Park.
Fort Scratchley, which has stood sentry over Newcastle since 1882, offers a lofty vantage point from which to absorb the city's Pacific-gazing splendour. A visit here will also draw you into Newcastle's fascinating convict history, detailing how it was this incarcerated workforce that created Australia's first coal mine. Take a tunnel tour and you'll hear passionate volunteers reveal how the site was also used to protect Australia during war times.
Satisfy your cultural yearnings with a dip into the program of exhibitions, performances and events at the heritage-listed Civic Theatre in the city centre. Designed and built in the late 1930s by prominent theatre architect, Henry Eli White, you'll find a rotation of comedy, drama and music to connect with local creatives.
If you love the thrill of a good garment hunt, set aside some time to scour the city's treasure-laden vintage shops and artisan markets. Gathering the area's established and emerging artists, designers, makers and producers is Newcastle's Olive Tree Market, which takes place on the first Saturday of each month at Civic Park. Or get your rummage on at The Conscious Exchange, where you'll find pre-loved and vintage clothing, accessories and homewares, plus eco-skincare and nature-care play products. Also at Islington, you'll find Stoned Saint Moon and Hide and Seeker, among many more second-hand stores pocketed around the city.
Where to cycle, walk and hit the water
Newcastle is perfectly discoverable by foot and wheel: let her enlivening ocean-laced breeze guide you from the city to its outskirts and bushland beyond. Cover plenty of ground on a cycle from the city to the suburbs with Newy Rides 'The Essentials x The 'Burbs' tour, or discover the area's history, street art and cafés at a slower pace with Newcastle Afoot walking tours.
If that offshore, deep-blue water is beckoning you with the promise of an awe-filled adventure, jump on a custom-built vessel with Coast XP. From sightseeing year-round to whale watching between June and November, you'll learn about local marine life, geology, Aboriginal heritage and unique landmarks, including wrecks, islands and sea caves.
A unique feature of the NSW coast are its sparkling ocean baths. An attempt to capture a patch of the sea for gentler paddles, these wave-pummelled, man-made pools dot the state's coastal regions. Newcastle's Merewether Ocean Baths are the largest in the Southern Hemisphere and attract locals and visitors alike. Picturesque and photogenic, the exhilaration of a dip here is an unforgettable moment.
Newcastle may be best known for its beaches, but the green spaces in and around the city are also well worth exploring. The area has numerous themed, self-guided walking trails, such as the 6km Bathers Way; the 5km Convict and Industry Walk; the 3.2km Shoreline Walk; as well as the short (450-metre) but deeply moving Memorial Walk that commemorates the 100th anniversary of the landing at Gallipoli and the pioneers of steel-making. The 10km Newcastle Coastal Geotrail follows clifftops and coastal trails from Nobbys Beach to Merewether headland and is a three-hour exploration of science and history. You can download self-guided walking maps from the Visitor Information Centre.
More lush green reserves invite you to commune with nature and exhale deeply. Within easy reach of the city, you'll discover Blackbutt Reserve, Glenrock State Conservation Area, Blue Gum Hills Regional Park, Kooragang Wetlands, or the 15km Fernleigh Track, which runs along a disused rail line between Newcastle and Lake Macquarie.