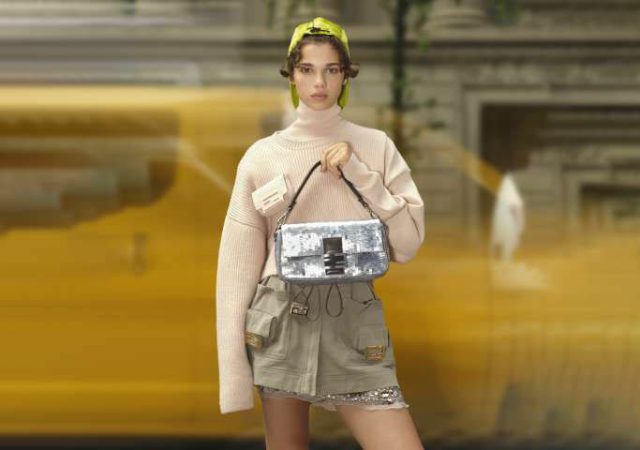 FENDI's Resort 2023 Winter capsule collection; honoring the 25thAnniversary of the FENDI Baguette, is releasing this Thursday, November 3rd.
In this rough-cut romance between uptown and downtown, luxury and utility, excess and reality while taking inspiration from the object itself, the Baguette is realized in a multiplicity of ways, both in terms of clothing and accessories reflecting the maker as much as the iconic item, while never neglecting the enjoyment and sense of celebration for the wearer.
For FENDI, the essential utility of the bag becomes a multi-pocketed motif, migrating throughout the collection. The unmistakable Baguette dimensions made mini and micro pockets, appearing on parkas to gaiters, roving all over the body, covering gloves, hats, skirts, sweaters and, of course, the bag itself in one of its new iterations. In contrast and cohesion, a sense of hyper-luxe and glossy glamour pervades the collection – the Baguette is not entirely utilitarian after all. Those gaiters are made from silk satin, that parka shaved mink or glossy leather; a stratification of sequins and biased cut silks are often layered beneath, adding a shimmer of art deco allure.
Photographer: Jhonny Dufort
"I didn't want to do a traditional 'collection' for the anniversary. Rather it's a celebration of a time, of the moment the Baguette became famous. I relate that time to a sense of freedom in excess and fun – both qualities the Baguette possesses." – Kim Jones, Artistic Director of Womenswear, Fendi
"It was a special day when I designed this bag; the stars aligned. The horoscope said it was a Fendi day." – Silvia Venturini Fendi, Artistic Director of Accessories and Menswear, Fendi
This capsule will be available on November 3rd in FENDI boutiques and on Fendi.com.